Filichia Features: Getting Dogfight Right
Filichia Features: Getting Dogfight Right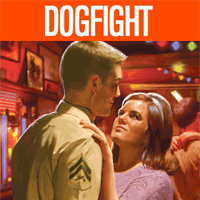 "That girl is brave," a man said with great admiration permeating his voice.

He was sitting behind me in the black-box Shaeberle Studio at Pace University in downtown New York. If a performance hadn't been in progress, I would have turned around and said aloud, "I was just thinking the same thing."

The young woman in question was Hayley Anna Norris, who had the lead in one of last year's biggest musical successes: Dogfight, the most recent show from songwriters Benj Pasek and Justin Paul.

Dogfight starts out as an odious story. Three Marines –Eddie Birdlace, Harry Boland and Ben Bernstein – decide before shipping out to Vietnam that they'll maintain a great Marine tradition. They'll pool their money, and then each will go out to find the ugliest girl he can, return to the base and vote on which one brought the ugliest of them all.

Never mind how the girls would feel after the lads let their real intentions be known; these are not honorable menschen. Boys will be boys -- and morons will be morons.

Don't expect MTI to ever offer Dogfight JR. but the show isn't non-stop heartless. There's that old saying that we should hate the sin but not the sinner. Dogfight shows us that we should hate the dogfight but love the musical.

At a diner, Eddie is served by Rose Fenny, a young waitress whom he thinks has great dogfight potential. He starts talking about what all young people love: contemporary music. He knows next-to-nothing about it and Rose knows plenty. Eddie, however, is handsome, so he's had years of people admiring him, which has given him great confidence. Rose, with neither a face nor body that would launch a thousand ships, has always felt inferior. So she defers to him.

Norris showed a reluctance to capitulate, a desire to please and a lack of confidence even in matters Rose knows cold.

She swept the stage with a sadness that perhaps only Cinderella could eclipse.

A note on the writing and the fine direction by Amy Rogers: congratulations on having Eddie glibly answer each musical rebuttal that Rose dares to make. Lesser librettists and directors would have had Eddie searching for things to say, and stalling with "Ahhh … ahhh" before snapping his fingers, coming out with a lie, and repeating "Yeah! Yeah! That's it!" How many times have you seen that happen on stage or screen? We all know that in real life if someone stalled with "Ahhh … ahhh," we'd immediately know that the person was lying. Why wouldn't any character that had a brain?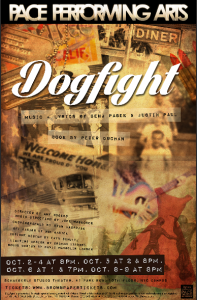 It's near closing time, and Eddie asks her to a party – which stuns her. This just doesn't happen to girls as unattractive as she. Rose says no because she's had no experience saying yes. But at the last second, she finds her courage, says yes and goes home to change into her best dress.

And in the scene where she's deciding what to wear, Dogfight demands that Rose take off her waitress uniform, stand in front of us solely in bra, panties and pantyhose, and literally strip away any clothing that might hide her.

That's when I, the gentleman behind me and probably plenty of others in the sold-out house were saying aloud or to ourselves, "That girl is brave."

For most of this decade, we've been lauding Hairspray for creating a lead role for a young girl who has, shall we say, more to love. Fine – but Tracy Turnblad has an easier time of it than Rose Fenny. Yes, Tracy must endure an occasional insult from the Von Tussles mère and fille, but she never suffers anything as severe as being the butt of a dogfight – or having to remove most of her clothes in front of an audience. And if that weren't enough, once Rose discovers Eddie's true motivation, she must return to her room and sing of how she was a "lonely, pathetic, ugly fat girl." Very brave, this Hayley Anna Norris.

"Hayley really wanted this part," her mother told me during intermission. "She saw the show at Second Stage and said she was determined to play Rose someday." Now she has -- and fearlessly.

Of course Norris was lucky that Rogers decided to do the show while she was still at the school – as lucky as Rogers was to get her, too. The advantage of doing this show in a college setting is that the kids will be age-appropriate except for Rose's mother. In the role, Katy Rea appeared to be Rose's sister. There's was nothing wrong with Rea's performance, mind you, and she should let her youth be her consolation. But casting a teacher in the role would have helped.

Although the expression on Norris' face when she first saw Eddie suggested that she was immediately attracted to him, she immediately toned down that expression which conveyed, "I'd better just get down to business. What chance would I ever have with him?"

Happily, Cory Jeacoma was just as magnificent as Eddie. The show starts as a flashback, when Eddie returns from Vietnam a much changed man from the superficial person we'll soon meet. Jeacoma had no problem convincing us that he'd been shell-shocked and was now an empty shell of a man.

Once Rogers flashed back, she did well in getting Eddie's testosterone on stage – as well as his dull-normal buddies admirably portrayed by Jacob Pincus and Charles A. Franklin. The guys were so randy that they even simulated intercourse with the stools in the diner. When they boasted "We're gonna find some trouble," they were utterly convincing, and yet we mourned for them. Little did they know what we knew: that they would soon meet genuine trouble face-to-face in Vietnam.

Still, we could have easily hated Eddie when he blithely took Rose to the dogfight. Bookwriter Peter Duchan was wise to make him have second thoughts just before they entered. Right at the doorway he suddenly realized what he was doing and wanted to call it off. "Rose," he started to say, "maybe we shouldn't go in."

Alas, Eddie couldn't win. If he kept her outside, Rose would now assume that he'd be embarrassed to be seen with her. If they went in, he'd subject her to additional pain. See what happens when you're mean? How well Jeacoma showed the anguish of being checkmated.

As it turned out, Eddie did later try to make amends. Some hours later when he showed up at her room above the diner, he said. "I don't care what you look like." He thought he was giving her the right answer, but Norris let him know that he wasn't when she said "I wish you did." Yes – first choice would be that he liked the way she looked – especially given that that was what he originally had led her to believe.

All right, Rogers' production wasn't perfect. The dresses that Rose took out of her closet before choosing her best one were not in her size; the set decorator just put anyone's dresses in there thinking this wouldn't matter.

This is akin to plays that are set in a college library where the set decorators fill the shelves with those Reader's Digest Condensed Books. Such low-level tomes would NEVER be in any academic's bookcase.

The other problem was a little bigger. One of the "girls" that one Marine brought to the dogfight was actually a male actor in drag. Was he supposed to be a transvestite or a woman? The answer seemed to be the former, given that when he raised his arms high, his armpits were still covered with hair.

Now if a transvestite were actually brought to a dogfight, he'd be disqualified, wouldn't he? But if this actor were simply doubling as a woman, then he should have shaved his armpits.

Yes, these objections may sound petty, but God is indeed in the details, and so is great musical theater.

At show's end, the applause was deafening when the curtain calls started. And yet, the crowd somehow found the wherewithal to clap even harder when Jeacoma came out and harder still when Norris took her bow.

The actress looked so pleased and actually said to the crowd aloud, "Thank you." No, no, Hayley Anna Norris -- thank you for your courage, talent and dedication to both Dogfight and your craft. May all others who follow you in the role be able to meet your high standard in all areas.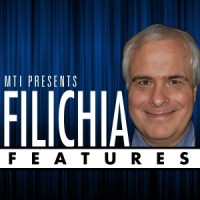 You may e-mail Peter at pfilichia@aol.com. Check out his weekly column each Tuesday at www.masterworksbroadway.com and each Friday at www.kritzerland.com. His new book, Strippers, Showgirls, and Sharks – a Very Opinionated History of the Broadway Musicals That Did Not Win the Tony Award is now available at www.amazon.com.