Filichia Features: It's Alex Stone by a Knockout
Filichia Features: It's Alex Stone by a Knockout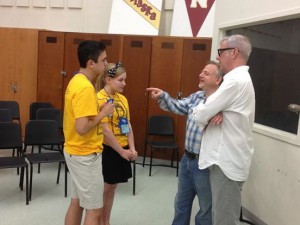 Some of the Thespian Festival workshops on the University of Nebraska-Lincoln campus are held in modest classrooms.

Not this one.

The mammoth all-purpose room in the Westbrook Music Building will be needed today, for no less than Marc Shaiman and Scott Wittman will be holding an audition coaching workshop. Some high-schoolers are itching to perform for the writers of the score to the 2002-03 Tony-winning Best Musical Hairspray and the 2010-11 Best Musical Nominee Catch Me If You Can.

Others are content to watch, including the three teenage boys sitting in front of me. From overhearing their conversation – my, they're awfully loud – I can tell that they know everything about Broadway and musicals – the way we all did when we were their age. Only later did the rest of us learn through bitter experience that even now we know comparatively nothing.

Ah, well. As Sondheim wrote in Follies: "Everybody has to go through stages like that."

Their supercilious attitude continues as the class starts. Everyone who comes up to audition for Wittman and pianist Shaiman spurs one of the three lads to whisper a comment to the other two. Each remark results in a laugh that ranges from a suppressed giggle to uncontrolled guffaw because the quip that the oh-so-wise critic had just uttered was so wicked and (allegedly) accurate.

Then a young man named Alex Stone comes up and hands pianist Shaiman his sheet music. He's planning to sing "In These Skies" from the little-known musical Ace.

But Shaiman is frowning. The sheet music has no chord symbols, at least not for the first part of the song.

Shaiman does something tender here: he turns to the audience and says "Make sure the music you bring up has chord symbols on it. It makes it far easier for the pianist." He purposely avoids Stone's eyes so that the kid won't be too embarrassed by his gaffe.

In front of me, the three wise men are less sympathetic. They look at each other and roll their eyes heavenward. Everybody knows to bring music with written-out chords. Clearly, Alex what's-his-name is hopeless.

Stone could have been devastated by the criticism and Shaiman's acknowledgement of his naiveté, but he isn't the least rattled. What the audience doesn't know is that the lad met Shaiman the night before and had told him he'd been in McLean's production of Catch Me If You Can as Frank Abagnale, Jr. So Shaiman now suggests that Stone sing Frank's eleven o'clock rouser "Goodbye."

Does Stone ever. A YouTube clip is worth a million words, so I'll let it do the writing for me. I'll wait till you get back.





You back? You realize, of course, that even a sensational auditionee barely gets an eyebrow-raise of appreciation from an accompanist. To even get a few handclaps of applause would be amazing. But to have a composer be so moved to get up and embrace the kid? That happens about as often as revivals of In My Life.

What you don't see on the YouTube clip is that the three Addison DeWitts in front of me suddenly became Mary Sunshines, jumping to their feet with roars of approval. Given that they know everything, they now wanted to have the bragging rights to having started the standing ovation for Alex Stone.

Later that night I ran into my pal Aubrey Berg, who occupies the Musical Theatre Chair at the University of Cincinnati-Conservatory of Music. "I'm sorry you weren't at the Shaiman-Wittman workshop," I said. "One kid there knocked 'em dead."

Berg nodded and said "Alex Stone."

Back in 1966, a three-performance musical called Pousse-Café was highly criticized for using the oh-so-trite line "Scandal travels fast in the academic world." Well, success travels much faster in the musical theater world.

Stone's triumph comes at a good time, for it's the day before he's to appear in McLean High School Theatre Company's abridged version of The Last Five Years at 4:30 p.m., following a 2:30 and a 3:30 p.m. show.

For the first play, a couple of dozen people await in the lobby; for the second show, perhaps a handful more or less are in attendance. But more than a half hour before Stone takes the stage, the lobby is already packed. Kids who saw Stone yesterday are here describing his feat to those who weren't there; lads and lasses who hadn't attended are now slamming their fists into their hands in frustration and cursing themselves for being so stupid for choosing a different workshop.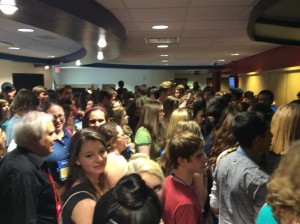 The usher who's about to open the house entreats everyone to move back so that the doors can be opened. Dozens of kids meekly comply, lest they infuriate this person in charge who might in anger banish them and keep them from seeing Broadway's Next Big Star. But once those doors are opened, the kids run at speeds that suggest they're being chased by Bigfoot. They want the closest possible seats to be near Alex Stone who's here in the flesh right here on this very stage. We can breathe the air he breathes!

The Last Five Years is Jason Robert Brown's musical about Cathy and Jamie, who meet and fall in love. Trouble is, her career as an actress is getting nowhere while his as a novelist is skyrocketing. His success and her failure come between them and the two divorce.

Brown has the two take turns in singing, but to keep this from seeming too familiar a tale, he has Cathy tell her story backwards, starting from the agony at the end of their relationship to the excitement of first meeting; Jamie instead goes forward from bliss to losing his love for his wife.

Cathy sings first, and Lily Lord gets a nice and substantial hand for her opening effort. But as Stone takes a breath before his first song, the audience is already riveted. When he sings "I've been waiting for someone like you," he shows that until now he'd been genuine yearning. On the line in which he notes that he has "a woman I love and an agent who loves me," he suggests that his feelings for the latter are just a little bit stronger. And when he gets to the image of a figure skater, Stone shows that he can move extraordinarily well.

Each time Stone finishes, the response is so titanic that a needle on an applause meter would beg for a two-day rest. Kids who were at the Shaiman-Wittman workshop are looking at their friends who weren't there with "Told ya!" in their eyes. Those who are meeting Stone's talent for the first time have mouths open wide enough to accommodate a 12-ounce Coke can.

As the show ambles along, Stone continues to get roof-raising huzzahs, but the nice thing is that people start paying attention to Lily Lord, too. By the end, her applause appreciation levels match those of her co-star. There's more to McLean High School Theatre Company than just one kid, you know.

For that matter, crackerjack director Amy Poe and choreographer Marielle Burt have brought something extra to the show. As you directors all well know, you cannot change a syllable of an author's work, and Poe and Burt have completely abided by that rule. However, they'd decided to make the show a dance piece, too. So four lads in black shirts and white pants and four lasses in white tops and black skirts and pantyhose express in dance what their male and female characters are feeling.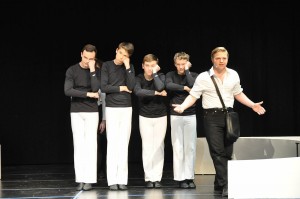 So after conquering the Shaiman-Wittman workshop on June 24 and The Last Five Years on June 25, Stone still had more in store on June 28, when the Festival's National Individual Events Showcase took place. Although 1,009 kids had applied, when the field was narrowed to four in the solo musical theatre category, Stone was there to sing "She Cries" from Songs For a New World. Soon the judges were saying "Really captivating work," "Your focus was really on point," "Connected emotionally," "Grounded yet free physically," "Great work, "Really confident and strong choices" before not only being told he had "an awesome voice" but also that he had done "an awesome job."

On July 11, a full 13 days later, I was back in New York attending an MTI/iTheatrics workshop I ran into my buddy Shirlee Idzakovich – a former Freddie G. Broadway Experience recipient -- who asked me if I'd been to the Thespian Festival in Nebraska. After I said yes, Spencer Lau -- another former Freddie G. Broadway Experience recipient – raised his eyebrows and asked with great interest, "Did you see that kid sing that song from Catch Me If You Can?"

Word of success doesn't just travel fast; it travels far, too.

Of course, what will ultimately determine Alex Stone's theatrical future is time, study, effort, discipline and the most important component of all: being in the right place at the right time when the right role comes along. Whether Alex Stone ultimately chooses to go into a completely different profession or beats Audra McDonald's record for the most Tony wins, he'll never forget – and nobody will ever be able to take away from him -- those heavenly June days at the Thespian Festival in Lincoln, Nebraska.

(And let's see what happens to the three critics.)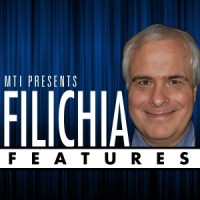 You may e-mail Peter at pfilichia@aol.com. Check out his weekly column each Tuesday at www.masterworksbroadway.com and each Friday at www.kritzerland.com. His new book, Strippers, Showgirls, and Sharks – a Very Opinionated History of the Broadway Musicals That Did Not Win the Tony Award is now available at www.amazon.com.