Filichia Features: Junior Theater Festival '13 Concludes
Filichia Features: Junior Theater Festival '13 Concludes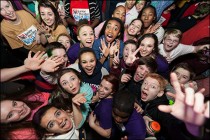 There'll be a grand finale on the final day of the Junior Theater Festival '13 in Atlanta.

But before the big display of entertainment, the teachers repair to classrooms to learn a little more about theater crafts. Ken Billington, the Tony-winning lighting designer of no fewer than 97 Broadway shows, will now shed light on what he knows.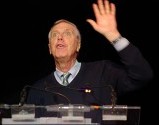 Billington offers everyone little booklets with samples of gels, and gives advice on which yellows make for good sunlight and which blues suggest good moonlight. Anyone who doubts the depth of his devotion to a production would be quelled by Billington's assertion that "I even specify how much light the work lights should give off -- so that workmen can do as good as possible of mopping the floor."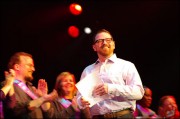 In a nearby room is Tobin Ost. He's the set designer who now has Newsies on Broadway and will soon have Jekyll & Hyde ensconced there, too. He advises, "Don't put scenery on stage because you think it should be there. Think about putting the money into costumes instead."

Still, if a director must have genuine sets, Ost, with his finger ever on the financial pulse, has some suggestions. "A polycarbonate called Twin-Wall may now be less expensive than lumber, and aluminum is a lot cheaper than it used to be." He also stresses that "Gloss black paint looks better than flat" and that "Chinese silk is not expensive and is easy to sew."

Ost concedes that the use of projections does allow "sets" to be changed quickly, but he rues that some directors too readily go to them. "Projections don't just mean plugging in a cord and presto, your work is done," he says with a grimace that suggests all the bad work he's seen projected on back walls over the years."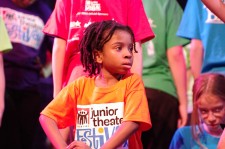 After the various classes around the Renaissance Waverly Hotel are concluded, the entertainment begins. The Broadway Jr. Slam in the MTI ShowSpace has kids doing "It's the Hard-Knock Life" from (need we add?) Annie. Wonder how many of these kids wouldn't be aware that there's such a structure as the Chrysler Building if this song and show had never been written? The cheers are so loud from the kids for this and for "I've Got No Strings" when My Son Pinocchio takes the stage that it's a wonder that the performers can hear the music.
No one begrudges the kids getting tumultuous applause, of course, but how about some kudos for the people who got them there. Bring on The Freddie G Awards, named for Music Theatre International's Chairman/CEO Freddie Gershon – and bring on Mr. Gershon himself.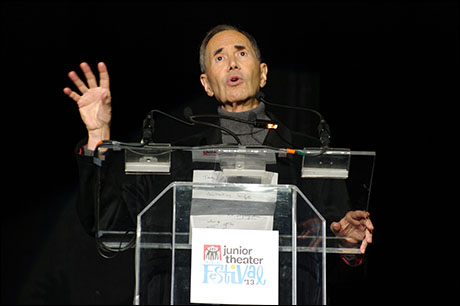 "My job," Gershon says, "is to keep MTI alive and do it with kids like you. You have passion and something called a teacher. Teachers are miracle-makers and yet are the least appreciated part of our community. Every adult you meet will tell you about a teacher who saw something in him that he didn't know he had."

The silence that greets these remarks is palpable. The kids are apparently thinking of the people who have made major differences in their own lives – many of whom are right here in the MTI ShowSpace.

Gershon goes on to say that Freddie G Awards to teachers should be "more than a piece of crystal. Teachers need more resources, such as sound and lights." And just in case the word "resources" is too vague, Gershon comes down to brass tacks: "They need money." And so, all eight Freddie G winners will not only get extensive training this summer in New York, but will also get $5,000 to spend however they want in their school programs.

This year's honored teachers are Claudia Appel (WINGS Performing Arts Center, Gulfport, MS), Eric Bragg (River Trail Middle School, Johns Creek, GA), Danelle Cauley (Faith Christian School, Rocky Mount, NC), Merill Cheyne (Harris County Carver Middle School, Hamilton, GA), Lori Flanders (Studio D Productions, Griffin, GA), Shirlee Idzakovich (Portsmouth Area Children's Theatre, Portsmouth, OH) Spencer Lau (Woodruff School ACE Music, Seabrook, NJ) and Joanne O'Kain (Roy Waldron Middle School, LaVergne, TN).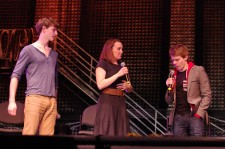 If the kids haven't cheered enough, they get plenty of opportunity now, as three members from the Broadway hit Newsies have taken this Sunday afternoon off to be with them: Mike Faist, the understudy for Jack Kelly, the leader of the newspaper strike; Kara Lindsay, who plays Katherine, the newspaper reporter who tells his story; and Andrew Keenan-Bolger, who portrays Jack's friend "Crutchie," the disabled young man whose real name we never learn.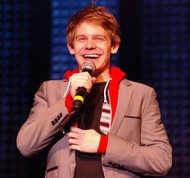 Today, Keenan-Bolger plays interviewer. When he asks Faist how he got started, the surprising answer is "The original NEWSIES film."  Thus, his appearing in the Broadway production had made him come full circle -- as perfect a circle as a happy face. There is, however, a greater irony in his playing Kelly, for he cites another Kelly -- Gene – as a profound influence. "When I saw him in Singin' In The Rain, I threw myself into every show I could find."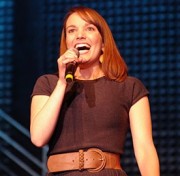 indsay says that she did extensive research to find anyone who resembled her character. Eventually she discovered 19th century newspaperwoman Nellie Bly (who in fact had a 1946 Broadway musical written about her). "Nellie pursued her dreams, as have I," says Lindsay. "She took huge risks, and so does anyone who tries acting as a career. But just as she found that taking big chances was all worth it, so have I."

Onto the stage bounds Newsies director Jeff Calhoun, who says, "I saw a lot of future Newsies in the blue pod." Given that there was both a light blue pod with eight groups and a dark blue one with seven, the boys in 15 different units can fantasize that Calhoun means them. The lads in the other nine pods are praying that Calhoun is colorblind.

Now the time has come for questions from the audience. "How can you make it different each night?" asks one boy. Answers Keenan-Bolger, "Every audience brings a different energy. The cheering and screaming is enough to keep us afloat." (Good point. The two times that I've seen NEWSIES, the roars of the crowds were so loud that you'd think that Elvis had entered the building.)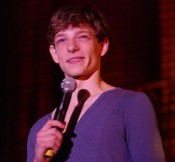 Faist advises that "You must maintain your health, like an athlete." Lindsay adds, "Even when you have a job, you don't stop taking classes." Lest it all seem too arduous, Keenan-Bolger reminds the kids that "We only really work three hours on most days – meaning when we do our shows." In his spare time, he confesses to writing and directing YouTube skits. The other two deal with off-time in very different ways. Lindsay is planning her upcoming wedding while Faist is taking some time off to go to India to work in an orphanage.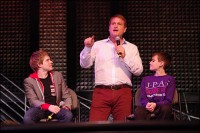 Then comes a far more serious question: "Were you bullied?" Keenan-Bolger says that indeed he was, but not because he was in musical theater, but because he was shorter than most of his classmates. "I had to find a place where I felt safe," he admits. "And that was theater."

Faist confesses, "I used to play baseball to fit in, but it wasn't my passion. I was a dancer," he says, before his eyes suddenly brighten because he's thought of a good line: "A dancer dances," he adds, quoting Cassie in A Chorus Line and getting generous laughs from the teachers who remember the show. "So instead of playing ball, I went with my passion. Other people's opinions didn't matter. I was happier fitting in with guys who wanted what I wanted out of life."

Although one associates boys as victims of bullies, Lindsay concedes that girls can get harassed too. "We kids in theater must learn how to be cool in our own way," she says, before wagging a finger at the crowd and insisting, "Don't let anyone make you feel bad for who you are. Someday you may very well be famous."

Calhoun stresses dedication. "I was quarterbacking the football team, and no matter how hurt I felt after practice on Wednesdays, I still went to my weekly tap-dance class. Keep working. Newsies has allowed over 20 actors to make their Broadway debuts. I hope we run long enough to make your dreams come true, too."

It very well might. Kids may not believe or feel that time passes quickly, but their teachers will tell them it's true. After all, aren't there now fewer than 525,600 minutes before Junior Theater Festival '14?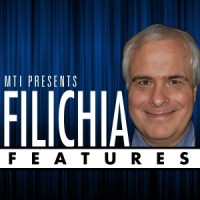 Read all of Filichia's Features!

Visit Peter's Official Website.

Check out Peter's weekly column each Tuesday at www.masterworksbroadway.com and each Friday at www.kritzerland.com.

Peter's newest book, Strippers, Showgirls, and Sharks: A Very Opinionated History of the Broadway Musicals That Did Not Win the Tony Award,is available for pre-order NOW!