Filichia Features: Pasek and Paul Perform Dogfight
Filichia Features: Pasek and Paul Perform Dogfight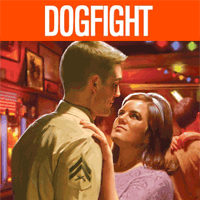 Yes, Katrina Ploof was brilliant in the title role of Golda's Balcony and Neilson R. Jones was an ominous professor and Vivian Hwang an eager student in Ionesco's The Lesson. But now comes another highlight of the American Association of Community Theatre Festival in Carmel, Indiana: seeing and hearing Benj Pasek and Justin Paul, the Tony-nominated songwriters of A Christmas Story, perform a mini-version of their Dogfight.

Dogfight, in case you missed it (and castigate yourself heavily if you did), ran at Second Stage last summer; thus, it was eligible for the Lucille Lortel Awards, which solely honor off-Broadway. Dogfight wound up winning the prize as Best Musical of 2012-1013.

MTI will be licensing the show, so senior operations officer John Prignano is throwing a party so that Pasek and Paul, who collaborate equally on music and lyrics, can tell the plot and do a few songs. It'll be a midnight performance, but it won't be The Rocky Horror Picture Show – although, as the crowd will see, Dogfight pictures a rocky relationship after a horrible incident. "It's not The Michael Vick Story," jokes Paul. No, but it has almost as callous a premise.

To be sure, many of the hundreds at the festival are here for the open bar and free hors d'oeuvres. They drink when Paul sits down at the piano — but when he starts to play and Pasek begins to sing, the conversations and drink orders drop in audibility as quick as the fade-out on a '60s 45 r.p.m. record. The crowd knows that there will be more receptions and other free meals during the conference -- but this will be the only chance to hear a new musical done by the artists who wrote it. In fact, later, when a bartender makes an untoward noise during a song, plenty of attendees snap their heads his way and glare in a "Be quiet!" mode.

When the crowd is told that Dogfight begins on Thursday, Nov. 21, 1963, members of the Greatest Generation and Baby Boomers soberly nod their heads; they know that this was the day before President John F. Kennedy was assassinated. That was the weekend that America lost its innocence, which is fitting for a show in which the major characters eventually lose theirs.

"We'll be playing tough Marines," says Pasek, before adding drolly, "Use your imagination." Indeed, Pasek and Paul are each trim-to-underweight, ever-smiling twentysomethings who seem as if they might not make it through the first half-hour of boot camp. But once they start singing their opening number, they become utterly macho.

"Some Kinda Time" shows that Eddie and his fellow Marines are solely out for what they feel is a good time. And that, sad to say, involves a cruel prank. In order to prove that they're "real men," these jarheads must prove that sensitivity isn't remotely a part of their make-up. So the plan is to have each one go to town, find the ugliest girl he can and bring her to a party. There each Marine will vote on which young woman is the most hideous. The one who brought her wins the pot.

At the moment, the Marines are full of bravado. "Goodbye to new Twilight Zones and Lesley Gore," they blithely sing. We'll see how confident they are after some time in the war zone of Vietnam where they'll encounter a very different kind of gore.

By now, plenty of audience members are already so impressed that they rush close to the stage to take pictures. (It's allowed here.) They want to remember this illustrious night, for while seeing a full production is marvelous, there's something extra-special in seeing the people who wrote a musical perform it. Paul has such enthusiasm that his gluteus maximus is constantly bouncing up and down on the piano bench. While his right foot is pushing the pedal, his left foot is animatedly keeping time with the music.

In "Come to a Party," Pasek doesn't double as Rose, Eddie's so-called "dog." The songwriters have brought with them Barrett Wilber Weed, who also has an off-Broadway and Broadway credit (respectively in Bare and Lysistrata Jones). Although Weed is a beauty, she has that gift that strong performers have: she can make herself look unattractive when the part calls for it. She's so into her character that her sandals reveal toes that curl from the excitement of being asked out. Then, when Rose is in her bedroom preparing and sings that Eddie is "Nothing Short of Wonderful," our hearts break for her.

Meanwhile, Pasek has retreated to a chair behind Weed. The intense look on his face suggests that he's reassessing every lyric he's hearing. He needn't worry; they're excellent. What a pleasure to hear young songwriters reject the pop world's penchant for half-rhymes (mine/time … boys/joy). Later, when I point this out to the guys, Pasek says, "We strongly believe in craft, and writing well-crafted lyrics really isn't all that hard."

No – not when you're innately talented, blessed with great imagination and are willing to spend the time finding the perfect rhyme.

Rose eventually learns the truth. "So," says Pasek, "she's back in her bedroom where she was recently so happy. Now there's sadness where there had been joy." Weed conveys that while singing "Return the earrings to their case; make-up won't make any difference. It's still the same old face."

Onto the second-act opener: "Hometown Hero's Ticker Tape Parade," which is what Eddie and his buddies fully expect. Well, the veterans of other wars were treated to such an honor, weren't they? Pasek and Paul show that these guys had no idea that the country had come to judge the Vietnam War as unjust and unnecessary. They convey that when Eddie comes marching home – as best he can after an injury – there are no hurrahs.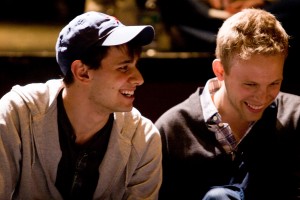 If that isn't hard enough, Eddie has given himself a difficult task: he'll look up Rose and apologize. In "First Date, Last Night," Pasek is very much in character, expressing his uneasiness by clasping his hands tightly together and holding them below his belt. And why does Rose even agree to see the brute? "Because," Weed says with confidence, "I'm so much more than you thought I was and I wanted you to know that."

After the presentation concludes, the line to meet Pasek and Paul is almost as long as the pre-show bar line. But Prignano has a modest line awaiting him, too. Several directors are asking when they can present Dogfight at their theaters. They see the point that Pasek made just before he concluded: "So many young people came to see our show along with the older people who went through that era."

But here's the best part. It's now the day after Dogfight, and a driver arrives at the hotel to shuttle Pasek, Paul, Weed and me to the airport. We three men are ready, but Weed is nowhere to be found. Perhaps, as the guys sing in the musical version of Miracle On 34th Street, "She Hadda Go Back" and retrieve something.

Pasek and Paul go hunting for her, while I stay to chat with the driver. We agree that working with the public when you're in a subservient capacity can quickly make one lose respect for the human race. (Take it from someone who was a hotel desk clerk during his college years.)

But the driver says, "These guys are nice, though. When I picked them up yesterday, they began asking me about me. They were surprised to hear how large my family was and that we all grew up on a farm where we raised livestock – and that I've decided to go to school for business management instead."

She goes on like this, and when she's finished, I notice that she doesn't say anything about Pasek and Paul's achievements. "Do you know what these guys do?" I ask, and she says she doesn't. I ask if she knows what the Tonys are, and after she nods and I divulge that her passengers had been nominated, her eyes widen in astonishment.

Believe me, I've met many people who have achieved far less than Pasek and Paul in many more than the 10 years than these two have been working together. Nevertheless, these other writers brag about themselves for so long that you could do Follies with every cut song in place before they stop. Pasek and Paul, however, were interested in learning about the lady and not aggrandizing themselves. With their inherent sensitivity, their ability to write about Marines who humiliate so-called unattractive young women is an even greater achievement.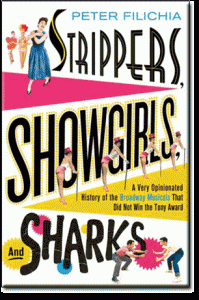 You may e-mail Peter at pfilichia@aol.com. Check out his weekly column each Tuesday at www.masterworksbroadway.com and each Friday at www.kritzerland.com. His book, Strippers, Showgirls, and Sharks – a Very Opinionated History of the Broadway Musicals That Did Not Win the Tony Award is now available at www.amazon.com.