Filichia Features: Peter Pan Flies Once More
Filichia Features: Peter Pan Flies Once More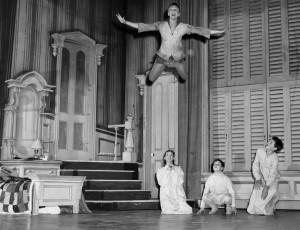 Mary Martin and the Darling Children in Peter Pan

Go ahead. Name a star entrance that's greater than Peter Pan's.

Try to name one that's more certain to get applause.

You can't, can you?

Of course, such Peter Pan stars as Mary Martin, Sandy Duncan and Cathy Rigby got immediate entrance applause in tribute of all their accomplishments long before they took their flights into the Darling nursery. But even if Little Lulu had been given the part, she would have received applause as she zoomed through the suddenly-opened windows. Flying on stage, after all, is still an impressive achievement for its own sake.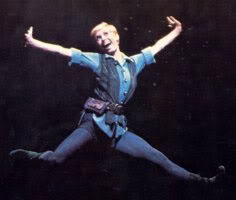 Sandy Duncan as Peter Pan

Now that doesn't mean that a Peter can't get tumultuous applause at the end of the show. Hannah Zazzaro certainly did in the recent production at the Cincinnati Conservatory of Music.

If Zazzaro is more than five feet tall, it's not by much. Actually, any Peter Pan should be as diminutive as possible, for we ARE talking about a boy who's chosen not to grow up, aren't we?

Zazzaro had the little details in check. After Peter told Wendy that she was not allowed to touch him and she asked why, Zazzaro tossed-off a vague and airy "I don't know" that suggested Peter had made the rule without giving it any thought. For the first time in nine trips to Peter Pan dating back decades, this line got a laugh. Stating "I don't know" with certainty, as the others have done, hasn't been nearly as funny.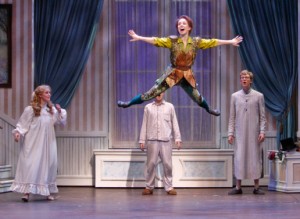 Cincinnati Conservatory of Music's Production of Peter Pan (© Mark Lyons)
Zazzaro also made a line pay off in a way I'd never heard before. In Act One, her Peter told Wendy that he'd like her to come to Neverland because "You could tuck us in and make pockets for us. None of us has any pockets." In Act Two, when singing the assets Wendy could bring to the island if they'd only accept her, she sang the lyric "Oh, what pleasure she'll bring to us; make us pockets." All the Lost Boys, under Joe Locarro's sharp-eyed direction, reacted accordingly, as if pockets would make all their dreams come true.

Truth is always what we're looking for in any art form, and Zazzaro gave the show a fascinating example of it. In the scene where Wendy has used a woman's touch to make Lost Boys Headquarters into a charming little bungalow, she's also cast Peter as the Father of the Brood. As always, this scene has Peter sitting in a rocking chair and reading the newspaper. "A little less noise there," Peter bellows in a fatherly voice, getting into his role.

But he's only fatherly for a second before the reality hits him: I'm playing a grown-up role, precisely what I promised myself I'd never do. None of this is expressed in dialogue, so Zazzaro had to make us see Peter's reluctance. She did it brilliantly by s-l-o-w-l-y lowering the newspaper from in front of her face and letting it rest on her lap; once it was there, we could fully see the expression that proved that her second thoughts were first-rate.

Here's an odd but valid point: Peter Pan is best-served by a theater that has no balconies. Those sitting in the orchestra won't notice what people in the upper reaches of the family circle, mezzanine or balcony will -- that the actor playing Peter, while looking for his lost shadow, obviously HAS one because the stage lighting can't conceal it.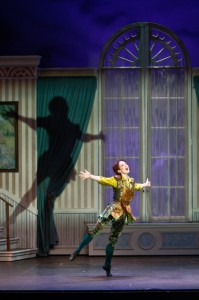 Cincinnati Conservatory of Music's Production of Peter Pan (© Mark Lyons)
Looking back on it now, how amazing that Barrie, who'd already had six plays produced before Peter Pan's 1904 debut, didn't consider this shadow-problem while writing the script. If not then, it should have occurred to him once the play was in production at The Duke of York's Theatre, a two-balcony house.

For that matter, Barrie didn't even need the lost shadow as motivation for Peter's return; the playwright had established that Peter also wanted to come back to the Darling manse to hear the final scene of Cinderella that he'd missed. Besides, isn't a shadow a liability in Neverland? If you were pursued on a daily basis by Captain Hook, wouldn't you be glad NOT to have a shadow, which could easily give you away when you were hiding from him? Barrie should have given a little more thought as to why Peter would want this albatross on his back, head, torso, legs, heels and, uh, gluteus maximus.

All right, all kidding aside, those who are writing their own original musicals should look carefully at the genesis of Peter Pan, for there's a lesson to be learned here. Composer Mark Charlap and wordsmith Carolyn Leigh were originally hired to write the music and lyrics. But during the San Francisco tryout, director-choreographer Jerome Robbins felt the score needed more. Instead of entrusting Charlap and Leigh to pen new tunes, he called his On the Town collaborators Betty Comden and Adolph Green to see if they'd be interested in writing the lyrics to new songs – which they agreed to do with their Two on the Aisle collaborator Jule Styne.

At this point, Charlap and Leigh had every legal right to take their score and go home. Instead, these two Broadway rookies agreed – despite their disappointment and reluctance – to let the three far more experienced songwriters (who'd already been represented on Broadway an aggregate seven times) come in and buttress what they'd written.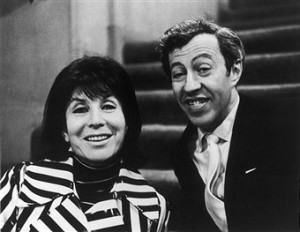 Betty Comden and Adolph Green

So the writers of "I've Got to Crow" had to eat crow, which was obviously humbling. What eventually ameliorated the hurt was that Peter Pan, despite a mere 152-performance run on Broadway, kept their banks accounts humming, thanks to its many television reincarnations, five Broadway revivals and thousands of amateur productions. For the last sixty-one years, Peter Pan has been a cash cow – nay, cash mastodon – first for all five writers and now for their estates. Charlap and Leigh soon found that the old saw "Fifty percent of something is better than 100% of nothing" was 100% accurate.

So in this instance, five heads were better than two. And while many Broadway neophytes automatically come to the conclusion that the best songs in Peter Pan just had to have been written by the more experienced team, they find upon closer examination that this is not the case. Everyone did fine work. Peter Pan needs such songs as "I'm Flying" and "I Won't Grow Up" – both Charlap-Leigh collaborations – just as much as "Neverland" or "Wendy" – among the Styne, Comden and Green efforts.

Musical theater has always been among the most collaborative of art forms. So, to all you budding creators of musicals out there who may someday be told to get some writing help, think carefully before you say "No!" and take your musical marbles home. Don't let a potential gold mine fly out the window as swiftly as Peter Pan.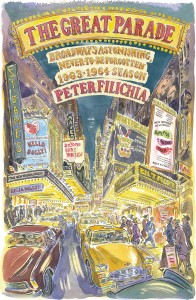 You may e-mail Peter at pfilichia@aol.com. Check out his weekly column each Tuesday at www.masterworksbroadway.com and each Friday at www.kritzerland.com. His book The Great Parade: Broadway's Astonishing, Never-To-Be Forgotten 1963-1964 Season is now available at www.amazon.com.