Filichia Features: Tarzan: A Musical from Hollywood and Vines
Filichia Features: Tarzan: A Musical from Hollywood and Vines
Getting your school's star quarterback, center or center fielder involved in a musical often isn't easy.
Snagging him for your show is easier, however, if the athlete has a role that he likes and one that fits him nicely.
And there is an ideal role for a young man who's made his mark on the gridiron, diamond, court or rink but has not yet shone on stage. It will fit him to a "T"— as in Tarzan the Ape Man.
Although bookwriter David Henry Hwang and composer-lyricist Phil Collins probably didn't consider this casting aspect when they wrote their 2006 musical, they nevertheless created a part for a novice actor that is unlike any other in musical theater.
This occurred to me as I watched Jeremy Quinn's extraordinary production of Disney's Tarzan at the White Plains Performing Arts Center last week.
During the scenes in which anthropologist Jane teaches Tarzan English word by word, his understandable non-command of the language won't seem awkward. Much of his dialogue is single-word simple and only involves his repeating what she's saying. The others he can deliver gingerly and haltingly without seeming incompetent.
No one will assume that his halting speech means he's a bad actor, but that he's simply playing the part. (He must show enthusiasm, however, for just like Bat Boy, Tarzan has an unquenchable thirst to learn.)
Now you and I know that in any theatrical production, every character winds up knowing every word of his part and everyone else's, too. But a just-starting-out amateur always worries that he won't be able to learn "all those lines." Telling him that all he need do in some scenes is repeat what's said to him or come out with glorified one-syllable grunts, and he'll feel that he's already beaten the theatrical system.
True, when Tarzan deals with Kala, Kerchark and the other animals, he speaks eloquently, because he was brought up in their "language." But he spends substantially more time dealing with an English word-here, an English word-there.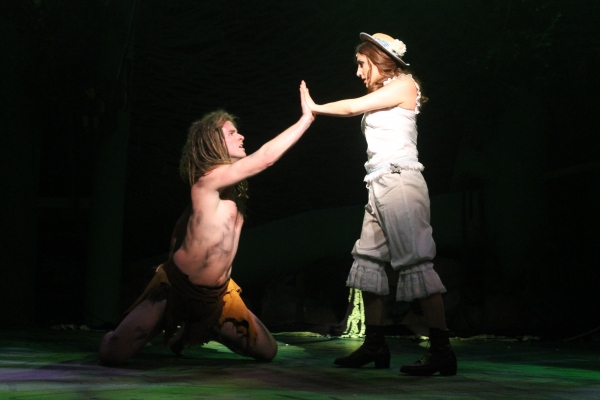 Chris Stevens and Jenna Dallacco in White Plains Performing Arts Center's Production of Tarzan (Photos by Kathleen Davisson)
Teenage boys often do have a question of "Where do I fit in?" – even sports stars. With all the media attention centered on sports, they've seen so many an older local legend go on to fail in college games and bowls – or, worse, being a high-draft pick and then coming up very short and cut by their team. Plenty of neo-Greek gods who were hand-picked by the pros soon were unemployed and asking "Now where do I fit in?"
Tarzan has a "Where do I fit in? scenario, too, as Hwang told me in 2006 shortly before rehearsals began.
"When Disney asked if I'd be interested, I realized that I knew little about Tarzan," he said. "That's rather surprising, considering it's the second-most filmed title in history. (Dracula is the first.) All I knew was a guy in a loincloth, swinging on vines, Cheetah and Bo Derek."
So Hwang read the stories by original Tarzan author Edgar Rice Burroughs. "What surprised me was that at heart, Burroughs wrote an intimate story about a guy who's 'born' into a family but doesn't look like everybody else. He has a vague sense of some other history, but has no way to access that until this English expedition comes to bring him face-to-face with an identity crisis. He's got one foot in each world, and has to reconcile these opposing parts of his past in order for him to move forward. It's not completely unrelated to what I write when I write plays about the Asian-American experience; it's just in a different context."
By the way, the Tony-winning Hwang admitted to having a stagestruck moment. "There was the thrill of, 'Wow, I get to meet Phil Collins,'" he says, referring to the six-time Grammy winner. "Even better is that Phil knows theater going way back – for he was the Artful Dodger in a revival of Oliver! that starred Barry Humphries (a/k/a Dame Edna) as Fagin."
Maybe mentioning that fact to your athlete could hold some sway, too. Stars in other fields often start on a school stage, you know.
There's another piece of catnip you can offer your potential Tarzan. Tell a boy that he can spend a good deal of the night swinging on a vine from stage left to stage right and back again. He'll soon be flexing his fingers to prepare them for a vise-tight grip on any rope that will come his way.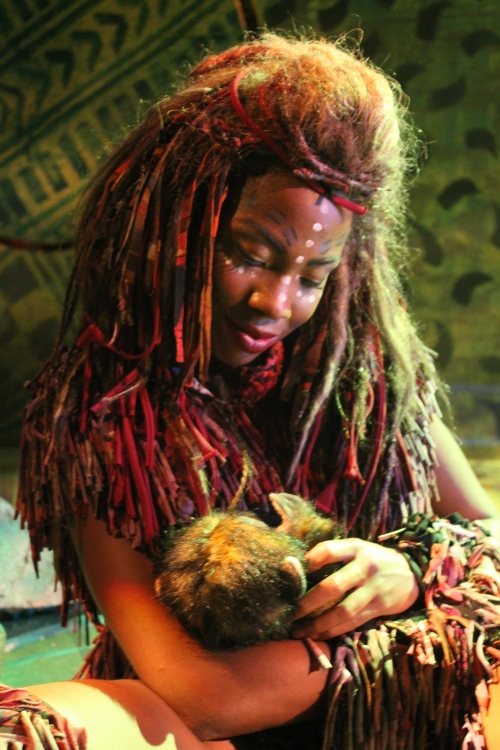 Jennifer Theriot as Kala in White Plains Performing Arts Center's Production of Tarzan (Photos by Kathleen Davisson)
If the young woman who's usually your leading lady is dating your potential Tarzan, so much the better. She can help you in convincing the lad to play opposite against her Jane. Won't they have fun together?
Although Jane doesn't enter until the end of Act One, it is an excellent role (which Jenna Dallacco played wonderfully). That her surname is Porter is apt, for Jane could very well have been a graduate of Miss Porter's School, the tony institution of learning that Joanne in RENT mentions as her alma mater.
Of course, Jane probably didn't attend Miss Porter's, for the Connecticut school is 3,500 miles away from Jane's native England. But we infer that Jane is finely educated because of her wonderful world view that is essential to Tarzan story.
Just as Fiddler on the Roof centers on "Tradition!" Tarzan's one-word theme can be said to be "Respect!" Clayton, whom Jane and her father hired as a guide, believes that gorillas are only out to kill humans. (In fact, they're herbivores.) Jane's open-minded refusal to suspect the worst of animals has her demand "Treat them with respect!" -- and makes us love her for it. The character also sends a good message to kids in the audience: respect those who are unlike you.
Clayton certainly has no respect when he happens on Tarzan. He wants to bring the "being" home and display him as "The Ape Man," much as Carl Denham would later do with King Kong. When he brings on a cage in Act Two, our hearts break, because by now we've come to love and care about Tarzan. We know he doesn't belong in such a pen and can't bear the thought of seeing him in it. Luckily, it doesn't come to that. The apotheosis of Tarzan's theme occurs in a most moving moment that director Quinn handled beautifully. Tarzan introduces Kala to Jane's father -- who takes off his helmet out of respect for this devoted mother. Granted, Tarzan offers only Jane and Kala as significant female roles. But Kala is, like Jane, a strong woman. At the top of the show, she's become a new mother – but a leopard kidnaps her child. Kala embarks on an odyssey to find her baby, and learns that the leopard killed it -- as well as the two white parents of a baby boy to whom his mother had just given birth.
We all have our own ways of dealing with tragedy. Unlike Diana in Next to Normal who cannot get past the death of her young son, Kala adopts this male baby and is ready to move on with her life and love. In this most natural setting, Kala believes in "Nurture, not nature."
For young theatergoers who have recently discovered that they were adopted, Tarzan helps them to see that the parent who provides the love becomes the real parent. Here's hoping they have a mother as loving and comitted as Jennifer Theriot's Kala in this production.
However, into every family some conflict must fall, and Kala's mate Kerchak doesn't share the same feelings for this newly-named Tarzan. "He's not one of us and he never will be!" Kerchak roars, making him an above-ground King Triton. Here in White Plains, Korie Lee Blossey played Kerchak with a tinge of sadness; he doesn't mean to be mean, but he's inherently frightened. But what King of the Jungle can admit that?
Hwang, who has often written about prejudice -- among humans, of course – here shows bigotry in the animal kingdom; he made it an even more important part of the story than it was in the original 1999 Disney animated film. Many young theatergoers will feel for young Tarzan when Kerchak takes him out into the wilderness fully intending to leave him there alone
As for the rest of your cast, don't kids love to portray animals? Oh, you'll have to keep reminding them not to step on each other's tails; aside from that, however, there's no need for precision choreography; in fact, if everyone did the same dance step, it would seem phony and much too "human." Let them dance on their own.
What's more, the kid-animals will also have an easy time with "dialogue," if one can even call it that; noises representative of the jungle are mostly all that are required.
Ultimately, Tarzan must decide whether he'll stay home or venture forth. Kala assures him, "You'll Be in My Heart" even if he does leave. The White Plains audience greeted this song with sustained applause and more than a few hand-wipes to the eyes.
Collins unequivocally earned it. In fact, this mother-son duet has the potential to become a staple at every wedding reception. Women who are preparing to become the mothers of the groom should take their sons to the piano and start learning Collins' tender melody and lyrics. "You'll Be in My Heart" could very well be the next "Sunrise, Sunset."
You may e-mail Peter at pfilichia@aol.com. Check out his weekly column each Monday at www.broadwayselect.com, Tuesday at www.masterworksbroadway.com and Friday at www.kritzerland.com. His book The Great Parade: Broadway's Astonishing, Never-To-Be Forgotten 1963-1964 Season is now available at www.amazon.com.