Filichia Features: The Fantastic(k) Harvey Schmidt
Filichia Features: The Fantastic(k) Harvey Schmidt
We lost a great one on February 28th.
Composer Harvey Schmidt can truly be called sui generis. Whenever he and lyricist Tom Jones originated a project, Schmidt provided a distinctive and delicate sound that sounded like no one else's.
When Schmidt was commissioned to write for Broadway, however, he could change his musical inclination and deliver that razz-ma-tazz music for which Broadway is regarded and loved.
It all began, of course, with two young men from Texas opening The Fantasticks on May 3, 1960. It isn't quite Boy Meets Girl, Boy Loses Girl, Boy Gets Girl; Matt and Luisa had met long ago when they were next-door-neighbor infants; for years, they've believed that they're truly in love. Let's call this one Boy Has Girl, Boy Tires of Girl, Boy Comes to Appreciate Girl.
"Try to Remember," Schmidt's ethereal waltz, bookended the story and became the show's best-known number. (Jerry Orbach, the future Detective Lennie Briscoe, was the first off-Broadway performer to sing it.) Nearly three full years into the run, Barbra Streisand immeasurably helped by bringing "Soon It's Gonna Rain" and "Much More" to wide attention thanks to her best-selling, Grammy-winning first album.
Even those who don't know beans about Broadway have heard of The Fantasticks. During the last 679 months, the show played New York for 617 of them – meaning that no fewer than 40 years of 20th century audiences and 12 of 21st century crowds saw its off-Broadway production. More than five dozen foreign countries have played host, too.
Its cast of nine – soon reduced to eight – was right in step with Schmidt's minimalist music. From then on, he and Jones seemed at home with small shows. Even Celebration, their 1969 Broadway parable, had a cast of 16, small for then and even now. Philemon, a 1975 effort about a pagan who pretends to convert to Christianity and then comes to believe in it, sported a cast of seven. Colette – concerning the esteemed French author – employed four actors when it played off-Broadway in 1970.
No, it wasn't a smash – 101 performances was all it could muster – but a big, 30-member-cast Colette for which Schmidt and Jones wrote a new score couldn't survive two out-of-town tryouts in 1982.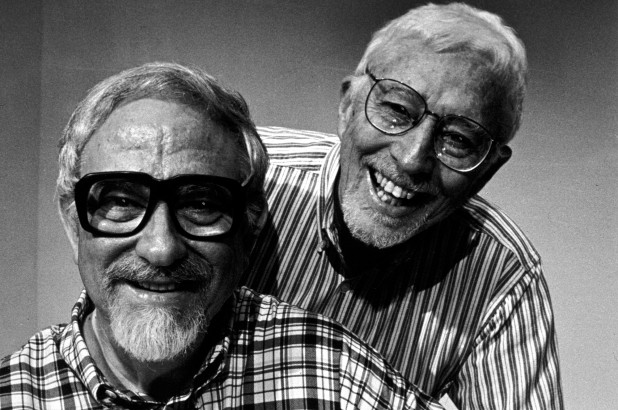 Tom Jones and Harvey Schmidt.  Getty Images.
Roadside in 2001 was their last official collaboration. Schmidt and Jones paid tribute to Oklahoma -- the state, not the show – although the nine-member musical was based on a play by Lynn Riggs, who had written Green Grow the Lilacs on which Oklahoma! was based.
But the smallest of all Schmidt and Jones musicals was in many ways their biggest: I Do! I Do! It had only two characters, but was fashioned for two of the Greatest Stars of the Day: Mary Martin, who had four Tonys (for South Pacific, Peter Pan, The Sound of Music and an honorary award for "spreading theatre to the country" by way of her national tour of Annie Get Your Gun).
In comparison, Robert Preston, Martin's leading man, had one Tony (for The Music Man). But Martin had had nearly a two-decade head start in Broadway musicals. As it would turn out, Preston would soon get a second Tony – for, in fact, I Do! I Do!
In a way, this musical is an older version of The Fantasticks: Man Has Woman, Man Tires of Woman, Man Comes to Appreciate Woman.
There's a good deal of sentiment at the top, for we meet Michael and Agnes on their wedding day when they delicately sing about what's to follow. Then they let loose in the title tune, a joyous number where they truly, truly believe "You can throw away your ev'ry care and doubt, 'cause that's what married life is all about." It's followed by a  number that would be classified as soft-shoe if Michael didn't perform it barefoot.
The hit song was Michael and Agnes' declaring that "My Cup Runneth Over (with love)." Neither Schmidt nor Jones apparently felt a need for a B-section, feeling that the lovely A-section would suffice and be strong enough to be sung repeatedly.
In to every marriage, a little rain – and a lot of hurricanes – must fall. After the kids arrive, Schmidt's music gets a little ominous when both Michael and Agnes defend themselves by insisting "Nobody's Perfect."
Then each gets a tour de force. Michael gets a hate-and-cane number in "A Well-Known Fact" where he crows that men age better than women. His wife will not take that and assures us that she'll become "Flaming Agnes." Yes, "The Honeymoon Is Over" as the first act ends.
The marriage doesn't. Act Two shows that Michael and Agnes acquire the wisdom of age and learn to appreciate each other's strengths and forgive the weaknesses. Schmidt's music reflects their maturity. Most notably, he provided a tender but strong melody for Martin's "What Is a Woman?"
The Fantasticks in 1960; 110 in the Shade in 1963; I Do! I Do! in 1966; Celebration in 1969. Those who paid attention to musical theater in the '60s just naturally assumed that at this rate they'd get a new Schmidt and Jones musical every three years.
No such luck. And now, with Harvey Schmidt no longer with us, even the off-chance that he and Jones might come up with another one is gone forever. We're lucky we have as much as we have.
You may e-mail Peter at pfilichia@aol.com. Check out his weekly column each Monday at www.broadwayselect.com and Tuesday at www.masterworksbroadway.com. His book, The Great Parade: Broadway's Astonishing, Never-To-Be Forgotten 1963-1964 Season is now available at www.amazon.com.