Filichia Features: The Robber Bridegroom Returns!
Filichia Features: The Robber Bridegroom Returns!
It's one of those Broadway musicals that doesn't sound like a Broadway musical.
The instrumentation on the original cast album from 40 years ago consisted of six musicians on three fiddles, two guitars, two banjos, one mandolin and one acoustic and electric bass. The second cast album, just released, has five music men on one piano, one banjo, two fiddles, four guitars and four mandolins.
For the overture to Annie, those would never do.
But they are of course right for The Robber Bridegroom, the 1975 musical that's set in Mississippi "once upon a Natchez trace."
For many of us, the word "trace" means copying a drawing after superimposing a piece of transparent paper. Southerners know another meaning because of The Old Natchez Trace, a 440-mile road that goes from Natchez to Nashville.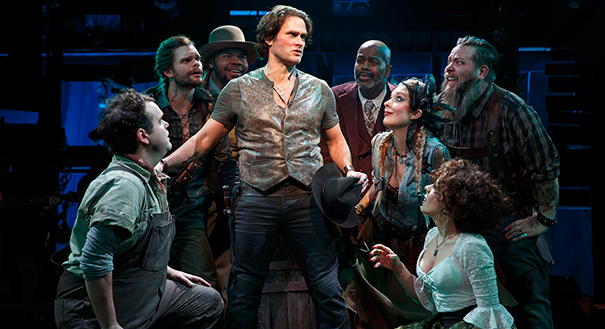 Steven Pasquale and the cast of The Robber Bridegroom at Roundabout Theatre Company (Photo by Joan Marcus). 
It had started as a 1942 novel from Southern Gothic writer extraordinaire Eudora Welty. Critics called her work a fairy tale that evoked the same eerie mood found in many works of the Grimm Brothers. Yes, but the score by composer Robert Waldman and lyricist Alfred Uhry (who also wrote the book) is joyous, too, and has the right country flavor.
Few could argue with that Grimm assessment when they meet the decapitated Big Harp whose still-alive head lives on independent of his body. Because he's stuck in a steamer trunk, he must rely on his dim-witted brother Little Harp. Still, the lad is obviously more mobile and can accomplish tasks that a trunk-bound man simply cannot. (This leads to one of the score's most winning songs, which is called, naturally enough, "Two Heads Are Better than One.")
The Harp Brothers, however, are not the main event. The Robber Bridegroom centers on Rosamund, a rural Mississippi young woman who comes from a moneyed family. She's the naïve type who's always ripe for adventure with a Bad Boy. She'll find him, as the haunting song goes, "Deeper in the Woods."
No question that Rosamund is getting herself in deeper once she runs into Jamie Lockhart, who has as many personalities as the two Harps. He likes to be a suave gentleman by day, but a common bandit by night.
Well, maybe not common. As his spirited song goes, "I Steal with Style."
Unfortunately for Rosamund, it's nighttime, so not only does Jamie rob her, but he also makes her strip naked. Original director Gerald Freedman made his Rosamund – a just-starting-out Patti LuPone – gain immediate infamy by having her let it all hang out in front of Jamie – an equally just-starting-out Kevin Kline.
Not a good idea for your audience? The obvious answer occurred to director Alex Timbers when he was preparing the heavenly 2016 off-Broadway revival. Buttressing Rosamund were two chorus boys, each of whom had a fern leaf that rivaled in size the ostrich feathers that greet Billy Flynn in Chicago. So when Ahna O'Reilly peeled, we just saw foliage and not frontage.
Remember, though, during the day Jamie goes respectable. When Little Harp breaks in to rob Clemment Musgrove, Jamie breaks up the crime. Clemment is so grateful that he invites Jamie home to meet his wife and daughter. And wouldn't you know that Clemment's girl turns out to be Rosamund?
This 2016 revival cast album is as superb as the first one. We can hear why the show received Lucille Lortel Awards for Outstanding Revival, Outstanding Lead Musical Actor (Steven Pasquale as Jamie) and Outstanding Featured Musical Actress (Leslie Kritzer as Salome, Rosamund's oh-so-evil stepmother. She was indeed a hoot when contorting her natively pretty face to look uber-ugly. You have to love a character who's considered unattractive by others who believe in themselves enough to think they're attractive.)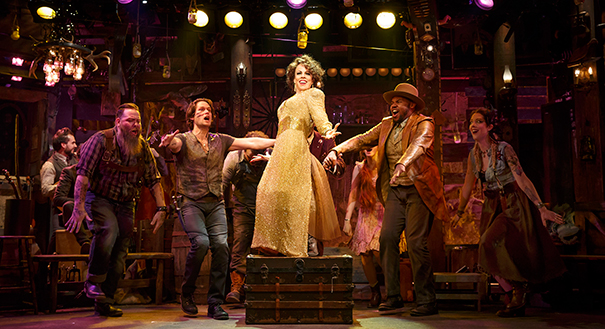 Leslie Kritzer and the cast of The Robber Bridegroom at Roundabout Theatre Company (Photo by Joan Marcus). 
To be fair, the first recording has Barry Bostwick, who played Jamie in the Broadway production, got the show's only Tony nomination and even wound up winning and spinning a Tony as Best Musical Actor. The Robber Bridegroom was one of the first jobs Bostwick had after playing Brad Majors in the legendary The Rocky Horror Picture Show.
Strangely enough, although we're talking about a country-flavored score, this new album sounds less "Broadway." It brings to mind what Benjamin Franklin said in 1776 when noting the differences between the 13 colonies and England -- that we were "rougher, simpler, more violent, more enterprising and less refined." His conclusion? "We require a new nation." Franklin's nine words apply here. The Robber Bridegroom required a new recording to help those who want to do a smaller but more rough-and-tumble version.
You may e-mail Peter at pfilichia@aol.com. Check out his weekly column each Monday at www.broadwayselect.com and Tuesday at www.masterworksbroadway.com. His book, The Great Parade: Broadway's Astonishing, Never-To-Be Forgotten 1963-1964 Season is now available at www.amazon.com.