Filichia Features: Tintypes in the 21st Century
Filichia Features: Tintypes in the 21st Century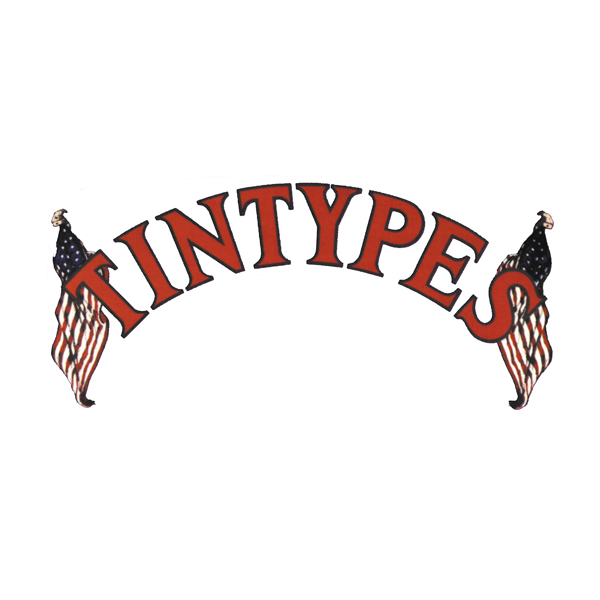 Honor thy great-great-grandfather and great-great-grandmother.

Not by visiting their graves, although that would be nice. Not by commissioning a plaque and attaching it to the wall of the still-standing building that was their first residence in America - although that would be lovely, too.

No, honor thy forebears by staging Tintypes, a musical tour of New York City when the 19th century was entering the 20th. Let your audience see what European immigrants had to endure when they stepped off the boat and The Statue of Liberty was well behind them. Show the African-American experience long before civil rights became a reality.

Contrast these two groups of have-nots with the WASPS, all of whom were living better lives. Who said the "Me Generation" began with the Baby Boomers? Those who lived in the 19th century could be pretty self-centered, too.

Tintypes was conceived by Mary Kyte, who was rewarded with a 1980-81 Best Book Tony nomination. She and her husband Gary Pearle as well as musical director Mel Marvin chose more than three dozen songs from the period and fashioned a show that also received a 1980-81 Tony nomination for Best Musical.

True, Tintypes covers the same territory that Rags and Ragtime would later explore. But those musicals, wondrous as they are, can only be staged by groups who have plenty of woman-and-manpower and a lavish budget. Tintypes instead needs only five cast members, not much of a set, comparatively few costumes and minimal choreography.

Director Ron Mulligan recently mounted a fine production in New Jersey at the Nutley Little Theatre. As the town's most famous native would say, "It's a good thing" - and although Martha Stewart was nowhere to be found, the crowd that did attend was enthralled by the period songs both familiar ("A Hot Time in the Old Town Tonight") and obscure.

Who knew there was a song called "Electricity?" But when you think of it, why not? It was a big deal in those days, so the world didn't have to wait for Elton John and Lee Hall to write a song by that title for Billy Elliot.

The biggest surprise of the night was "Fifty-Fifty." The crowd was open-mouthed in astonishment that a song from way-back-when (1914, to be precise) would have asked what then seemed to be an unthinkable question: if a husband can go out cavorting with his pals all night long, why can't a wife? The song - by two men, mind you (Jim Burris and Chris Smith) -- wasn't afraid even back then to demand that marriage be an equal "fifty-fifty" partnership.
The Cast of Tintypes at the Nutley Little Theatre. (from left) Leslie Dixon Silverman, Alex Oleksij, Laura Iacometta, George Adamo and Juliana Valente. (Photo © Ken Moore)

The audience also adored the song because Leslie Dixon Silverman, Laura Iacometta and Juliana Valente gave "Fifty-Fifty" more than 100%. Throughout the first act, they had been playing disparate characters: Silverman was Susannah, the African-American woman who was often seen working as a maid; Iacometta was Emma (as in Goldman) who had been a meek, uncomplaining laborer to a pioneer for workers' rights; Valente was Anna (as in Held), a Polish immigrant who reminded us that in America, you could shoot to stardom seemingly overnight.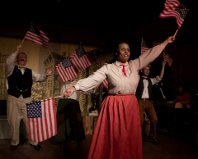 Leslie Dixon Silverman in Tintypes at the Nutley Little Theatre. (Photo © Lianne Schoenwiesner)

In other words, the three had nothing in common in Act One, but they all had the same agenda in Act Two with "Fifty-Fifty." Give us our rights, and give them now.

Similarly speaking, Tintypes' two male characters have backgrounds that are unalike. "TR," whom the authors could have just as easily named Teddy Roosevelt -- given that they have him say "Bully!" and "Charge!" as well as "Deeeee-lighted!" -- was admirably played by Alex Oleksij. The future 25th president of the United States has nothing in common with Charlie, whose birth name was probably Chaim.

If Tintypes could be said to have a leading role, Charlie is it, and in Nutley, George Adamo made him tenderly touching. Watching him make this character advance from a stranger in a strange land to a confident American was a thrilling experience.

Adamo constantly reminded us that the Charlies who came to America from here, there and everywhere didn't have it easy. Tintypes' audience members with a European or Russian heritage were shown that their ancestors endured scorn from established Americans who mocked their broken English, employed them in menial capacities at frightfully low wages and terrible working conditions -- and expected them to be grateful.

And where would America be today without them? As the new smash-hit Broadway musical Hamilton stresses, "Immigrants: we get the job done."

Charlie does have his flaws. Being new to a country makes him susceptible to its superstitions; he genuinely worries because his girlfriend has a dimple on her chin, for the prevailing wisdom is such a little indentation under a woman's mouth means that any husband will pre-decease her.

Truth to tell, Charlie horrifies us with a move he makes at the beginning of the show. After a WASP has summarily dismissed him, he meets Susannah, with whom he shakes hands. However, as soon as they release their grips, Charlie checks to see if any of her blackness has rubbed off on his fingers. Susannah sees this and chalks it up to yet one more indignity that African-American had to endure back then.

Susannah's apotheosis comes when she sings "Nobody," which was co-written and immortalized by Bert Williams (1874-1922). He was a black vaudevillian whom W.C. Fields called "the funniest man I ever saw - and the saddest man I ever knew." Hence, his 1905 song references the people who have helped him over the years - meaning "Nobody." (John Kander and Fred Ebb had this song in mind when they wrote "Mister Cellophane" for Chicago.)
The cast of Tintypes at the Nutley Little Theatre. (Photo © Ken Moore)

Here in Nutley, Leslie Dixon Silverman perfectly calibrated "Nothing," going from plaintive to angry as she increasing related man's inhumanity to her. She was also powerful in monologue on how Susannah was being sexually harassed and how she had no choice but to take it.

The show has five sequences called "Silent Movies" in honor of the best that film could do in those days. These dialogue-less and lyric-less sequences range from Charlie's tenuous attempts to ask directions on his first day in America to his dancing gleefully with everyone else at show's end. In Nutley, Shona Roebuck choreographed these to perfection.

But you will need five types to do Tintypes. If you've presented Arsenic and Old Lace in recent years, see if your Teddy Brewster can do "TR" for you. Anna must have a convincing European-flavored accent as well as a stunning soprano for "Kiss Me Again," "It's Delightful to Be Married" and "A Bird in a Gilded Cage." She also has to get down and dirty when she decides to go slumming by singing "Shortnin' Bread."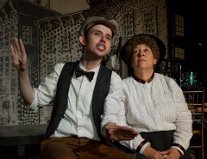 George Adamo and Laura Iacometta in Tintypes at the Nutley Little Theatre (Photo © Lianne Schoenwiesner)

If you really want to be authentic, you'll have to get a flag with 45 stars. Remember, Tintypes is set "at the turn of the 20th century." Given that the 45th state (Utah) entered the union in 1896 and the 46th (Oklahoma) wasn't admitted until 1907, you really need a flag with three rows of eight stars interspersed with three rows of seven. However, this item is available on many on-line sites.

While TINTYPES is a most entertaining American history lesson, it does, like it or not, speak to today as well. There's dialogue that notes "The few have so much and the many nothing." And yet, what Tintypes best shows is that Jews, blacks, WASPS, high-borns and the nouveau riche  can come together through music. Bring this message to your diverse audience as well.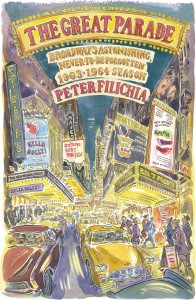 You may e-mail Peter at pfilichia@aol.com. Check out his weekly column each Monday at www.broadwayselect.com, Tuesday at www.masterworksbroadway.com and Friday atwww.kritzerland.com. His bookThe Great Parade: Broadway's Astonishing, Never-To-Be Forgotten 1963-1964 Season is now available at www.amazon.com.