Filichia Features: Tips from the Shrek Video and Two Cast Members
Filichia Features: Tips from the Shrek Video and Two Cast Members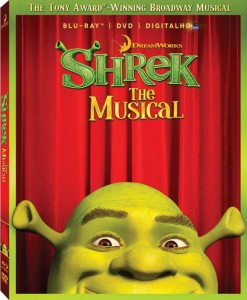 When you mount a musical, you needn't slavishly follow a Broadway's production's template.

In fact, some of the best subsequent productions of musicals have varied widely from the Broadway originals. All the lines and songs have been kept precisely in place, of course, but the director's vision may have been wildly different – sometimes worse, sometimes better – than the original.

The irony is that seeing the initial production of a Broadway musical just might paradoxically inspire you to have new ideas on how to mount it at your theater.

Many have been helped by watching the video reproductions of Sweeney Todd, Sunday In The Park With George and Into The Woods. Now we have a new video recording of another Broadway musical: Shrek. It was taped on the stage of the Broadway Theatre where it played for more than a year, shortly before it closed in 2010.

The title character is, of course, the green ogre whose lovely nature turned nasty because people mocked him for the way he looked and spurned him without giving him a chance. As a result, quite a bit of time must pass before he can believe and trust the Donkey who has been saying all along that he wants to be his buddy. And if friendship is hard for Shrek to achieve, imagine how difficult a time he has in daring to proclaim his love for the beautiful (or so he thinks) Princess Fiona.

Shrek was certainly lucky that he didn't fall prey to the evil Lord Farquaad. If the so-called noble tortured a little defenseless Gingerbread Man, imagine what he'd do to an ogre – especially one who loved the same princess that he coveted.

Of course, the not-so-good Lord did have troubles of his own. As was the case in the original Academy Award-winning animated film, Farquaad was established as terribly short. Bookwriter-lyricist David Lindsay-Abaire, composer Jeanine Tesori and director Jason Moore decided to keep that concept.

So what to do? Hire a vertically challenged actor?

Or should they keep their thinking caps on in hopes of finding another solution?

It's a good question for you, too. And if you missed Shrek's original Broadway production, you can now see via the video how the collaborators and Christopher Sieber, the actor cast as Farquaad, handled it.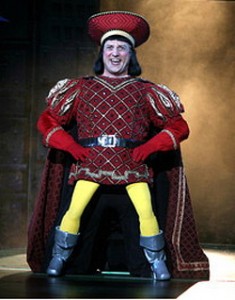 In a phone interview, Sieber told me that that the solution wasn't readily apparent. "And I was with the show from close to the beginning," he reported. "During the time I was in London doing Monty Python's Spamalot, I got a call from my friend Jason Moore," he said, citing the director who got on the theatrical map for beautifully staging Avenue Q.

"Jason told me when he would have liked me back in America to do the first reading, and when I told him when I'd been planning to return, the timing perfectly fit into his plans."

So Sieber did a reading. "It went well," he reported. "But at this point they only had two-thirds of the first act and four songs. What they were also missing – even as the subsequent workshop started, which I'd also be a part of – was a concrete idea on how to handle Lord Farquaad's lack of height."

Okay, directors: as Fraulein Schneider sang in Cabaret: "What would you do?"

Reported Sieber, "At first, they thought about hiding me behind set pieces and only showing me from the waist up."

(To all you directors out there: it is a solution.)

"Then," Sieber continued, "there was talk of digging a trough on the stage and having me walk in it, with just a little of me revealed."

(Again to directors: it is a solution, although this does seem to be a more difficult one for most stages.)

Actually, neither the first nor second solution appealed to Sieber. "And that's why," he said, "I took matters into my own hands -- and legs."

Sieber recalled a Charlie Chaplin film (although he couldn't recall its name) in which the famed silent film star knelt down, put his knees in a pair of shoes and began walking – "if," he said, "you can call what I was doing walking. But that's what I came in doing one day at rehearsals. I don't believe I'll ever hear the sound of everyone's laughter when they saw me doing that. I knew immediately that that's what we'd go with."

And indeed it was. Sieber wore a little – well, shall we say, skirt – of black on which images of teensy little legs were sewn.

Of course Sieber soon discovered that there was a profound difference between taking a few baby steps in a rehearsal hall and appearing in scene after scene after scene on a vast Broadway stage that took substantially longer and far more knee power to cross.

"I had muscles going that I never thought I had," he said with a laugh, before stopping the laugh mid-chuckle when remembering, "After a few weeks, I was also in physical therapy."

To be fair, the difference between your production and the one in which Sieber appeared is that he did the entire 441-performance run. While we'd all like to think that your production of Shrek would run as long, we must be real – and your Lord Farquaad must be grateful.

So if Sieber had it to do it over again, would he have elected to take another easier job – such as mining coal, emptying dumpsters or fishing for crabs in Alaska?

"No," he said, allowing himself to laugh once more. "I had a blast. The applause and laughs really sustained me. I wouldn't have expected at the outset that I would have stayed for the entire time the show ran – not when I'd have to be on my knees 100% of the time – but I managed. I did, however, have more rubber padding on my knees than some astronauts get at NASA."

Costume designers at your theater, take note!

"What I do feel a little bad about," Sieber said after taking a heavy, thought-filled breath, "is that it's my fault that many Lord Farquaads will be doing it this way."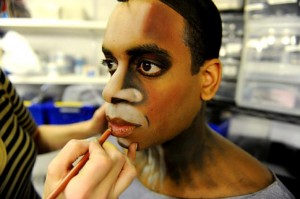 All right, but there's a good chance that the performer you choose to play Donkey will be grateful for the chance. At a recent party, I asked Daniel Breaker, who played the role in the Broadway production, what he remembered.

"Honestly," he said eyes widening, as if to say he would understand if any skepticism would greet what he had to say, "I truly believe that I look at life a little better now for having been in this show. I was one of those cynical New Yorkers who questioned everything. Playing Donkey, though, made me see the beauty of someone who was always open, wasn't afraid to let his true feelings about absolutely everything pour out. I wouldn't have thought that playing a character who wears his heart on his sleeve would make me a better person, but I think Donkey made me one."

By the way, even if you don't feel inclined to play Lord Farquaad or Donkey or have no goals in directing or designing Shrek, the video is a pleasure for its own sake. It might very well make a great holiday present for any friend, relative, colleague – or yourself.

Part of the reason is the story itself: it has heart and soul, as do the performances, not only from Sieber and Breaker, but also from Brian d'Arcy James as the aggressive and then passive Shrek; Sutton Foster as the nice-but-occasionally snarky Princess Fiona; and John Tartaglia as Pinocchio.

When the show opened in 2008, DreamWorks set the record for the most money ever spent on a Broadway musical – a reported $25 million. One can easily see in this video where the money went.

Granted, Shrek was later eclipsed as the most expensive Broadway musical ever by another show, but it still holds the record as the most expensive Broadway musical to incur no serious injuries.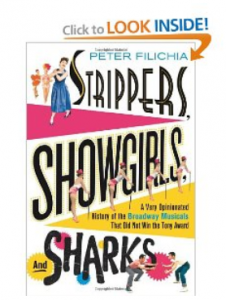 You may e-mail Peter at pfilichia@aol.com. Check out his weekly column each Tuesday at www.masterworksbroadway.com and each Friday at www.kritzerland.com. His new book, Strippers, Showgirls, and Sharks – a Very Opinionated History of the Broadway Musicals That Did Not Win the Tony Award is now available at www.amazon.com.