Filichia Features: Wrapping up The Junior Theater Festival
Filichia Features: Wrapping up The Junior Theater Festival
When we last left The Junior Theater Festival in Atlanta, high noon had struck on Saturday and the morning session of six 15-minute mini-musicals had concluded.
But wait! The afternoon will bring two more quarter-hour hits.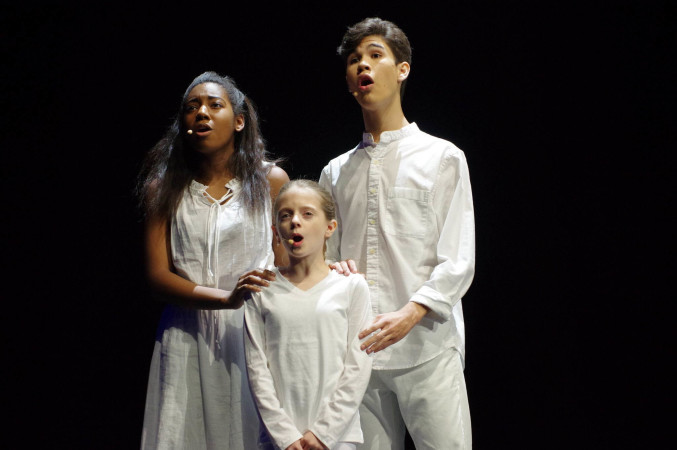 Students perform a tribute to authors Lynn Ahrens and Stephen Flaherty at the Junior Theater Festival (Photo © Marcus Woollen).
What a superb job the lad playing Buddy does in Elf, courtesy of The Decatur Community Players from nearby Clarkson. Then again, all 18 kids, ranging from eight to 15, are utterly professional and accomplished.
However, after their presentation they suddenly look completely confused when the adjudicator tells them "You worked your tuchuses off." Apparently the Yiddish term hasn't made the 855-mile journey from Second Avenue to DeKalb County.
Next we'll see what Colorado Children's Theatre has brought from the tiny town of Evergreen (pop. 9,038). Considering the genetic makeup of its Guys and Dolls, there'd be more truth-in-advertising if it were retitled Few Guys and Many More Dolls.
No matter, for the four girls playing the "Fugue for Tinhorns" bettors and Nicely-Nicely Johnson have terrific side-of-the-mouth deliveries. "Luck Be a Lady" sports many young ladies who are so intently involved in the dice game that you'd swear they'd memorized that 1949 Hollywood film The Lady Gambles.
Most impressive is the girl who sings "If I Were a Bell," for she sings her last note – "dingggggggggg!" – with chime-like clarity. Considering that it ends with a consonant, her achievement is even more remarkable. Wheel of Fortune contestants occasionally need to buy a vowel, but this lass doesn't require one to bring her song to a memorable finish.
Then comes lunch, where signs with arrows point kids to such bagged delicacies as "Turkey Sandwiches with Cheese, Lettuce and Tomato." Afterward there are workshops, including Tessa Derfner's "Working with Special Needs Students."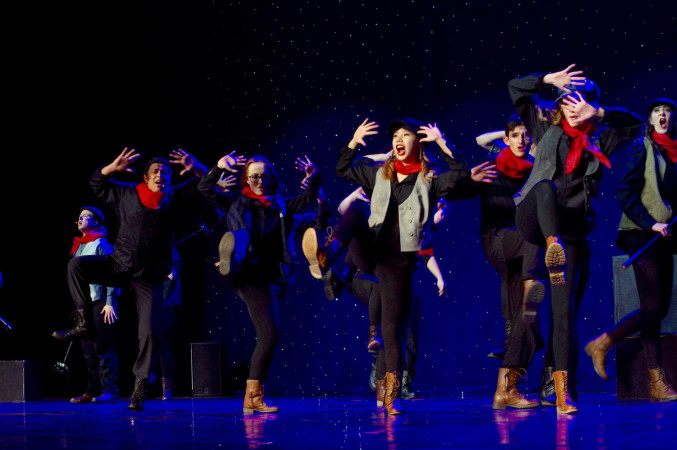 Students perform Mary Poppins JR. at the Junior Theater Festival (Photo © Marcus Woollen).
The teachers who attend are surprised and amused that Derfner is putting them in a circle, asking them to become characters from Disney's The Jungle Book and adding a gesture for each one. "Mowgli!" means crossing their arms angrily; "King Louie!" involves scratching under their armpits. They all enjoy making monkeys of themselves.
The upshot? "Notice that I'm not requiring any of you to speak," says Derfner. "This exercise makes it easier on your special-needs students while giving you the chance to see where their physical strengths and weaknesses are. Learning to understand another's way of communicating is essential."
Derfner also addresses the thorny issue of what to do when parents complain that their child is in a class that includes special-needs kids. She says with more than a modicum of triumph, "Tell them about the federal law that says every child has a right to be included in a class."
Saturday night offers the pièces de résistance: MTI's five newest works that will interest theatrically minded middle-schools and groups. First up is Jersey City's Conwell Kidz Drama Program's Pirates Past Noon KIDS. This time those Magic Tree House occupants Jack and Annie try to find some buried treasure that's also treasured by pirates.
One girl who wears a starfish headpiece has star quality. Will she become one? Probably – although, wondrous as she is, not necessarily on stage. Remember, kids who do theater gain the confidence they then use to become movers and shakers in any field they choose.
Elizabeth, New Jersey's Center Players debuts Disney's Jungle Book KIDS. "We need you here to make our dreams come true," goes one lyric, and certainly the girl performing "Trust in Me" has one of her dreams come true: her peers in the audience scream their approval when they hear her voice. The song is a superb showcase in itself, and your best female soloist will do equally well when you give her the chance.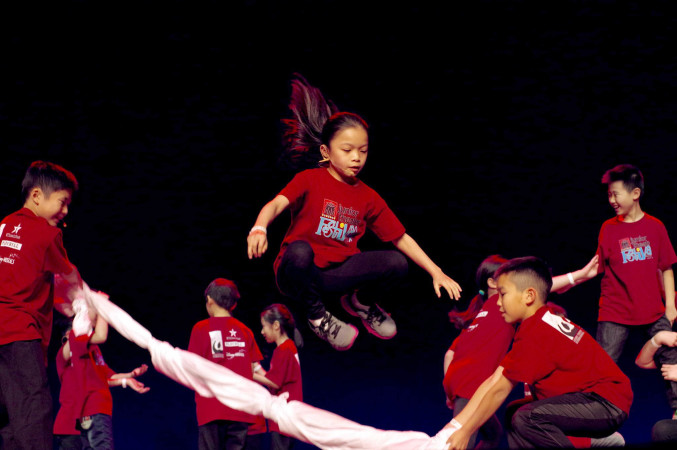 Students perform Annie JR. at the Junior Theater Festival (Photo © Marcus Woollen).
We only spot about 40 dalmatians in Disney's 101 Dalmatians KIDS, but that still makes for plenty of spots. Hunter Drama from – yes! – Newcastle, Australia certainly found the right girl for Cruella De Vil, who's far worse than The Wicked Witch of the West; she only had it in for Toto, but Cruella wants enough dogs to make her a coat. Think about doing this show for a PETA benefit.
Junie B. Jones, Jr. has its heroine realize through a blank composition book what Seurat in Sunday in the Park with George understood from an all-white canvas: "So many possibilities."
In this case, Junie will be "writing down the story of my life." Luckily for us, she'll be singing it, too. Composer Zina Goldrich and her bookwriter-lyricist Marcy Heisler are in the audience and weeping openly. Do their tears flow because the kids from Eastern Shores Repertory Theatre of Fairhope, Alabama are so good or because the audience gives one of their songs the ultimate compliment: everyone starts clapping in rhythm only a few measures into the tune. (My guess? Both!)
Mary Poppins, Jr., courtesy of Play On Players from Gainesville, GA has its kids replicate Matthew Bourne's idea of giving a specific gesture for every letter of supercalifragilisticexpialidocious. But there's a lagniappe at the end: 34 students each produce a letter that spells out the adjective, lest we think they've been singing "super calloused fragile mystic hexed by halitosis."
There's still a full Sunday left at the Junior Theater Festival, but I'm not telling you more. Why? Because I want you to be surprised when you attend. In fact, you won't be surprised – you'll be astonished. Start planning now; next January will be here before you know it.
You may e-mail Peter at pfilichia@aol.com. Check out his weekly column each Monday at www.broadwayselect.com and Tuesday at www.masterworksbroadway.com. His book, The Great Parade: Broadway's Astonishing, Never-To-Be Forgotten 1963-1964 Season is now available at www.amazon.com.