Filichia's Features: Damn Yankees for All Time!
Filichia's Features: Damn Yankees for All Time!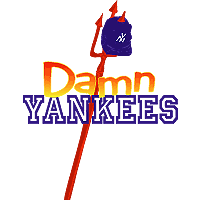 The recent Paper Mill Playhouse production of Damn Yankees was so nice that I saw it twice. (Those in Seattle will be able to catch this production from April 21 to May 20, 2012.)

That the original script was used – and not the erratic one that Jack O'Brien adapted for the 1994 Broadway revival – made all the difference. Luckily, anyone who now chooses to stage Damn Yankees will only be offered the original script by George Abbott and Douglass Wallop (from the latter's novel, The Year the Yankees Lost the Pennant). Each and every song in the fine (and final) score by Richard Adler and Jerry Ross is now again sung by the character(s) who originally sang them.

Producing a Broadway musical about baseball was quite a challenge in 1955. Back then, the prevailing wisdom was that men were interested in the sport and women loathed it. Thus, how could the show ever hope to attract that all-important female audience?

In fact, by precisely showing that struggle. During the stirring opening number the wives lament that they're baseball widows "Six Months out of Every Year." Paper Mill director Mark. S. Hoebee obeyed the stage direction that states "a chorus of men from the neighborhood enters" into Joe and Meg Boyd's house, promptly followed by the men's wives in their "gaily colored aprons" to stress the misery en masse.

How endearing that everyone entered through the unlocked front door without even bothering to knock. Yes, Damn Yankees charms today partly because it returns us to a gentler era. The worst we hear about cigarette smoking is that it's "a filthy habit."

That's said by Mr. Applegate (read: The Devil) when he first appears to Joe Boyd and offers the aging man the chance to regain his youth and become a star baseball player for the woebegone Washington Senators. To show his power, Applegate asks Boyd to touch his toes, which the overweight man feels he can't do. But he can, thanks to not-at-all divine intervention. (Warning: make certain that when you're holding auditions that you see if your contenders for Boyd can achieve this.)

Regaining one's youth and again pursuing dreams left behind resonates with both men and women. It always will. That truth mitigates the parts of 1950s life that we don't like as much today. Husbands now don't call their wives "Old Girl" as Joe Boyd does. But the Paper Mill audience didn't hiss, for it saw the expression as a term of endearment. Only you can tell if yours will feel the same way.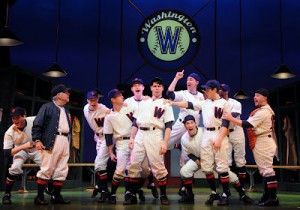 The Washington Senators - Damn Yankees at Paper Mill Playhouse

One of Adler and Ross' songs even has "Old Girl" as part of its title. Musical theater songs are ideally supposed to move the action forward, and "Goodbye, Old Girl" is an example of Broadway's best. Although affable, balding, fiftysomething, overweight and out-of-gas Joe Boyd starts the song, by song's end he's been transformed into twentysomething, hirsute and handsome Joe Hardy, ready to take on the baseball world. The stage directions also say that now "his clothes are much too big for him," but Hoebee dispensed with that idea and had Joe in a shirt and slacks that fit. Actually, that makes more sense; why would Applegate change the body but not the duds?

Damn Yankees was ahead of its time in one important aspect: it dared to have a female sportswriter. Women reporting on sports abound now, but back then, they were scarcer than – well, aisle seats to Damn Yankees in 1955. Applegate's advice Gloria Thorpe is, however, pure retro: "Get married. Have children."

This was a different era in sports, too. Baseball was then, as Applegate says, "the national game." Now football and college basketball have eclipsed it. Senator shortstop Sohovik is seen selling insurance, as many players did then to make ends meet. Today, some .222 hitters have more money than some insurance companies.

So Damn Yankees has a great deal of nostalgia to offer contemporary audiences. Newer baseball fans will be charmed to learn that a team that finished first was automatically in the World Series; it didn't have to prove itself through two arduous rounds of playoffs. And these days when a team can finish no worse than fifth – thanks to the teams being split into divisions – the Senators' then lolling in seventh place sounds truly grim. Die-hard fans will chuckle, too, that the nickname chosen for Hardy is "Shoeless Joe" -- for that was the sobriquet of "Shoeless" Joe Jackson, the disgraced left fielder who was accused of throwing the 1919 World Series.
But baseball fans old and young will now and forever nod in understanding when the Senators' owner says, "These newspaper people don't know what it is to have your heart in a ball club."
Damn Yankees was produced in the era when many a musical had an optimistic song in its tunestack. Adler and Ross met the challenge by writing one of the best: "(You Gotta Have) Heart." It happens shortly after another scene that appeals to both sexes: Benny Van Buren, the Senators' manager, goes over the complicated signals that baseball teams routinely use to flummox the opposing team: a tap on the head or the rubbing of an arm from shoulder to fingertips. The authors smartly urged directors to overdo it, and at Paper Mill Hoebee had Ray DeMattis add bumps and grinds that would have been worthy of Mazeppa, Electra and Tessie Tura.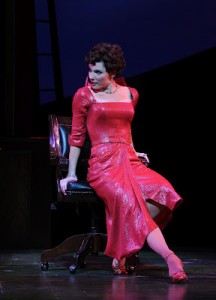 Chrissy Whitehead as Lola - Damn Yankees at Paper Mill Playhouse

"Whatever Lola Wants" has Applegate's greatest seductress vamp Joe, fully expecting to succeed. Afterward, we get one of the finest lines in any musical comedy, one that should inspire men and women to remain faithful to their spouses. For despite Lola's feminine wiles, Joe says, "If it was you I promised to come home to, you'd want me to, wouldn't you?" And that, as they say, is that.

Well, not quite. Beating the devil is never easy, and Joe appears condemned to Applegate now and forever. Thus, he joins Lola in singing "Two Lost Souls." Hoebee directed Christopher Charles Wood to play unmitigated joy; as a result, Joe Hardy seemed glad to finally be rid of his aging wife so that he could spend a lifetime with Lola. Instead, the actor should convey that he's making the best of a bad situation.

Even the lesser-known songs are choice, including the one in which Lola brags of having "A Little Brains, a Little Talent." When I interviewed original Lola Gwen Verdon in 1993, she told me that this song went in so hastily in Boston that an obscured assistant stage manager stood behind her and fed her the lyrics. If her memory failed, she'd have to pay great attention to that man behind the curtain.

In retrospect, Verdon probably wished that she hadn't remembered one lyric – when she mentioned a locale where "George Washington once slept here," before adding, "Guess who was beside him." She told me she received a lot of hate mail from theatergoers who were incensed that she should say such a thing about the married Father of Our Country. Granted, 57 years have passed since then, and we're in a far more permissive society, but be aware that this line has incensed people in the past.

The scene in which Joe Hardy Fan Clubs present a benefit is easily staged. The costumes are supposed to be "uniforms from the teams of the American League," but Hoebee smartly determined that a benefit means that any act would be welcome; thus, any costume would be, too. He raided his costume shop and had one actor dressed as a clown and another as a gorilla. You can, too.

Hoebee showed negligence, however, in the scene where Applegate is furious with Lola and she is, as the stage directions say, "transformed into an ugly old harridan." Hoebee chose not bother with the costume change that would show Lola as the 172-year-old woman that she really is – and the production lost something because of it. Truly, if you can have a puff of smoke occur when Joe Boyd becomes Joe Hardy, you can have another one in which Lola the Beauty becomes Lola the Beast. Simply have another performer made up to look like the Wrath of God and use her after the switch.

One final note about that production: I was invited there by the father of the teen playing Lola. He wanted my opinion on whether or not the lass should pursue musical theater as a career. "You see," the father said, "her mother and I think she's terrific and could become a star, but she wants to be a lawyer." That's a switch, huh?

The teen, by the way, was terrific, and after the show I told her, "You're a natural talent and an amazing performer. Now go and be the lawyer that you want to be."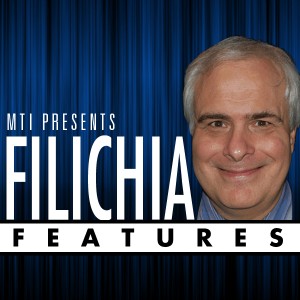 You may e-mail Peter at pfilichia@aol.com. Check out his weekly column each Tuesday at www.masterworksbroadway.com and each Friday at www.kritzerland.com. His newest book, Broadway Musical MVPs, 1960-2010: The Most Valuable Players of the Past 50 Seasons, is now available through Applause Books and at www.amazon.com.