HUNDREDS OF NYC PUBLIC SCHOOL STUDENTS PERFORM AT BROOKLYN COLLEGE
HUNDREDS OF NYC PUBLIC SCHOOL STUDENTS PERFORM AT BROOKLYN COLLEGE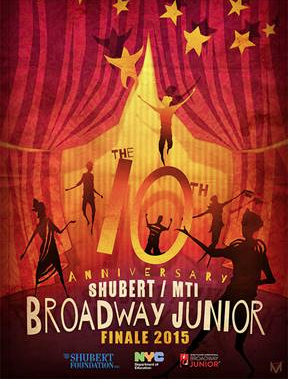 10th ANNIVERSARY STUDENT SHARE CELEBRATION OF
THE SHUBERT FOUNDATION and MUSIC THEATRE INTERNATIONAL'S
"BROADWAY JUNIOR"
Hosted by Mary Page Nance
From Broadway's "Finding Neverland"
 TUESDAY, June 2nd ONSTAGE at the Brooklyn Center for the Performing Arts
 at Brooklyn College
Hundreds of NYC Public School Students Performing Musical Numbers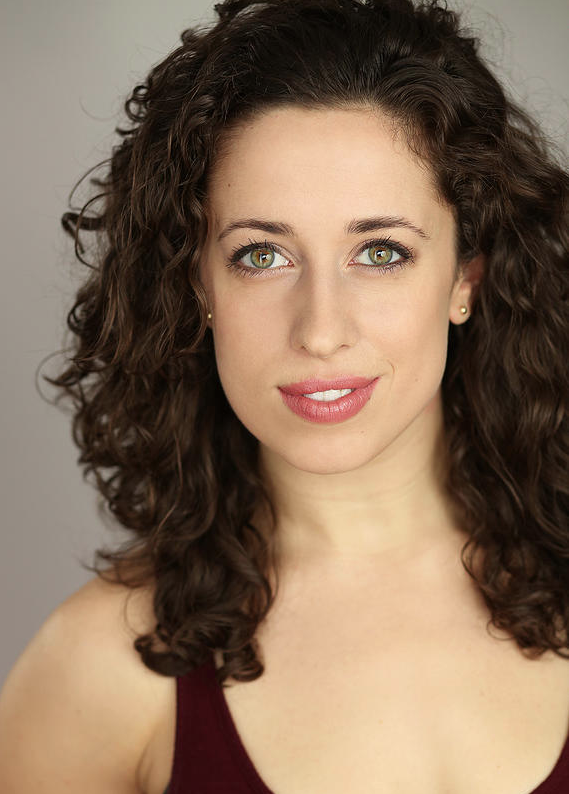 Hosted by Mary Page Nance of Broadway's Finding Neverland
(Photo ©Ted Ely Photography)
NEW YORK
–
The 10th Anniversary celebration of The Shubert Foundation/Music Theatre International arts education
Broadway Junior
Program will take place Tuesday, June 2nd, 2015 at 10:30 a.m. at
Brooklyn Center for the Performing Arts at Brooklyn College (2900 Campus Rd.)
The event will be hosted by
Mary Page Nance
from Broadway's "Finding Neverland."
Students from Brooklyn, Bronx, Queens and Manhattan will perform song and dance numbers from their school versions of Broadway musicals. The shows include
Guys and Dolls
JR, Once on this Island JR, Fame JR, Annie JR,
and
Schoolhouse Rock Live
JR.
The Shubert /MTI
Broadway Junior
Program is a groundbreaking musical theatre mentorship program that builds self-sustaining theatre programs in public schools that have limited arts programming.  The program is sponsored by The Shubert Foundation, Music Theatre International (MTI) and the New York City Department of Education (NYCDOE).
At the event on Tuesday, June 2nd, the New York City Department of Education Office of Arts and Special Projects Executive Director, Paul King will offer welcoming remarks and will introduce this Celebration's
Broadway
Junior
host,
Mary Page Nance,
who is currently starring in the hit Broadway musical, "Finding Neverland"
In attendance at the
Broadway Junior
event will be prominent NYC arts educators, and leading members of New York's professional theater community.
"The arts teaches students the importance of revising, editing, rehearsing and joy in the pursuit of mastery – a lesson critical in the classroom and beyond," said School's Chancellor Carmen Fariña. "Expanding access to theater, and more generally arts education, helps inspire students, builds confidence and deepens their critical thinking skills. By taking advantage of the City's rich cultural resources, and partnering with great organizations like the Shubert Foundation, we will be able to continue to offer teachers hands on training and arts experiences and give our students access to a world class arts education."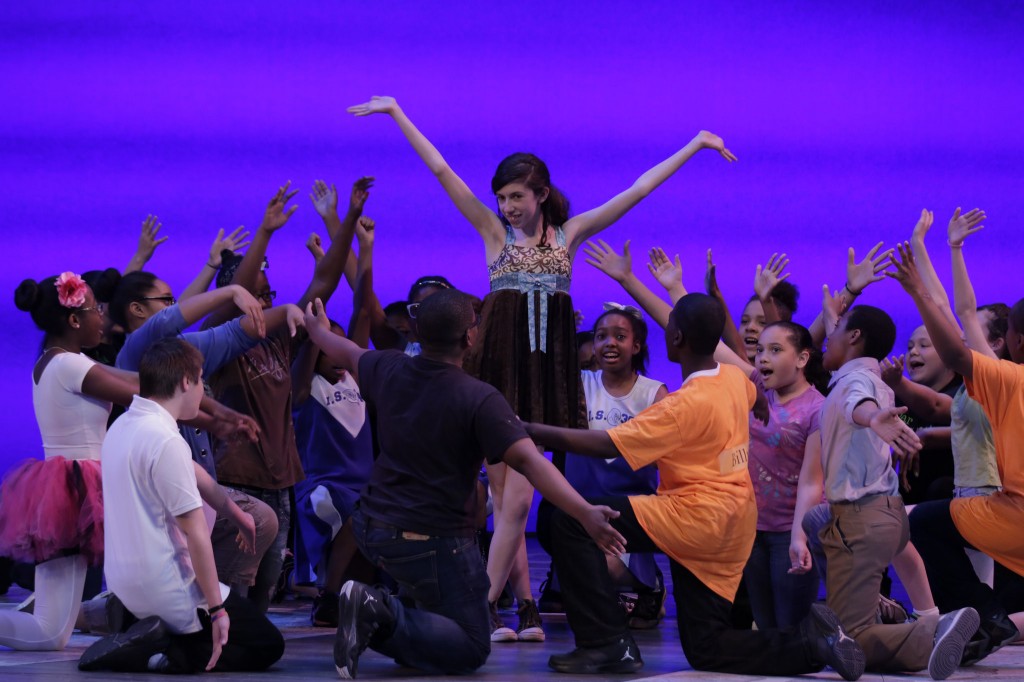 Students performing in 2014.
Michael I. Sovern, President of The Shubert Foundation, stated, "Every year, the Broadway Junior celebration is a joyful burst of youthful talent and energy that lights up Broadway. The long-running success of this program clearly demonstrates the value of The Shubert Foundation's ongoing support for arts education programs in our New York City public schools."
"I am so gratified, along with
Team MTI
to witness how this program has matured and expanded over 10 years. The unanticipated long term impact on the students, schools and local communities has gone beyond what any of us could have envisaged as the participating students are learning life skills, indispensable to their futures. These include the ability to collaborate, follow direction and instruction, practice self-discipline and work ethics, and use their imaginations while honing their verbal communication skills. These are the great gifts to give a new generation, critical for success, and often atypical of traditional curricula," said Freddie Gershon, Chairman and CEO of MTI who conceived the Junior Musicals Program.
"The results achieved from
Broadway Junior
have been truly extraordinary.  Many participating schools, with previously little or no access to the arts, have come to consider themselves "arts" schools.  Even beyond the direct effect on students, principals have commented on the larger learning culture that Shubert/MTI Broadway Junior promotes and helps develop. Similarly, teachers, who didn't realize they had talent as a theater director, musical director, choreographer or designer, have become arts leaders in their schools and communities," according to Peter Avery, the event's Producer and the Director of Theater, NYC Department of Education.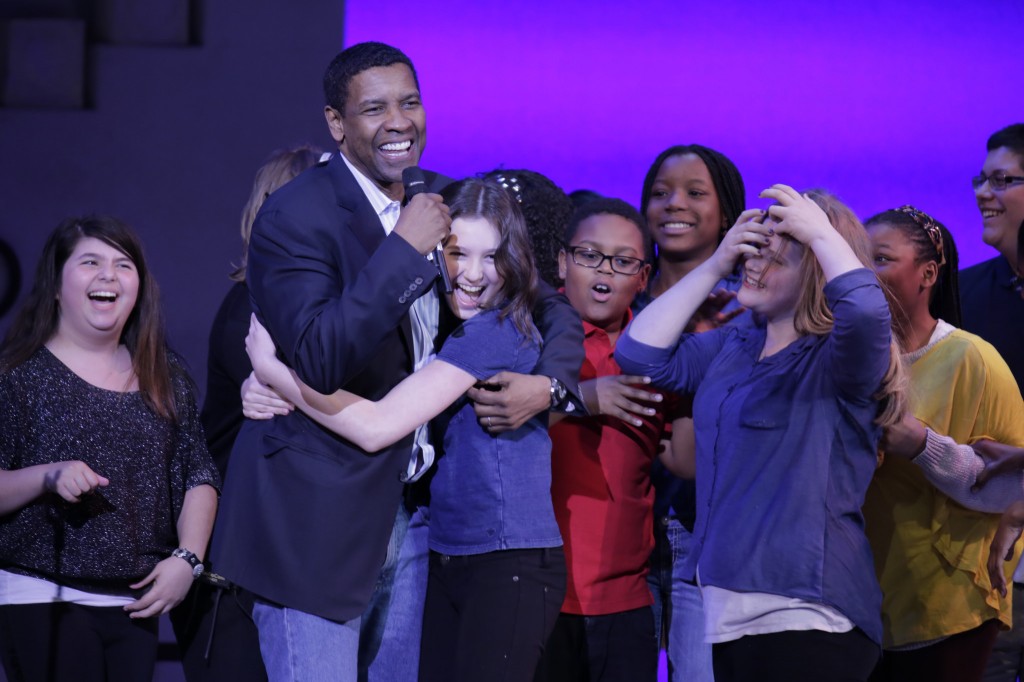 Students with the 2014 Host, Denzel Washington
The Shubert Foundation/MTI
Broadway Junior
Program engages students in all aspects and areas of the arts, utilizing master teachers and expert production advisers from the educational theatre organizations, iTheatrics and ArtsConnection.
In the first year of the
Broadway Junior
program, teachers and students are guided step-by-step through the process of producing a first-ever musical in their schools. In the second year, teachers and students continue to receive support and encouragement on their second musical, but take ownership over their productions. In the third year and beyond, schools present a musical independently, and serve as inspiration for other schools involved in earlier cycles of the program.
This 2015 Broadway Junior 10th Anniversary Celebration will present performances from middle school groups participating in the first year of the program:
ONCE ON THIS ISLAND
JR
In Tech Academy MS/HS 368
ANNIE
JR
PS/IS 30 Mary White Ovington
SCHOOLHOUSE ROCK LIVE
JR
Mott Hall IV
ANNIE JR
New Design Middle School
ONCE ON THIS ISLAND
JR
PS/IS 119 The Glendale
ANNIE JR
Seth Low I.S. 96
GUYS AND DOLLS JR
Hunter's Point Community Middle School
GUYS AND DOLLS JR
Shell Bank Intermediate School 14
ONCE ON THIS ISLAND
JR
Middle School for Marketing and Legal Studies
FAME JR
Pablo Casals MS 181
ONCE ON THIS ISLAND
JR
PS 5 Port Morris School
SCHOOLHOUSE ROCK LIVE
JR
Corona Arts & Sciences Academy
ANNIE JR
Angelo Patri School
FAME JR
Academy of Medical Technology
Here is a link to all current participating NYC public schools and their boroughs:
2015 Shubert/MTI Broadway Junior Schools
The Shubert Foundation
Since 2005, The Shubert Foundation has provided more than $3.2 million to the New York City Department of Education for Arts Education/Theatre programs. This year marks the Foundation's tenth year providing funds for The Shubert Foundation/MTI
Broadway Junior
program which was founded during the 2005-2006 school year.  To date, 60 schools and more than 10,000 students have participated in the program. Currently 45 schools are involved in the program. In 2015, The Shubert Foundation introduced a new program in partnership with the NYC Department of Education,
The
Shubert Foundation High School Theatre Festival for NYC Public Schools
. The annual event features highlights from NYC public high school productions of plays and musicals, performed on a Broadway stage. The Shubert Foundation, Inc. is the nation's largest private foundation dedicated to unrestricted funding of not-for-profit theatres, with a secondary focus on dance. In 2014, The Shubert Foundation annual grants program awarded a record total of $22.5 million to 470 not-for-profit performing arts organizations across the United States. The 2014 grants marked the 32nd year in a row that the Foundation's giving has increased.
www.shubertfoundation.org
.  
Music Theatre International and Broadway Junior
Music Theatre International (MTI) is one of the world's leading theatrical licensing agencies, granting schools as well as amateur and professional theatres from around the world the rights to perform the largest selection of great musicals from Broadway and beyond.  MTI works directly with the composers, lyricists and book writers of these shows to provide official scripts, musical and dynamic theatrical resources to over 70,000 theatrical organizations in the US and in over 60 countries worldwide.  Broadway Junior features a collection of developmentally appropriate 30 and 60-minute musicals for elementary and middle school-aged performers. Since 1996, over 100,000 Broadway Junior productions have taken place around the world involving over 500,000 educators and over 5 million student performers.
For more information, visit
www.mtishows.com
.  
New York City Department of Education
The New York City Department of Education is the largest system of public schools in the United States, serving about 1.1 million students in more than 1,750 schools. The Department of Education supports universal access to arts education through the ArtsCount initiative, which tracks and reports student participation in arts education and holds schools accountable for meeting New York State Instructional Requirements for the Arts. For more information, visit
www.nyc.gov/schools
.  
Mary Page Nance
is a native of Richmond, Virginia where she trained at SPARC, Richmond Dance Center, The Richmond Ballet, and Appomattox Governor's School for the Arts and Technology. She continued her studies in New York at the Conservatory of Dance at SUNY Purchase. She graduated with a BFA in Modern Dance Performance, and was granted the President's Award for Achievement in Dance. After Purchase, Mary Page performed regionally at the Virginia Repertory Theatre in Guys and Dolls and Thoroughly Modern Millie. Both shows were directed by Broadway veteran, Patti D'Beck. In New York City she has performed with many different companies, including: Riedel Dance Theatre, LaneCoArts, NØA Dance, Camp Collective, and The LMproject. Mary Page is now active in the theatre community and has been busy with: A Chorus Line at The Seacoast Repertory Theatre (Sheila Bryant), Joseph..., Fiddler on the Roof, and Otello at Utah Festival Opera & Musical Theatre where she worked side by side with Sheldon Harnick on a workshop/stage reading of the Broadway Production, Rex ('Queen Claude' and 'Katherine Parr'), and Dragons at The York Theatre in their Musicals in Mufti Series: Celebrating Sheldon Harnick. She is currently performing the new musical, Finding Neverland, on Broadway.  
PRESS CONTACTS
MUSIC THEATRE INTERNATIONAL:
David Beckwith
The Beckwith Company
323-845-9836
david@thebeckwithcompany.com
NYC DEPARTMENT OF EDUCATION:
Harry Hartfield
212-374-6623
WHartfield@schools.nyc.gov