It's Suppertime with LITTLE SHOP OF HORRORS
It's Suppertime with LITTLE SHOP OF HORRORS
Shing-a-ling, what a creepy thing to be happening! Shang-a-lang, feel the sturm and drang in the air.
Book by  Howard Ashman
Music by  Alan Menken
Lyrics by  Howard Ashman
Based on the film by Roger Corman, screenplay by Charles Griffith

A down-and out skid row floral assistant becomes an overnight sensation when he discovers an exotic plant with a mysterious craving for fresh blood. Soon "Audrey II" grows into an ill-tempered, foul-mouthed, R&B-singing carnivore who offers him fame and fortune in exchange for feeding its growing appetite, finally revealing itself to be an alien creature poised for global domination! One of the longest-running Off-Broadway shows of all time, this affectionate spoof of 1950s sci-fi movies has become a house-hold name, thanks to a highly successful film version and a score by the songwriting team of Howard Ashman and Alan Menken, who redefined the animated musical film with Disney's "The Little Mermaid", "Beauty And The Beast" and "Aladdin." Charming, tuneful and hilarious, with tongue firmly planted in cheek, LITTLE SHOP OF HORRORS never fails to entertain. A small cast, band and unit set make the other aspects of production a snap.
LITTLE SHOP OF HORRORS is a fun, quirky show, perfect for many colleges and community theaters, and features a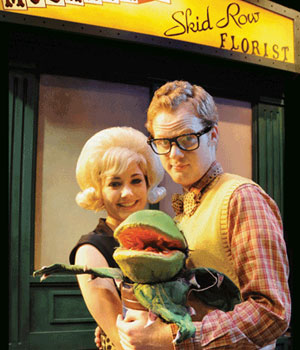 flexible cast size. This musical comedy features a lively and energetic score and witty book, loaded with jokes sure to keep your audience laughing. The always entertaining LITTLE SHOP OF HORRORS is adored by many and actors are especially fond of this musical!
Resources
Music Theatre International is proud to offer an array of resources for LITTLE SHOP OF HORRORS including the rental of your very own Audrey II. Save the time and stress - check out the prop shop on www.mtishows.com today. Other resources available for this title include our RehearScore and Stage Manager's Script; two very popular (and helpful) tools used by directors and educators alike.
Licensing
Click
here
to license LITTLE SHOP OF HORRORS.
Community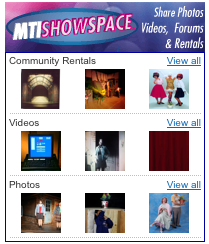 Click here to visit LITTLE SHOP OF HORRORS on MTI ShowSpace.