Meet the Wonder Women of LEGALLY BLONDE, 9 TO 5 and HAIRSPRAY
Meet the Wonder Women of LEGALLY BLONDE, 9 TO 5 and HAIRSPRAY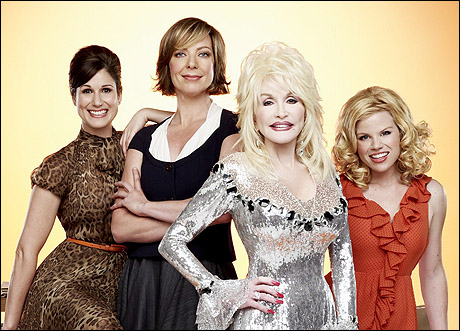 The leading ladies with Dolly Parton.
The crowning achievement of the art of musical theater is the ability to use song, dance and comedy to entertain, while conveying a moving and important message. Women's History Month is the perfect time to spotlight three MTI Shows (two featuring women writers) –
9 TO 5: THE MUSICAL
,
LEGALLY BLONDE: THE MUSICAL
and
HAIRSPRAY
that all have toe-tapping contemporary musical theater scores, feature strong female leads and connect to larger social issues facing women in society.  The characters in each of these shows are the Wonder Women of musical theatre - collectively they use their femininity, intelligence and ambition to challenge traditional gender roles and break cultural barriers.
In 1980, 9 to 5 was released in movie theatres worldwide and starred
Dolly Parton
, Jane Fonda, and Lily Tomlin.  The film proved so relevant and timeless that 30 years later Parton and
Patricia Resnick
(the film's writer) teamed up to bring the show to life on stage. The original cast included SMASH's Megan Hilty, Broadway favorite Stephanie J Block, and the incomparable Allison Janney.
With an infectious score by Ms. Parton - including the chart topping title song "9 to 5"-
9 TO 5: THE MUSICAL
is hilarious and touching story of three women under the thumb of their sexist boss. Hoping to prove how capable they are in his absence, the ladies kidnap him and hold him hostage. The empowerment of this act leads them to realize success in other parts of their lives: like Judy, originally played by Block, who stands up to her ex-husband telling him to "Get Out and Stay Out." Labeling
9 TO 5: THE MUSICAL
as a serious feminist manifesto sounds a bit outlandish. It's hard to label it as a "serious", because it's not intended to be a piece of heavy, dramatic theatre. Instead, the pop score, opportunities for dance, and highly theatrical comic moments (like the trippy sequence that includes "Dance o' Death", "Cowgirl's Revenge" and "Potion Notion") provide a vehicle for the message to shine through: the strength that women possess has no room to be stifled or disrespected.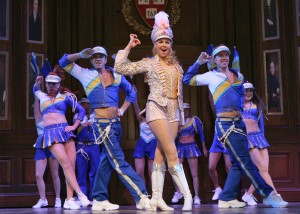 Original Broadway Cast of Legally Blonde: the Musical
LEGALLY BLONDE: THE MUSICAL
is another example of a show that presents itself with up-tempo songs by
Laurence O'Keefe
and
Nell Benjamin
, candy-colored costumes, witty dialogue by bookwriter
Heather Hach
, and stereotypical "blonde moments." However, the show, like its main character, spends two-and-a-half hours proving that you can't judge a book by its cover – or in this case, a blonde by her hair color or a musical by its pop chords. Elle Woods turns out to be a pretty good role model. Her whole life she's been encouraged to get by on being pretty – and she has. The song "What You Want" shows her parents telling her that that's what she should do. But when she finds herself somewhere where that tactic won't work (Harvard Law) she is forced to adjust. And adjust she does. She works hard (in classic musical theater montage fashion), she proves herself to be brainy as well as beautiful, and ultimately she gains the self esteem she needs to reject the guy who she has been following around for the whole show. That she gets a different, great guy in the end is a side note, rather than the point of her story. That's a pretty strong statement from a show that at first glance is a traditional, entertaining, song and dance musical.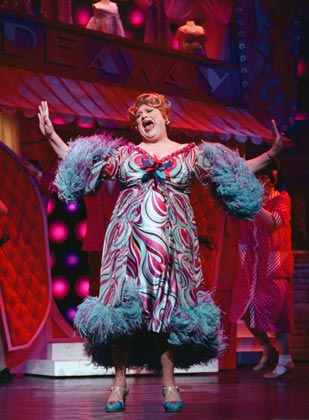 The show stopping Harvey Fierstein as Edna
Of these three shows,
HAIRSPRAY
might actually be the most obvious choice of a musical that represents the themes of Women's History Month.  In a society where most women, especially young women, struggle with issues of body image,
HAIRSPRAY
says outright that you don't have to be skinny to beautiful and successful. Tracy Turnblad, the main character, is confident and empowered, despite the people around her insisting that she shouldn't be because of her size (and her clothes, and her middle class status, and her focus on equal rights.) Nevertheless, Tracy manages to not only empower the people around her (not least of all her mother), but integrate a major television program – the Corny Collins dance show. But, the star of this show isn't the politically relevant subject matter, it's
Marc Shaiman
and
Scott Wittman's
(SMASH) delightful and engaging score, bookwriters
Mark O'Donnell
and
Thomas Meehan's
brilliant ability to capture the comedic sensibility of the original movie, and the fact that as a whole the piece is just so enjoyable to watch.
Is there another female character from an MTI show that you would consider a Wonder Woman of Musical Theatre?  Share your thoughts
here!