MTI Broadway Junior Collection Show of the Week: SCHOOLHOUSE ROCK LIVE! JR.
MTI Broadway Junior Collection Show of the Week: SCHOOLHOUSE ROCK LIVE! JR.
Conjunction junction, what's your function?


Back-to-School with SCHOOLHOUSE ROCK LIVE! JR.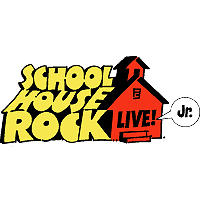 School bells are ringing and students are singing! As summer winds down and the school year starts again, it's time to head back to the classroom. Why not kick off the brand-new year with a JR. musical to honor the return of our teachers? Check out SCHOOLHOUSE ROCK LIVE! JR.

Our MTI Broadway Junior Collection adaptation of the original SCHOOLHOUSE ROCK LIVE! musical (with material contributions by Bob Dorough, Dave Frishberg, George Keating, George Newall, Kathy Mandry, Kyle Hall, Lynn Ahrens, Scott Ferguson, and Tom Yohe) features all of the familiar faces and the same great songs. This version is a wonderful opportunity for you and your students to learn more about school-related topics, while still having the immense pleasure of putting on a musical!

In SCHOOLHOUSE ROCK LIVE! JR. we meet Tom Mizer, a young teacher, as he anxiously prepares for his first day of school. Attempting to calm his fears, he turns on the television to find the educational cartoon show we all know and love, Schoolhouse Rock, playing. Tom gets drawn in and soon the teacher is sucked into the television show. We meet a slew of colorful personalities as the entire company tries to comfort him and prepare him for his first day. Featuring many crowd-pleasing favorites, such as "Conjunction Junction" and "Interplanet Janet", this musical is sure to entertain the entire community.

Available Resources

As a title in our MTI Broadway Junior Collection, we are proud to say that SCHOOLHOUSE ROCK LIVE! JR. can be paired with a number of fantastic educational & promotional resources. These exclusive features include:



Director's Guide


Libretto/Vocal Student Book




Student Rehearsal CD




License Your Production!
If you would like more information on SCHOOLHOUSE ROCK LIVE! JR., visit the
official show page.
To check out set & costume rentals, pictures, video, and more... visit the ShowSpace page by clicking
here.
Are you finally ready to license your very own production of SCHOOLHOUSE ROCK LIVE! JR.? First, make sure you have opened an official account with Music Theatre International. Next, head to
www.mtishows.com
and login to your My MTI account. Further instructions will be available after logging in!
If you have any questions or trouble in regards to licensing, email
Licensing@mtishows.com
or call your Account Representative at
212 - 541 - 4684