MTI Meets MTV at French Woods Summer Camp
MTI Meets MTV at French Woods Summer Camp
True Life: Camp'd Out
-
I'm Going to Performing Arts Camp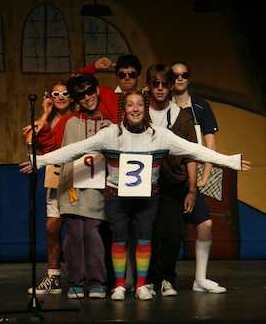 French Woods' 2008 Production of The 25th Annual Putnam County Spelling Bee. Photo courtesy of French Woods
MTV takes its popular documentary series,
True Life: Camp'd Out,
to the Western Catskills of New York to visit the highly distinguished summer camp,
French Woods
. Shooting for nine weeks of the summer camp session in 2008, MTV's True Life crew follows the lives of three Broadway-bound starlets, Alana, Lauren and Mia, through their highs and lows (and we're not just talking about vocal range).
The three stars of the documentary strive for the best and set their sights on landing big roles in the summer productions. Throughout their weeks at camp they learn that things do not always go as planned. The drama does not stay onstage, but seeps into the girls' camp lives as well.  We get a behind-the-scenes look as they attempt to juggle being artists and well-rounded people.
French Woods camp, founded in 1970, is known as one of the most prestigious performing arts camps in the country to date.  Alumni include musical theatre favorites, Barrett Foa (
Mamma Mia, Avenue Q, The 25th Annual Putnam County Spelling Bee
) and composer/lyricist, Jason Robert Brown (
The Last Five Years, Songs for a New World, Parade, 13
). Brown, who visited French Woods during the 2008 camp session, gives back to his alma-mater this summer with the French Woods production of his recent Broadway show,
13
.  In addition, many MTI staff attended French Woods in their younger years.
With more than 70 productions each summer, five theatre spaces, full sets and costumes for each production, and orchestral accompaniment, French Woods seems more like a professional summer-stock company than a summer camp. However, the focus at French Woods is individual exploration and growth according to its didactic staff of professionals.
In the 2008 session alone French Woods campers and staff produced  some of MTI's classic musicals such as
Annie, Damn Yankees, Godspell, Guys and Dolls Jr.
and
Les Miserables
as well as recent Broadway favorites
Aida, The Producers, The Wedding Singer, Ragtime,
and
The 25th Annual Putnam County Spelling Bee
.
What shows can one expect for French Woods 40th summer? The 2009 French Woods Summer season is ambitious with scheduled productions of:
Disney's High School Musical, Sweeney Todd, The Pajama Game, The Boyfriend, Into the Woods,  Little Shop of Horrors, The Music Man, Miss Saigon, Disney's Beauty and the Beast, Pippin
and more.
MTV first viewed the two hour French Woods documentary (
True Life: Camp'd Out: I'm Going to Performing Arts Camp)
April 25th 2009 with additional showings April 26th, April 27th and April 30th.