Music Theatre International and Itheatrics Celebrate The Turnaround Arts Program as Guests Attending a Special Event at The White House
Music Theatre International and Itheatrics Celebrate The Turnaround Arts Program as Guests Attending a Special Event at The White House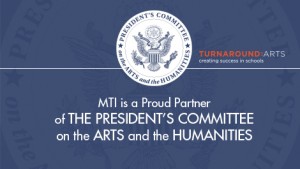 The President's Committee on the Arts and the Humanities announces that after a successful two-year pilot, Turnaround Arts will expand into an additional 19 school districts in 11 states.
Washington, D.C. – June 4, 2014
–
Music Theatre International (MTI)
and
iTheatrics
recently joined First Lady Michelle Obama at the White House to support
The President's Committee on the Arts and the Humanities' (PCAH) successful
Turnaround Arts
initiative, a program designed to help turn around low-performing schools, narrow the achievement gap, and increase student engagement through the arts. The program was celebrated at the White House with a special showcase of various schools from around the country who have benefitted from the initiative.
In addition to financially supporting the program, MTI donates materials from its
Broadway Junior Collection®
so participating schools can perform a 30 or 60-minute musical with their students. MTI introduced iTheatrics to the Turnaround Arts initiative team.  iTheatrics served as teaching and professional development artists for half of the pilot Turnaround Arts Schools, walking teachers step-by-step through how they may use the extensive resources of MTI's Broadway Junior collection to create innovative and engaging student-driven musical theatre programs in their schools for years to come.
iTheatrics also assisted two groups in preparing for their White House presentations: students from a school located on a Cheyenne Indian Reservation in Lame Deer, Montana who performed with their celebrity mentor the Silk Road Ensemble and students from the Martin Luther King Junior School in Portland, Oregon who collaborated with Sarah Jessica Parker in "You're Never Fully Dressed Without A Smile" from Annie JR.
MTI CEO Freddie Gershon conceived the junior musical in 1994, and MTI was the first of the major licensors to establish an educational musical theater division with nearly 300,000 performances since its inception.  iTheatrics is the leading expert on musical theater and education and has a long history of partnering with MTI to ensure that children across America have access to the arts.  To date, MTI and iTheatrics have created 200 sustainable musical theater programs in under-served schools nationwide with a 95% retention rate.
In May 2012, the President's Committee, in partnership with the U.S. Department of Education and the White House Domestic Policy Council, launched Turnaround Arts as a pilot program in eight "turnaround schools" across the country—public schools in the lowest-achieving five percent of their state that are receiving School Improvement Grants through the U.S. Department of Education. Over the last two years, Turnaround Arts has brought arts education resources into pilot schools. Interim evaluation results show that participating schools are demonstrating improved academic performance, increased student and parent engagement and improved culture and climate.
During the White House event it was announced that Turnaround Arts will be expanded. Local program partners will provide an additional $12 million and the money will be used to hire new arts and music teachers, bring teaching artists, art supplies and music instruments into schools and support arts integration into other core subjects such as reading, math and science.
"I've experienced first-hand the transformation that occurs when young people participate in a musical," stated Freddie Gershon, Chairman and CEO of MTI, who was invited by first lady Michelle Obama to the White House event with his wife Myrna. "A musical helps students make intellectual connections across a wide variety of subjects and builds self-confidence, discipline, work ethics, reading skills and character.  Essentially, we are helping to make better citizens through the arts."
Additionally, the President's Committee announced a number of new "Turnaround Artists," who will work to support individual schools' arts education curriculum: Chad Smith, Clarence Greenwood (aka Citizen Cope), Doc Shaw, Elizabeth Banks, Elton John, Frank Gehry, Jason Mraz, Jesse Tyler Ferguson, Josh Groban, Marc Anthony, Rashida Jones, Russell Simmons, the Silk Road Ensemble, Tim Robbins and Troy Andrews (aka Trombone Shorty). These artists join PCAH members who are currently working with the program, including Alfre Woodard, Chuck Close, Damian Woetzel, Forest Whitaker, John Lloyd Young, Kal Penn, Kerry James Marshall, Kerry Washington, Sarah Jessica Parker and Yo-Yo Ma.
The expanded program will be working in 35 schools in districts in California, Colorado, Connecticut, Illinois, Iowa, Louisiana, Massachusetts, Minnesota, Montana, Oregon and Washington D.C., with plans to expand to up to 60 schools across the country.
Studies show
that when students participate in the arts they are four times more likely to be recognized for academic achievement, have higher GPA/SAT scores, are more engaged and cooperative with teachers and peers, and are more self-confident and better able to express their ideas. These benefits are particularly pronounced in high-poverty, low-performing schools.
First Lady Michelle Obama, Honorary Chair of the President's Committee, said, "The Turnaround Arts program has exceeded not just our expectations, but our wildest hopes and dreams.  With the help of this program and some School Improvement Grants, math and reading scores have gone up in these schools… attendance is up, enrollment is up…parent engagement is up… suspensions have plummeted…and two of the schools in our pilot improved so dramatically that they are no longer in turnaround status.  And today, the students in these schools are engaged in their education like never before."
All schools participating in Turnaround Arts will receive training and resources to address their individual needs. Resources will include a summer leadership program, in-school professional development, partnerships with community arts education and cultural organizations, art supplies and musical instruments.  Participating artists will "adopt" Turnaround Arts schools for the length of the program, working with students, schools and communities to highlight their success.
About the President's Committee on The Arts and The Humanities

Created in 1982 under President Reagan, the President's Committee on the Arts and the Humanities (PCAH) is an advisory committee to the White House on cultural issues. The PCAH works directly with the three primary cultural agencies—National Endowment for the Arts, the National Endowment for the Humanities and the Institute of Museum and Library Services—as well as other federal partners and the private sector, to address policy questions in the arts and humanities, to initiate and support key programs in those disciplines and to recognize excellence in the field. Its core areas of focus are education, cultural exchange, and creative economy. Under the leadership of the First Lady and Honorary Chairman, and through the efforts of its federal and private members, the President's Committee has compiled an impressive legacy over its tenure, conducting major research and policy analysis, and catalyzing important federal cultural programs, both domestic and international. For more information, please visit
http://www.pcah.gov/
.