Music Theatre International Secures Worldwide Licensing Rights To Bullets Over Broadway
Music Theatre International Secures Worldwide Licensing Rights To Bullets Over Broadway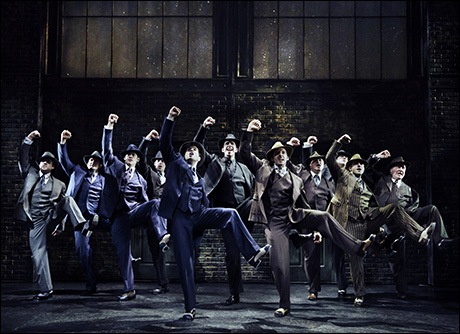 The Original Broadway Cast of Bullets Over Broadway (Photo © Paul Kolnik).
Theatrical licensor Music Theatre International (MTI) has secured worldwide licensing rights to Broadway's Tony® nominated hit Bullets Over Broadway.
The show is the musical adaptation of Woody Allen's Academy Award® winning 1994 film of the same name and is about a playwright whose first taste of success comes with mobsters and a domineering diva attached. Although he initially resisting turning the film into a musical, Allen began writing the book in 2000 after his sister Letty Aronson suggested it be done as a period piece and proposed the idea of using songs of the 1920s.
It premiered on Broadway in 2014 at the St. James Theatre and was nominated for six Tony Awards. Five-time Tony Award winner Susan Stroman (The Scottsboro Boys, The Producers, Contact) directed and choreographed the musical. The score consists of jazz and popular standards of the years between World War 1 and about 1930 by various songwriters with additional lyrics written by Glen Kelly (The Book of Mormon, Disney's Aladdin, Something Rotten!) and orchestrations by Doug Besterman (Fosse, Thoroughly Modern Millie, How to Succeed in Business Without Really Trying).
USA Today commented that the musical has "playful wit and exuberance" and wrote that "'Bullets' offers as much sheer, shameless fun as any show you'll see this season." Associated Press noted "Everything works here: The dances are inspired, the costumes rock, the sets are sharp and the use of slightly tweaked existing classic jazz and blues standards as the soundtrack is inspired."
"We're extremely excited to welcome Bullets Over Broadway to the MTI catalog," stated Drew Cohen, President of MTI Worldwide. "Woody Allen's film seamlessly translates to the stage, and community theaters across the country will fall in love with the classic songs, madcap characters and the plot's twists and turns."
The show began a national tour this week, garnering rave reviews and is expected to be available for select licensing in the spring of 2016. For more information about MTI and licensing, please call (212) 541-4684 or email licensing@mtishows.com