Music Theatre International to Honor Veteran Drama Teacher Lou Volpe with Inaugural "MTI Lifetime Achievement Award for Theatre Education"
Music Theatre International to Honor Veteran Drama Teacher Lou Volpe with Inaugural "MTI Lifetime Achievement Award for Theatre Education"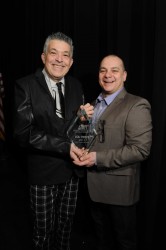 Longtime Bristol Township Harry S. Truman High School teacher Lou Volpe is being honored with the first-ever "MTI Lifetime Achievement Award for Theatre Education" by Music Theatre International (MTI), one of the world's largest licensors of Musical Theatre.  Mr. Volpe is retiring from teaching after 44 years.  The award will be presented by MTI's Senior Operations Officer, John Prignano on Saturday, March 9 prior to a performance of Godspell.
Volpe began his career at the age of 21 in 1969 as an English teacher at Truman high, eventually becoming the drama teacher.  He is known for his commitment to students and enriching the community with the arts by producing over 43 shows in 40 years.
"Lou's contribution to theatre education is incomparable," noted Prignano. "He has been an innovative force in the theatre world, and has been a pioneer by being the first to stage high school versions of
Les Miserables
and
Rent
. Lou was also the first to produce an edited version of
Spring Awakening
for a high school. He is a true innovator and has made Truman High's theatre program one of the most respected in the nation."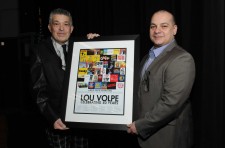 "He always challenged his performers and audiences to embrace all types of material, regardless of subject matter," continued Prignano. "Whether presenting classic works like
Guys and Dolls
and
West Side Story
or modern offerings like
Parade
or
Spring Awakening
, Lou found the essence of each show and made them relevant to his community."
The MTI Lifetime Achievement Award for Theatre Education honors individuals for their exceptional commitment to promoting the legacy of musical theatre by nurturing the next generation of performing artists and audience members.
Special attention is paid to individuals using theatre as a teaching tool whether in the service of a performance or as an academic discipline; creating innovative and ground-breaking productions of new and classic works; producing shows displaying artistic excellence; involving the community; using theatre to promote discussion, debate and to challenge traditional assumptions.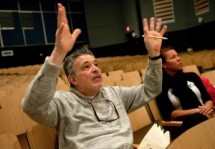 Music Theatre International
is one of the world's leading dramatic licensing agencies, protecting the rights and legacies of composers, lyricists and book writers.  MTI's core business is issuing licenses, scripts, musical materials and dynamic theatrical resources to schools as well as amateur and professional theatres across the globe.  With over 300 classic and contemporary show titles from Broadway, Off-Broadway, and London's West End, MTI shows have been performed by 60,000 theatrical organizations in the US and in over 60 countries worldwide.
MTI is particularly dedicated to the idea of theatre as education and has created special collections for younger audiences. The
Broadway Junior Collection®
features 70-minute adaptations of major musicals designed for middle school children to perform; the KIDS Collection®, provides 30-minute musicals for performance by elementary school children; School Editions are musicals that have been annotated for performance by high school students; and the Theatre For Young Audiences Collection, 70-minute musicals designed for adults to perform for children.
For more pictures from the presentation of the award
click here
.