My Dearest Giorgio: The Use of Letters in PASSION
My Dearest Giorgio: The Use of Letters in PASSION
This is the fourth in a series of articles analyzing the work of Stephen Sondheim.
Letters feature prominently in Stephen Sondheim and James Lapine's musical, PASSION, which is set in 1863 Italy.  The letters exchanged between soldier Giorgio and his lover, Clara, reflect their physical distance; letters between Giorgio and the invalid Fosca, however, express the emotional distance he feels for her.  Yet by the end of the show, the letters' significance has switched, as Giorgio is both physically and emotionally removed from Clara, but has realized his love for Fosca.
As Giorgio has been transferred to an isolated army outpost, he and Clara exchange letters throughout the show - letters that mainly profess their love for each other.
"I close my eyes, imagining that you are there," Clara writes, "Imagining your fingers touching mine/Imagining our room." Giorgio and Clara sing each other's letters, often while the writer sings his or her own. As Giorgio explains love to Fosca, for example, Clara sings his letter, which contains the same words:
"Love that fills
Every waking moment,
Love that grows
Every single day,
Love that thinks
Everything is pure,
Everything is beautiful,
Everything is possible.
Love that fuses two into one,
Where we think the same thoughts."
Here, Giorgio and Clara are so in emotional sync that they really do think the same thoughts, even in different contexts.
Over time, however, their letters become less intertwined.   Immediately after Giorgio spends the night with Fosca - and right before Fosca tells Giorgio what to write in a letter to her - Clara speaks her letter without Giorgio's aid or interruption.  After this point, Clara and Giorgio don't sing their letters together until their final one, when they break up.  Their singing here signifies the confusion they both feel and emphasizes their disconnect:
CLARA & GIORGIO
I thought I knew what love was-
CLARA
I didn't know love was a complication.
GIORGIO
I do know that it's not a negotiation...
How sad-
CLARA
To wait is nothing.
We're young, and time is nothing.
GIORGIO
-That what we have is nothing...
Now that their affair has ended, Clara and Giorgio are both physically and emotionally apart.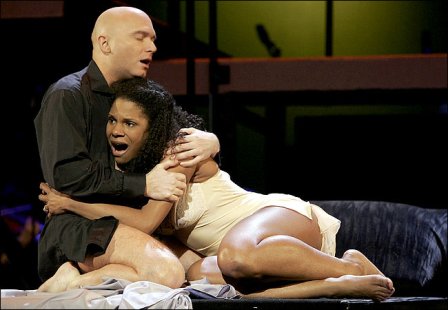 Michael Cerveris' Giorgio and Audra McDonald's Clara in the Lincoln Center concert--photo by Richard Termine for The New York Times
Since Fosca and Giorgio are living in the same house, letters play a very different role.  The first letter between them is one Giorgio writes to tell Fosca he's in love with someone else.  As Fosca reads the letter, the audience sees Giorgio with Clara, telling her how much he loves her, making Giorgio and Fosca as physically and emotionally far apart as possible.  Later, Fosca dictates a letter for Giorgio to write to her:
"I don't know how I let you
So far inside my mind,
Bu there you are and there you will stay.
How could I ever wish you away?
I see now I was blind.
And should you die tomorrow,
Another thing I see:
Your love will live in me."
Giorgio clearly does not feel what Fosca has him write; this physical intimacy with complete emotional detachment is the most Fosca believes she can get.  By the time Fosca's cousin discovers the letter, however, Giorgio has fallen in love with Fosca and insists that its sentiment is purely his.  "Nothing was forced on me," he declares when Fosca's doctor begs him to admit he was only writing what Fosca wanted him to.  The final letter in the show is from Fosca to Giorgio, written shortly before her death and shortly after the two had shared in their love.  "Why is love so easy to give," Fosca wonders, "and so hard to receive?
"But though I want to live,
I now can leave
With what I never knew:
I'm someone to be loved.
And that I learned from you."
Giorgio and Fosca overlap as they sing the letter, often singing the same lines at the same time - just as Giorgio and Clara did early in the show.  Fosca and Giorgio are now even closer than Clara and Giorgio ever were - and are much, much farther apart.
"No one has ever loved me/As deeply as you," Giorgio confesses to Fosca.  "Love within reason - that isn't love./And I've learned that from you..." Giorgio's transition from Clara's scheduled, hidden love to Fosca's unselfconscious, all-consuming love is a subtle one. But through the use of letters, his growing emotional move from Clara to Fosca becomes clear - and in some ways, even natural.
To license PASSION, visit its
MTI show page
. Discuss this article or PASSION in general on its
MTI ShowSpace page
.