NBC's 'SMASH' MAKE A MUSICAL, School #14 - Renfroe Middle School, Atlanta
NBC's 'SMASH' MAKE A MUSICAL, School #14 - Renfroe Middle School, Atlanta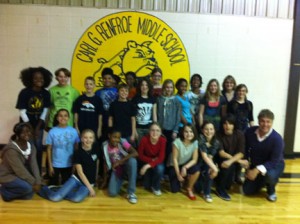 School #14: Renfroe Middle SchoolAtlanta, GAReported by: Timothy Allen McDonald, Founder and CEO, iTheatricsFebruary 6, 2012
I flew from Los Angeles to Atlanta, Georgia with a very full agenda ahead of me.  Atlanta is the host city for the Junior Theater Festival, which is where we announced
NBC's 'SMASH' MAKE A MUSICAL
just a few short weeks ago and thirteen "Smash" school visits earlier.
My first day in Atlanta included meeting with the District Arts Supervisors for Cobb, Marietta and Gwinnett Counties: Mr. Robert E. Andrews, Ms. Melissa Arasi, Ph.D. and Ms. Leigh Colburn to share with them the details of "NBC's 'Smash': Make A Musical" and to encourage their schools to apply for the program.  I enjoy meeting new people, especially people who have dedicated their careers to education and the arts. I'm happy to report all three were very supportive and enthusiastic about "NBC's 'Smash': Make A Musical." Ms. Arasi had enjoyed the pilot of "Smash" and wanted to dish about what might be coming up in the season.  For the record, I'll be watching just like everyone else to find out what happens next.
The next day it was off to Renfroe Middle School in Decatur, a neighborhood about eight miles from midtown Atlanta. Decatur is home to Emory University and definitely has the feel of a college town: older, but well preserved homes, cute restaurants and watering holes, and great bookstores.
I met with the two lead teachers, Monica and Nia, as well as one of our Freddie G alumni teachers, Shell, who introduced us to Renfroe.  Shell's two passions are kids doing musicals and women's roller derby.  She brings that roller derby attitude to everything she does.
Monica and Nia arrived at this workshop eager to explore the best way to put on a musical with kids, one that wouldn't take 1,000 hours of rehearsal — something
sustainable.
Have no fear! "NBC's 'Smash': Make A Musical" is here!
The Renfroe Middle School cast is amazing.  The students were so willing to jump in and explore new skills.  They proved to us and themselves that working together can accomplish something greater and more fun than working alone.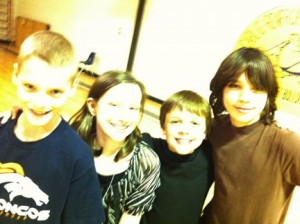 I did have two students who embodied something we often encounter in working with students at this age, the "I'm too cool for this" middle school attitude. I
thrive
on teaching students who challenge me, and have a couple of tricks up my sleeve for just this type of situation.  In this case, I eventually did something I rarely do. I excused one of them from participating in the workshop.  This action had the desired result. The other kids rallied together through the second half of the workshop with renewed commitment and I could tell that this student  understood negative behavior has consequences.
Once I work with a group of teachers and students I find it very difficult to leave.  Especially when you encounter kids like my "isolated" student.  I want to see what happens with him tomorrow, and the next day and the day after that.  I left Renfroe Middle School feeling very confident that Nia and Monica were armed with a sustainable approach to presenting a musical in their school.  I am looking forward to checking back in with these kids and seeing how their seeds of ideas grow into a production.
"NBC's 'Smash': Make A Musical"
program is administered by iTheatrics under the supervision of Timothy Allen McDonald.  For more information, or to apply to become a part of the program, logon to 
www.MAKEAMUSICAL.ORG
.