Non-Profit Spotlight: New York Theatre Workshop, The Public Theatre, & Second Stage Theatre
Non-Profit Spotlight: New York Theatre Workshop, The Public Theatre, & Second Stage Theatre
This is the third in our Non-Profit Spotlight Series. The first, on Lincoln Center Theater, can be found here, and the second, on Playwrights Horizons, can be found here.
Three non-profit theatres have been responsible for a number of innovative new works:
New York Theatre Workshop
,
The Public Theatre
, and
Second Stage Theatre
.  These theatres, while sending many shows to Broadway, have done much to maintain a thriving off-Broadway scene.
New York Theatre Workshop
New York Theatre Workshop began in 1979, when Stephen Graham sought to create a theatre to support new writers and directors and develop new works outside of the commercial sphere.  Keeping the welfare of artists its core mission, New York Theatre Workshop has expanded, both in its programs and its influence.  Its Fellowship Program, Jonathan Larson Lab, readings, residencies, cultural exchange programs, and full productions give artists the opportunity to focus on their work.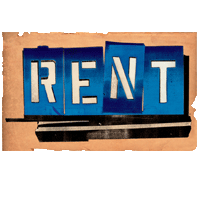 In the mid-1990s, New York Theatre Workshop gave one composer/librettist the break he so desperately needed.  A staged reading there in 1993 made it clear that
Jonathan Larson's
show
RENT
was something special.  Many workshops and readings later,
RENT
opened off-Broadway at New York Theatre Workshop, and the show - an adaptation of
Puccini's LA BOHEME
set in the East Village during the height of the AIDS crisis - has become an international phenomenon.
To license
RENT
, visit its
MTI show page
. Check out
RENT
production photos, videos, and forum threads on its
MTI ShowSpace page
.
From its home in the East Village, New York Theatre Workshop consistently achieves its goals to nurture new artists.  Its current production is
RESTORATION
, a play by
Claudia Shear
. Learn more about New York Theatre Workshop at its
website
.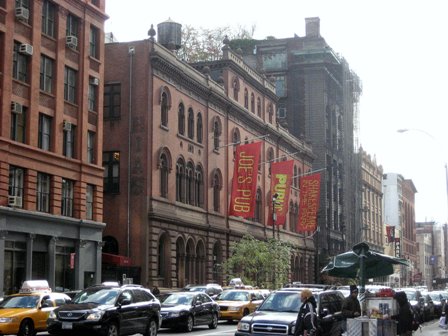 The Public Theatre
A few blocks uptown from New York Theatre Workshop is another off-Broadway non-profit powerhouse: The Public Theatre.  Originally
the Shakespeare Workshop
, The Public constantly strives to create challenging new works while making them accessible to everyone.  Non-traditional casting, education and development initiatives for a diverse range of artists, audience and student outreach, and productions that reflect the issues relevant to the community all contribute to The Public's dedication to inclusion.  The Public's ticket prices are kept low or free, making it easier for people to attend performances.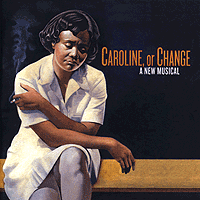 CAROLINE, OR CHANGE
originally played the Public before moving to Broadway. From its first workshop there in 1999 until its final off-Broadway performance in 2004, The Public supported
Tony Kushner
(
ANGELS IN AMERICA
) and
Jeanine Tesori's
(
VIOLET
,
THOROUGHLY MODERN MILILE
) musical about the relationship between a young Jewish boy in 1963 Louisiana and his family's black maid. On Broadway,
CAROLINE, OR CHANGE
earned six Tony nominations, and its London run won the Olivier Award for Best Musical.
To license
CAROLINE, OR CHANGE
, visit its
MTI ShowSpace page
. View production photos and discuss
CAROLINE, OR CHANGE
on its
MTI ShowSpace page
.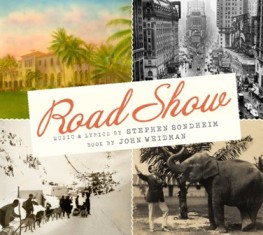 Stephen Sondheim
and
John Weidman's
latest musical also played The Public. 
ROAD SHOW
started out life as
WISE GUYS
, where it premiered at New York Theatre Workshop in 1999.  From there, the show played the
Goodman Theatre
in Chicago in a rewritten incarnation called BOUNCE. Five years after that, the show finally made it to New York.  This latest version,
ROAD SHOW
, played The Public in 2008.  The show tells the story of Addison and Wilson Mizner, brothers who tried repeatedly to make it rich in the early 20th century; first in the Alaskan Gold Rush, then in the 1930s Florida real estate boom.
The Public Theatre is currently undergoing renovations to further enhance audience experience, but programming continues as usual.  The hilarious and irreverent
BLOODY BLOODY ANDREW JACKSON
now plays at The Public through June 27. Find out more at its
website
.
Second Stage Theatre
When Second Stage Theatre was founded in 1979, its purpose was to provide contemporary American plays with another chance at a production.  These "second stagings" help those plays find the audiences they didn't in their original runs "due to scheduling problems, inappropriate venues, or limited performance runs."  The theatre's mission has expanded to include providing new authors with their off-Broadway debuts and supporting new works by established writers, as well as educating young audiences.
Second Stage recently obtained the
Helen Hayes Theatre
on 44th Street, making Second Stage one of four non-profit theatre companies that own and operate a Broadway theatre. Second Stage has two other theatres: one on 43rd St, and
the McGinn/Cazale Theatre
on 76th and Broadway.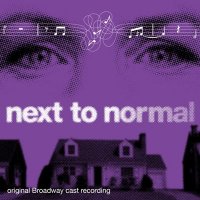 NEXT TO NORMAL
is Second Stage's most recent hit.  After a series of readings, workshops, and a production at the
New York Musical Theatre Festival
, the show played a nearly sold out run at Second Stage.  The production moved to
Arena Stage
in Virginia, where it got rave reviews, and then returned to New York - this time, to Broadway. Since then,
NEXT TO NORMAL
has recouped its investment (shortly before marking a year on Broadway), was nominated for 11 Tony Awards (winning Best Performance by a Leading Actress in a Musical, Best Score and Best Orchestrations), and became the eighth musical to ever win a Pulitzer Prize. The show, a rock musical about a woman coping with bipolar disorder and the effects it has on her family, has redefined what kind of music and subject matter can succeed on Broadway.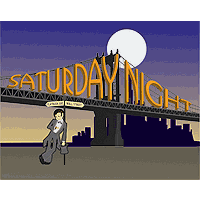 SATURDAY NIGHT
, a show that was going to be
Stephen Sondheim
's musical Broadway debut in 1955, had its New York premiere at Second Stage.  The death of a producer derailed the original production, which went unperformed until
The Stephen Sondheim Society's
student concert version in the 1990s. That concert led to a full production at T
he Bridewell Theatre
in 1997, its U.S. premiere in Chicago two years later, and finally the Second Stage production in 2000.
SATURDAY NIGHT
is a perfect example of Second Stage's "second stagings" reviving a show that simply didn't have a fair chance in its original time.
To license S
ATURDAY NIGHT
, visit its
MTI show page
. Discuss
SATURDAY NIGHT
on its
MTI ShowSpace page
.
Currently at Second Stage is the new play about race and wrestling,
THE ELABORATE ENTRANCE OF CHAD DEITY
. For more information about Second Stage and its commitment to challenging new theatre, visit its
website
.
The next installment will concentrate on some regional non-profits that have generated new work and promoted groundbreaking pieces.