Opera Meets Musical Theatre in THE MOST HAPPY FELLA
Opera Meets Musical Theatre in THE MOST HAPPY FELLA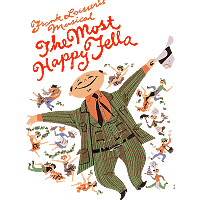 Few shows straddle the opera-musical line like Frank Loesser's THE MOST HAPPY FELLA.  Some musicals, such as LES MISERABLES and RENT, follow the common operatic characteristic of being sung-through.  Others, like SWEENEY TODD and Michael John LaChiusa's MARIE CHRISTINE, have scores and subject matter that seem more appropriate for an opera house than a Broadway theatre.  There are even composers, such as Leonard Bernstein, who write both operas and musicals. But THE MOST HAPPY FELLA has a score that is solidly musical theatre and opera at the same time.
As composer, bookwriter, and lyricist, Frank Loesser took an innovative direction with THE MOST HAPPY FELLA.  Since the show centers on the world of Tony, an Italian grape farmer, and the world of Amy (whom he calls "Rosabella"), Cleo, and the farmhands, Loesser decided to illustrate the differences between those spheres in the music.  Tony, his sister, and his Italian staff sing operatic songs; Amy, Cleo, and the farmhands sing in traditional musical theatre.  While the show is often referred to as an opera - Stanley Green in his book, THE WORLD OF MUSICAL COMEDY, calls it "one of the most ambitiously operatic works ever written for the Broadway theatre" - Loesser saw it as a musical.
It's easy to see why many people disagree.  A song like "My Heart Is So Full Of You," sung by Tony and Amy, lives firmly on the opera-musical border:
As it's sung by these actors (from the 1980 PBS Great Performances broadcast), the song is very operatic. Sung in a more musical theatre style, however, "My Heart Is So Full Of You" sounds more like a song from a Broadway musical - albeit an opera-influenced one.
But the songs in THE MOST HAPPY FELLA that the non-Italian characters sing are about as traditional musical theatre as they could be. "Big D," in which Amy's friend, Cleo, and a farmhand bond over being from Dallas, is a perfect example:
Everything about this number - the dancing, the lyrical structure, the style of singing - is fits in perfectly with the Broadway of the era. Calling THE MOST HAPPY FELLA an opera would ignore numbers like "Big D" in the score.
The question of how to tell if a piece of music theatre is an opera or a musical will never fully be resolved; everyone has their own, equally valid ideas of what the differences between the art forms are. Musical theatre fans are lucky, however, that the art form can be so varied - and that there are writers like Frank Loesser who are willing to challenge people's ideas of what a musical can be.
To license THE MOST HAPPY FELLA, visit its
MTI show page
. Discuss this article and view original production photos on its
MTI ShowSpace page
.