Cindy Says: Resolution 2020? Find your inspiration!
Cindy Says: Resolution 2020? Find your inspiration!
As you wind up holiday performances and tie up all the loose ends with your program for 2019, take time to welcome in the new year with a fresh vision, or resolution. I must admit I'm not particularly fond of that word, but I do believe it is an opportunity for you as a director to look through a new lens for inspiration. How does a director come up with an original interpretation for a show? The million dollar question for sure! I asked one of our Freddie G Fellows, Mandy Seymore-Sensat, founder and artistic director of Inspiration Stage Performing Arts Studio located in Sugar Land, Texas if she would share her thoughts.
Mandy had the unique opportunity to direct and choreograph the pilot production of The Big One-Oh! JR. (music by Doug Besterman, lyrics by Dean Pitchford, libretto by Timothy Allen McDonald). Mounting a never-before-produced show is challenging, and as Ms. Seymore-Sensat tells us, when YOU are the original painter of the live-action blank canvas, YOU must create the magic.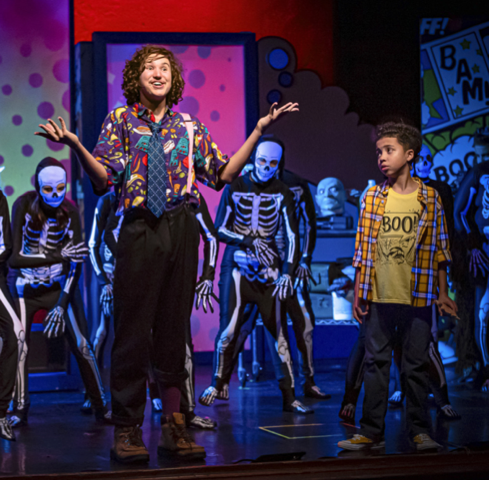 The protagonist of The Big One-Oh! and The Big One-Oh! JR. is Charley, who is turning ten. Vince Champagne is the short-lived boyfriend of Charley's mom, and Mandy implemented a master production plan based on Vince Champagne's party-planning philosophy. Vince teaches Charley how to throw a perfect party, and Vince's three-rule guide helped this talented director plot the path from page to stage.
Rule one: friends. Rule two: theme. Rule three: cake.
FRIENDS
When producing any title, surround yourself with friends. Pick production team members who are loyal to you, your theatre, and your vision. Friends will know your strengths, weaknesses, and needs.
THEME
Every show has a theme. Mandy chose a comic-book-style scenic design to reflect Charley's favorite reading material, "Monsters & Maniacs." Like cartoons, The Big One-Oh! JR was full of bright, bold choices. The set was awash in primary colors. Costumes and lighting were vibrant and striking. Set flats and large props sported hand-painted panels with onomatopoeic "POW!," "BANG!," and "ZING!" speech bubbles. Large halftone dots - a gritty side effect of vintage printing processes - added stylish texture to the physical set and projections.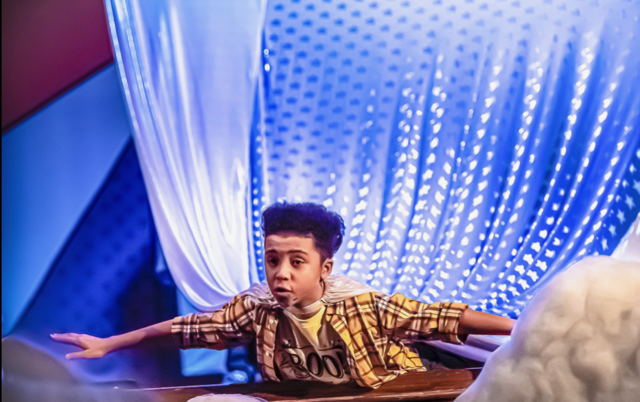 Most song themes came easily, but one number resisted. In the end, "Some Sort of Celebration" became her favorite moment. Mandy's vision was that every kid wants to be a super hero. So, the entire ensemble performed in capes and masks and near the finale, chorus members discretely fitted Charley with his own cape. He then lowered himself to the stage floor, arms outstretched in a flying pose, and in one swift motion, the cast smoothly pulled Charley's cape hem majestically upstage, revealing a jaw-dropping 20-foot tail of fabric. At the final crescendo, each actor removed and flipped over their individual capes to reveal letters that collectively spelled out SOME SORT OF CELEBRATION!
CAKE
For Mandy, the "cake" is the audience ... the final magic ingredient needed to celebrate what we are all called to do. Mandy loves to sit in the audience and watch patrons as they experience the show. For her, the job isn't finished when the curtain rises - she continues to learn from patrons.
Thank you, Mandy, for sharing your "secret ingredients". I'm inspired for a most creative resolution for 2020! CR
Follow the fun @mtishows on Instagram, Facebook, and Twitter.