Sail Into The Holiday Season With THE CHRISTMAS SCHOONER
Sail Into The Holiday Season With THE CHRISTMAS SCHOONER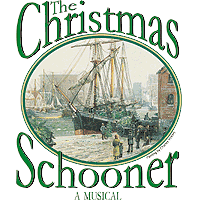 The holidays are right around the corner, and this year just might be the time to treat yourself to a different kind of holiday musical.  That's what audiences are doing in Munster, Indiana.  Theatre-goers are lining up to see an original musical that embodies the holiday spirit in a new and heartwarming way.  From November 12 to December 20, Theater at the Center presents THE CHRISTMAS SCHOONER, starring Brandon Dahlquist as the generous shipping captain, Peter Stossel and Cory Goodrich as his worried wife, Alma.  The production also features THE CHRISTMAS SCHOONER's first orchestration, written by renown Broadway, West End, and film orchestrator, Larry Blank.
According to the press release, THE CHRISTMAS SCHOONER - book by John Reeger, music and lyrics by Julie Shannon - "tells the story of Peter and Alma Stossel, whose pioneering spirit is full of the energy and dreams of America in the 19th century.  With the help of Peter's young son, Karl, and the companionship of his father, Gus, from the old country, Peter decides to take Christmas Trees from the Upper Peninsula of Michigan across the icy waters to post-fire Chicago."  Despite his wife's concerns, Peter makes this dangerous voyage year after year without incident...until the year Alma's worries prove correct.  But only then can Alma truly learn the value of her husband's work - and that sometimes, you have to take a risk in order to bring others great joy.
With Theater at the Center a mere 35-minutes from downtown Chicago, this production of THE CHRISTMAS SCHOONER has particular significance to its cast, crew, and audiences.  The already powerful tale, based on a true story, is enhanced by its proximity to the very city Peter Stossel braves bone-chilling winds and blinding blizzards to reach, his ship filled with enough trees to bring a little bit of Germany to all Chicago's homesick immigrants.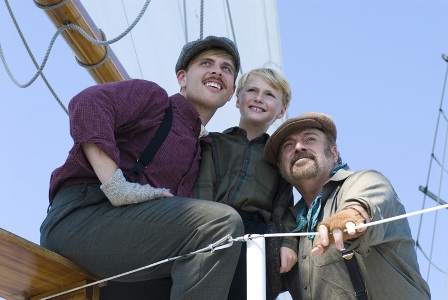 Brandon Dalhquist, Daniel Coonley & Peter Kevoian as three generations of Stossel men in Theater in the Center's THE CHRISTMAS SCHOONER
For more information about Theater at the Center's production of THE CHRISTMAS SCHOONER, check out the theatre's website. To license THE CHRISTMAS SCHOONER, visit its MTI show page. Discuss this production or post your thoughts on the THE CHRISTMAS SCHOONER in general on its MTI ShowSpace page.