Singin' in the Rain Takes Paris by Storm!
Singin' in the Rain Takes Paris by Storm!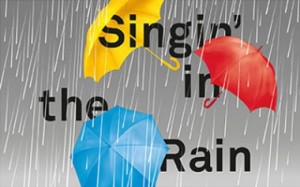 Over the past few years, Paris's
Théâtre du Châtelet
has been home to some of the greatest productions of Broadway musicals ever staged in Europe.  From
Into the Woods
and
Sunday in the Park with George
to
Magdelena
and
Sweeney Todd
, General Director
Jean-Luc Choplin
has helped bring this uniquely American art form to a whole new generation of audience members.
This spring, a brand new production of
Singin' in the Rain
will take the Châtelet by storm...
"By itself, the sequence where Gene Kelly dances in the rain embodies the golden age of the Hollywood musical. The song, and its immediate recognisable melody, has been revived and quoted numerable times. From
Clockwork Orange
to The Simpsons, from Glee to
North by Northwest
, Nacio Herbert Brown and Arthur Freed's composition has been all around the world since its creation in 1929," states the Châtelet's website.  "In 1952 Freed, turned one of the big Hollywood producers, put songs end to end to write the film (somehow as An American in Paris a year earlier). This light satire of the cinema world having to deal with the talking picture is a
'resolutely optimistic story from the beginning to the end where professionalism, tenacity, friendship and love overcome all difficulties
'".
Perform the Show on Your Stage:
Singin' in the Rain
Singin' in the Rain JR. (coming soon)