"Talk With the Animals": DOCTOR DOLITTLE is Now Available For Licensing!
"Talk With the Animals": DOCTOR DOLITTLE is Now Available For Licensing!
Book by 
Leslie Bricusse
Lyrics by  Leslie Bricusse
Music by  Leslie Bricusse
Based on the "Doctor Dolittle" Stories by Hugh Lofting.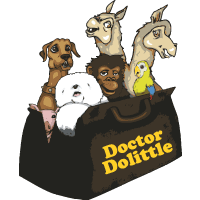 DOCTOR DOLITTLE
has talked with the animals, and now, you can, too! Music Theatre International is proud to announce that DOCTOR DOLITTLE is now available for licensing. Based on the children's books by Hugh Lofting, DOCTOR DOLITTLE is a stage adaptation of the adorable classic the whole family can enjoy!
Author Hugh Lofting originally introduced everyone's favorite veterinarian while serving in World War I. When life was either too horrific or too monotonous to write about, Lofting created illustrated letters that he sent home to children, many of which featured a main character who preferred using his medical education to treat animals instead of patients. If that doesn't seem too unusual, perhaps his ability to communicate with them-- using their native animal languages, to boot-- just might!
The original series of books by Lofting featured ten novels and two volumes of short stories that were released between 1920 and 1952. Since then, the famous tale has been adapted for radio, television, film, cartoon animations, and now your stage.
All of your family's favorite characters from the books, as well as the major motion picture featuring Eddie Murphy, are back. This time, Doctor Dolittle isn't just talking with the animals; he's singing with them, too!
Leslie Bricusse
, author of such classics as
JEKYLL & HYDE
and
WILLY WONKA
, provides the perfectly magical music and lyrics one would expect of such a tale.
With animals of every shape and size crawling, trotting, and flying around the stage, this is a show that's got something for everyone. Perhaps more importantly, this is a story with strong family values-- lessons that emphasize kindness, love, and respect, but not without plenty of room for laughter & smiles.
Resources
To supplement the rehearsal period and expand the impact of your production, we've made the following resources available for DOCTOR DOLITTLE:
Community
Click here to visit the DOCTOR DOLITTLE page on MTI ShowSpace to share videos, photos, theatrical experiences and more.