TARZAN Swings Into MTI - Sign Up for Fast Track Notification
TARZAN Swings Into MTI - Sign Up for Fast Track Notification
How To Get My Ex Girlfriend Back Using Facebook
/
www.mtishows.com/show_detail.asp?showid=000368#
">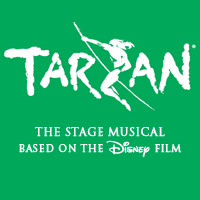 Tarzan has been a western cultural staple since Edgar Rice Burroughs published his novel
Tarzan of the Apes
in 1914. The Lord of the Jungle's story has gone through many incarnations and been told through a variety of media, including radio, television, and film.
Disney's 1999 animated movie "Tarzan", along with the original novel, is the inspiration for
Phil Collins
' and
David Henry Hwang's
(FLOWER DRUM SONG) stage musical version,
TARZAN
. This show is an international hit and fun for whole family; it's great for high school performers and audiences, and you can now sign up
Fast Track Notification to be notified as soon as the show is available for licensing.
Collins is best known for his musical work outside of the theatrical arena as an international pop star. He infuses
TARZAN
's score with a contemporary sensibility and a modern sound. Hwang is a Tony Award-winning and Pulitzer Prize-nominated playwright and bookwriter; he just received the
Steinberg Award
for playwriting. Together they have created a musical full of energy and humor that has strong values at its core.
TARZAN
clearly taps into a universal feeling, which is why the story and characters have survived for so many years and been adapted in so many ways. This universality is certainly connected to the adventurous premise of
TARZAN
and also the relevance of feeling alone in one's circumstances, but at it's heart
TARZAN
is a story of family and that is why it resonates so palpably on the musical stage.
Perfect for High Schools
TARZAN
is a feel good show with a contemporary score and many great opportunities for an ensemble cast. It's a star vehicle for a talented young man, and it has a plenty of group numbers that can showcase dancing. Given these factors, it's a great show for high school students, both to watch and participate in, as has been evidenced by the three very successful pilot productions done in high schools around the country.  Take a look as Jane is introduced to the wildlife of Congo in "Waiting For This Moment" from Dos Pueblos High School Theatre Company's (Goleta, CA) pilot production:
Additional videos and pictures from these productions are available on
MTIShowSpace
so you can see the interesting ideas these schools had for set and costume designs. There are a number of resources for producing this newly available show on the
MTI show page
, including a reference recording.
Guide Vocal and Accompaniment CD
To help make TARZAN easier to produce and perform, we've made available a Guide Vocal and Accompaniment CD.  Ask your licensing agent for more information about this critical resource.
Production History
TARZAN
began (as many musicals do) with workshop in 2004.
Glee
's Matthew Morrison starred as the Adult Tarzan,
RENT
's Adam Pascal was the Tarzan Storyteller, and
LEGALLY BLONDE
's Laura Bell Bundy played Jane.
TARZAN
began previews on Broadway on March 24, 2006, and officially opened at the Richard Rodgers Theatre on May 10. Directed by Bob Crowley and choreographed by Meryl Tankard, the production starred Josh Strickland, Jenn Gambetese, Merle Dandridge, Chester Gregory II and Shuler Hensley.
The show closed on July 8, 2007 after 35 previews and 486 performances. Subsequently,
TARZAN
has been successfully produced both regionally and internationally.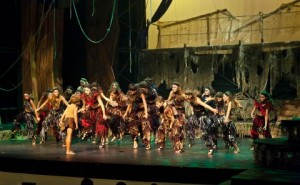 View more photos from Class Act Production's pilot in Spring, TX on MTIShowSpace.
Synopsis
The story of
TARZAN
begins with two families, Victorian British humans in Africa (Tarzan's birth parents) and a family of apes, native to the jungle. Though the two families appear very different, there turns out to be a common thread between them. A leopard terrorizes the families, first by stealing and killing the ape baby, to the horror of his mother, Kala, and then by rendering Tarzan an orphan in his infancy. Kala takes Tarzan in as her own, despite the reservations of her mate, Kerchak, who has had a previous experience with humans that didn't turn out well. As Tarzan grows, Kerchak keeps an eye on him, and when Tarzan accidentally fashions a weapon, Kerchak makes him leave the family. Kala goes with Tarzan, vowing to take care of her baby, no matter what Kerchak says. Tarzan, meanwhile, struggles with what it means to be different from everyone he's ever known – and everyone he loves.
When Tarzan has grown, he has the opportunity to save his family from the leopard, and in doing so wins Kerchak's trust, despite his continued uneasiness with humans. This tension is of course the humans' cue to enter this jungle world, and Tarzan meets Jane, her father Porter, and their guide Mr. Clayton, who is not as well intentioned as he pretends to be. There are immediate sparks between Tarzan and Jane, including the famous "Me Tarzan, you Jane" moment where they begin to be able to communicate. However, the relationship is complicated because they both know they are from different worlds. When Clayton tricks Tarzan into bringing him to the other apes, so that Clayton can capture them and sell them, Tarzan must defend his family. Though Clayton kills Kerchak, Kerchak sees Tarzan's loyalty, and recognizes him as his son, passing the torch of leadership. Jane also realizes that despite being born a human, Tarzan is at home with the apes, and that this community is the one she has been searching for herself. Jane decides to stay with Tarzan in the jungle, where they belong.
Visit the
TARZAN MTI show page
to learn more about licensing this fresh and fun show by award winning playwright David Henry Hwang and pop ico Phil Collins.