The Battle Between Good and Evil - JEKYLL & HYDE
The Battle Between Good and Evil - JEKYLL & HYDE
So, what is the sinister secret?
The lie he will tell you is true? -
It's that each man you meet
In the street
Isn't one man but two!

Conceived for the Stage by  Steve Cuden and Frank Wildhorn
Book and Lyrics by  Leslie Bricusse
Music by  Frank Wildhorn
Based on the story by Robert Louis Stevenson

This timeless tale of duality is a perfect metaphor for Halloween - a night when the mischievous imp in all of us holds sway.  Only, in Frank Wildhorn and Leslie Bricusse's Tony nominated Broadway musical, mild-mannered Dr. Henry Jekyll's alter ego, Edward Hyde, doesn't just emerge once a year. Wildhorn's rock-pop score is appropriately gritty and soaring, capturing Jekyll's desperation to rid himself of the monstrous Hyde and the life he hopes to regain.  Ballads like "This Is The Moment" and "A New Life" cut through generations of legend surrounding the characters, lending them a compelling humanity that has gripped audiences for over a decade.
JEKYLL & HYDE enjoyed a healthy run on Broadway, at the Plymouth Theater, from 1997 to 2001. The musical continues to live on through tours and regional houses. It is a true musical theatre phenomenon! The Newark Star Ledger says, "Powerfully charismatic...mesmerizing... composer Frank Wildhorn unleashes torrents of surging melody." The New York Daily News proclaims, "Lush and appealing...genuinely moving."
The thrilling music of Frank Wildhorn will capture your audience's attention, as they journey down a dark and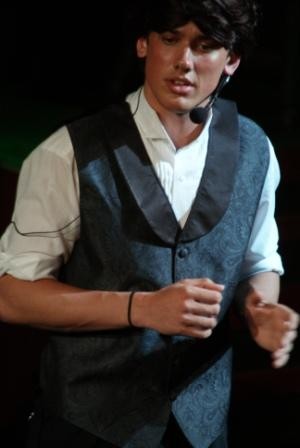 dangerous path. This dramatic musical is popular among high schools and colleges - noted for its large ensemble and stunning vocal score.
Resources
MTI also offers a wealth of resources to assist directors and educators, who may choose to produce this twisted telling of a literary classic, including RehearScore and OrchExtra.
Licensing
Click
here
to license JEKYLL & HYDE.
Community
Click
here
to visit JEKYLL & HYDE on MTI ShowSpace.