THE BURNT PART BOYS - An Unforgettable Coming of Age Story Set in Appalachia is Now Available for Licensing!
THE BURNT PART BOYS - An Unforgettable Coming of Age Story Set in Appalachia is Now Available for Licensing!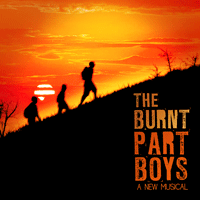 Adventure and redemption are at the heart of
THE BURNT PART BOYS
, a brand new family-friendly  musical inflected with the rich musical sounds of the Appalachia region. From the creative team who, according to
Associated Press,
"give hope that the American musical theatre is not dead yet,"
THE BURNT PART BOYS
follows the adventures of a group of teenagers deep in West Virginia's coal country in 1962. An unforgettable coming-of-age story by
Mariana Elder
(book),
Chris Miller
(music), and
Nathan Tysen
(lyrics), the musical is a life-transforming odyssey that
Variety
calls "a rich theatrical experience"; and Music Theatre International is proud to announce that
THE BURNT PART BOYS
,  is now available for licensing.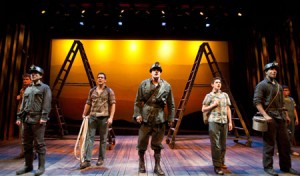 Fourteen year-old Pete is fighting to claim his past.  His older brother Jake's hoping to forge a future.  With an eclectic band of friends teetering on the brink of adulthood, they've embarked on a life-altering journey to the coal mine that took their father's life. With its soaring, elegiac bluegrass and pop-inspired score, this inspirational new musical finds both the streaks of light and the heart of darkness within us all.
Featuring a modest cast size and a propulsive, harmony-rich score from composer
Chris Miller
and lyricist
Nathan Tysen
,
THE BURNT PART BOYS
is perfect for schools, college, and theatres with limited resources and talented singers. The cast features mainly men, but the role of Frances, a scrappy  runaway tomboy who teams up with Pete and Dusty, is an excellent showcase for a young actress.
THE BURNT PART BOYS
"had an innovative production and development schedule on the way to its Off-Broadway premiere." The show received an initial developmental production at Barrington Stage Company in 2006, a developmental Lab Production at Vineyard Theatre in spring 2009 and was presented in summer 2009 at New York Stage and Film at Vassar College.
THE BURNT PART BOYS
premiered Off-Broadway as a co-production between Playwrights Horizons and Vineyard Theatre. Directed by Joe Calarco, the cast featured Michael Park (
As The World Turns
,
HOW TO SUCCEED
), Charlie Brady (
South Pacific
), Al Calderon (
13
), Andrew Durand (
SPRING AWAKENING
), Noah Galvin (
Our Town
), Steve French (
In Transit
), and Evan Harrington (
AVENUE Q
), Molly Ranson (
Carrie
), Asa Somers, and Randy Redd (
Million Dollar Quartet
). A cast album was released on December 6, 2011 on the
Yellow Sound Label
.
Watch the original off-Broadway cast and creative team discuss
THE BURNT PART BOYS
:

In the impoverished coal mining town of Pickaway, West Virginia, home to the Burnt Part, a gray and desolate area revealed to be a mine that collapsed after a fire in 1952, Jake and Chet face new jobs when the mine announces its reopening.  Jake's younger brother Pete and Pete's best friend Dusty protest. You see, the boys' fathers were victims of the collapse and the prospect of losing his brother is a harrowing one for Pete, who escapes his grief over his father's loss by evoking his own frontier fantasies – populated by the likes of Davy Crockett, Sam Houston, and Jim Bowie (each played, in the original production, by the same versatile actor).
Though the plucky youngsters of the show forge through the woods, canoe downriver, and race through an abandoned mining tunnel, staging the show presents scintillating challenges for directors with an eye for practical solutions to the challenges of a sweeping story. Ladders and rope – along with simple costumes and props – are all that needed to make
THE BURNT PART BOYS
sing on any size stage!
To view musical highlights: