The Customer is Always Right: 13 the Musical
The Customer is Always Right: 13 the Musical
Whether in Fiddler or Into the Woods, young performers often play characters that are not their age. They have to adapt to the material. A Broadway show is rarely tailored explicitly for teenage actors and their capabilities. This makes 13 a treasure among musicals.
When it opened 10 years ago on Broadway, 13 broke all the rules by having a cast and orchestra consisting entirely of teenagers. With a score by Tony winner Jason Robert Brown and a hilarious book by Dan Elish and Robert Horn, 13 tells the story of Evan Goldman who is uprooted from the big city to a small town in Indiana. While grappling with a new home, he must contend with the growing pains that are a rite of passage for everyone, including Kendra, Archie, and the other kids that Evan meets.
In celebration of 13's 10th anniversary, we asked schools and theaters about what drew them to the show and how it holds up to today's teenagers.
Written for teens. Performed by teens.
For many educators and directors, a show that allows students to take on roles specifically meant for their age is irresistible. When doing 13, not only do actors get to explore characters written for their level of experience, they receive the Broadway treatment by working with Brown's exciting score.
"I teach middle school and thought it was the most relevant piece of theatre I could do with actual 13 year-olds," said Merrill Cheyne of Harris County Carver Middle School, which did the show in December 2017. "The issues and themes hit home and gave me a launch point for the kinds of conversations that help kids really think about who they are, how they fit, and the importance of being kind and true to themselves over popularity."
According to Melissa Bencic of Toronto's Bravo Academy for the Performing Arts, 13 was a special chance for her students' artistic growth.
"When working with young artists I feel it is essential to choose age appropriate musicals whenever possible so that students have the opportunity to play their own age," remarked Bencic. "We have found that when working with teens on contemporary repertoire with relevant themes and subject matter such as 13, our students grow significantly both on and off the stage."
At the famous summer theater camp, Stagedoor Manor, 13 fulfilled the criteria for a show befitting a theater with a large ensemble of youth performers. Needing to program a season for multiple venues and showcasing young actors, Stagedoor's Director of Theatrical Programming, Chris Armbrister, has to consider how many ways a potential show can engage the performers while delivering stellar entertainment.
"Will the show be one to which young performers can relate, will they get excited by the music and story, does it offer a variety of roles and challenges for young performers," explained Armbrister. "We selected 13 because it satisfies all these, and the other basic features that we look for in a show to add to our season."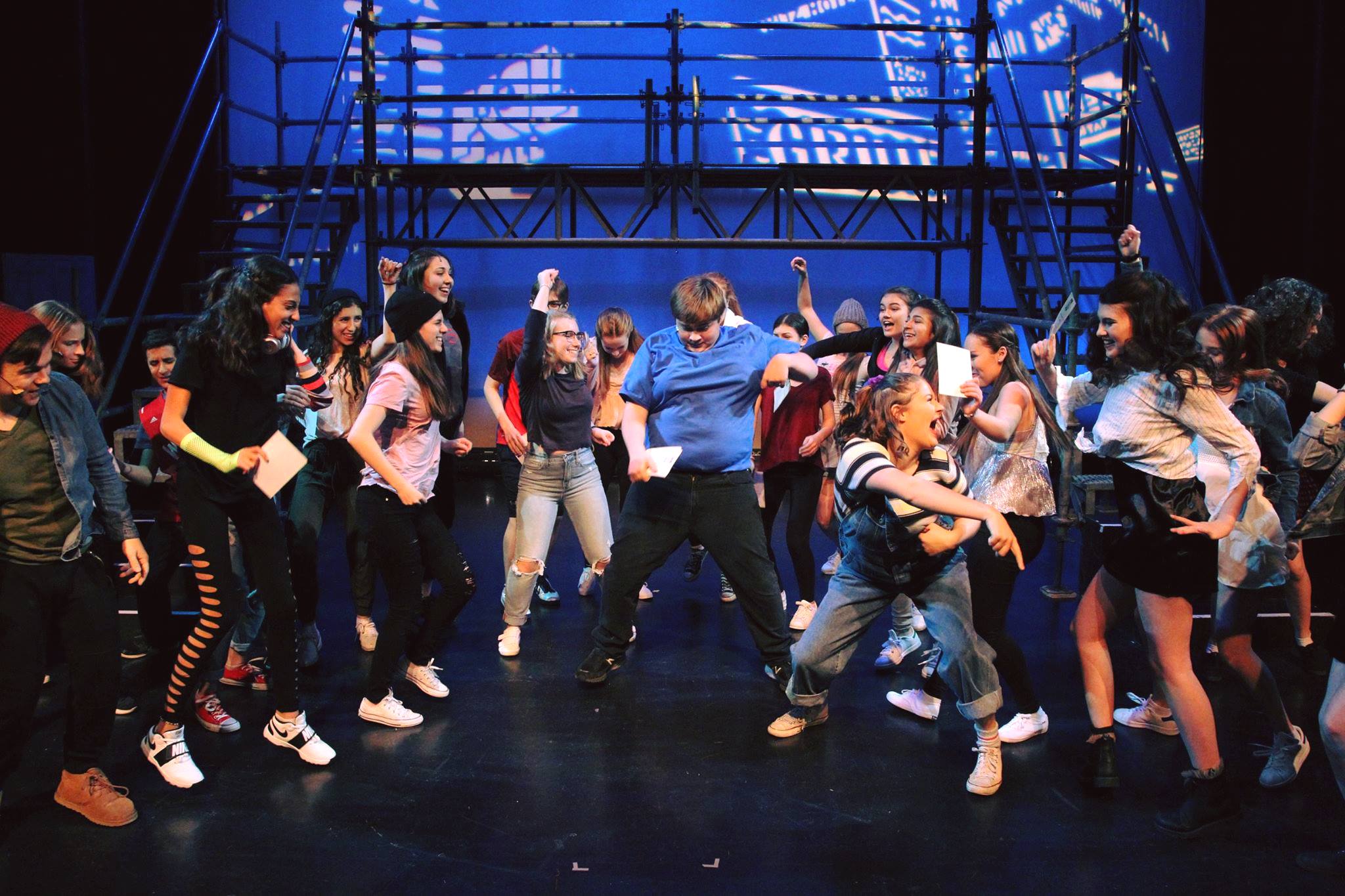 Photo courtey of Melissa Bencic, Bravo Academy for the Performing Arts.
A message for all ages
For the cast and creative team of Northwestern University's Freshman Musical, an annual show produced by and starring only freshmen, 13 's themes and message echoed beyond middle school.
"It takes place during the only other year perhaps more awkward and transitional than one's freshman year of college--middle school," noted co-producer Jesse Rudnick. "Beyond the comical aspects though, the messages about leaving home, finding and making new friends, and trying to discover out who you are and the person that you want to be, is a narrative that resonates deeply for every freshman."
What is striking about 13 is that it conveys emotions and insecurities that not only teenagers relate to. At its core, it is a show about the raw vulnerability that comes with being true to yourself - something that resonates with people of all ages.
"We loved sharing this story about learning to find yourself and owning all the best and worst parts of yourself," said Melissa Charles of DMR Adventures' March 2017 production. "Transitioning to a new place, struggling to fit in, and navigating the rocky roads of friendship are things that we can all relate to at any age, but this was the perfect story for this cast of students between the ages of 11-15."
"For us, the show was ultimately about finding those in your life who force you to be your best selves and uniting in the face of the unknown, stronger as a team," explained Northwestern's Rudnick. "As we went through the process, these messages of the show truly began to mirror our own reality. We couldn't think of a more fitting piece to tell our own story."
A delightful hit on and off stage
Time and time again, 13 is a hit for both audiences and actors. This show gives energetic entertainment to theatregoers and provides performers an emotional connection from working together as an ensemble. This bonding among cast members spoke to the directors and educators about 13's profound impact on budding actors.
"Our production of 13 stands out because of the way the cast truly bonded," noted Charles. "The cast formed a strong friendship and respect for one another, and they are STILL singing these songs and quoting from the show almost two years later."
"I loved working on the musical because the rehearsal room was ALIVE where students were constantly sharing their ideas and feelings and they really took ownership of their production," praised Bencic. "The atmosphere and energy were incredibly positive and, most importantly, honest. The sincerity of their performances was moving, and the cast bonded in such a special way."
"Every time we have done 13 the kids go wild when we announce it and those that are cast in it are always ecstatic," affirmed Armbrister.
And an ecstatic cast leads to an ecstatic audience.
"Whether it was a parent, grandparent or a friend, everyone felt it was one of our best shows," said Bencic. "They loved the songs, script and theme and especially how confident and liberated the students were on stage. Every show was incredibly exciting and always concluded with a standing ovation!"
"We sold out in a huge lecture hall," said Rudnick. "What many initially saw as a big stunt for the Northwestern community clearly defied expectations, becoming the most profitable show done at Northwestern that year."
"The audience absolutely loved the show," noted Charles. "I have never had so many compliments from audience members, and audiences of all ages! Our audiences were surprised at how funny the show was, how meaningful the music and lyrics were, and how much they related to the characters. It also gave our student a chance to shine in a way they'd never been able to before!"
Give your young actors a chance to shine and book 13 today!