The Fantastic Journey of Tom Jones and Harvey Schmidt
The Fantastic Journey of Tom Jones and Harvey Schmidt
Few creative collaborators can boast of a partnership lasting for nearly 60 years. Then again, few collaborations can compare to that of Tom Jones and Harvey Schmidt. Spanning over five decades that have seen significant changes in the theater community, Jones and Schmidt stuck with their vision of intimate, often minimalist shows that defied the notion that all musicals require a glitzy, high-kicking chorus.
"When you hear and see their musicals, you know you're seeing a Tom and Harvey show," reflected Music Theatre International Co-Chairman Freddie Gershon. "They have an identifiable voice - that's a collective voice. A voice of their musical voice, their lyrics, their dialogue - seamlessly, they're melded, and then it's galvanized, and when it comes back out, you hear and feel something which is not derivative. Purely original and sui generis, it seems natural, and it seems simple. It's not simple. It's hard work. What they do is hard work."
Musical theater lovers will be able to listen to the fruits of this hard work thanks to Jones & Schmidt: Hidden Treasures, 1951-2001, a 2-disc set produced by The Musical Theater Project and Harbinger Records as part of their Songwriter Showcase Series*.
With Harvey Schmidt's recent passing this February, and Tom Jones having just celebrated his 90th birthday, it's fitting to "try to remember" and look back over their collaborative history.
In 1950, Schmidt and Jones met as students at the University of Texas through the Curtain Club, the university drama troupe. Their first collaboration was the annual college musical that Jones was invited to direct. The show was a campus hit, a fortuitous omen of what was to come for their future.
"That thing that we felt after the college musical, that sense of something special which we had to give-we were able, by hard work, but also by the grace of God-to nurture and fulfill," said Jones in American Theatre . "Harvey's life was fulfilled. And I am grateful that, because of him, my life has been fulfilled too."
After college, they were both drafted in the army during the Korean War, but the two kept in touch while stationed in separate posts, collaborating on songs through the mail. After their time in the army was done, Jones and Schmidt headed off to take on New York City.
Jones and Schmidt were invited to write a musical for a summer showcase of one-act shows. They had recently been working on an adaptation of a work by French dramatist Edmond Rostand and decided to redo it for the showcase. They got rid of all the songs from it…except for "Try to Remember". And thus, The Fantasticks was born. After the first showing, they received multiple offers from producers and ultimately went with Lore Noto, who would help bring the show to the Sullivan Street Playhouse.
The Fantasticks seemed doomed to fade into oblivion after opening to negative reviews. But the joke was on the critics, as a loyal audience grew and kept coming back. The rest is history as Fantasticks became a staple of the New York City theater scene, earning Jones and Schmidt a special Tony award for the show in 1991. The show went on to having the longest continuous run for an American show - 17,162 performances from May 3, 1960 - January 13, 2002. Subsequently, a 2006 revival ran at the Jerry Orbach Theatre for 4,390 performances, closing on June 4, 2017.
In 1963, the duo's next collaboration was their first to premier on Broadway: 110 In The Shade. Set in a small, parched Texas town, the show was another Jones and Schmidt exploration of desire and longing in an intimate setting. Three years later, they zoomed in even further on the nature of love between two people in I Do! I Do!, a portrayal of a decades long marriage. Originally starring Mary Martin and Robert Preston, the show consists of only two characters, Michael and Agnes, who guide the audience through 50 years of their marriage.
Fittingly, when discussing their own long-term relationship as co-creators, Schmidt said : "It's like a marriage. We've learned to work on separate continents. You kind of learn what to avoid."
"If Tom indicates he's going to do something, I know sort of what he's going to do, and I don't have to worry about it," Schmidt explained.
Over the following decades, this "marriage" transported audiences from a New Year's celebration (Celebration) to ancient Rome (Philemon) to 1890's Paris (Mirette), and more.
Jones and Schmidt's collaboration came full circle in multiple ways with the 2001 production of Roadside at the York Theatre Company in New York City. As told by a traveling tent show, Roadside is a tale of the Old West and a love triangle between the feisty Hannie, lovesick Buzzey, and a swaggering outlaw named Texas. Although it was their final original production, the duo actually began working on it before The Fantasticks. Indeed, Roadside premiered months before Fantasticks closed in 2002.
On February 28 this year, Harvey Schmidt passed away. He has left behind a remarkable career that has touched scores and scores of theatregoers in addition to those who had the privilege to work with him.
For Tom Jones, although his partner has departed, his music and their legacy live on: "All that music which came pouring out of him-directly, it seemed, from his soul-all that still lives. People are singing it right now. People will sing it tonight. And tomorrow. And the day after."
*Jones & Schmidt: Hidden Treasures, 1951-2001 Now Available!
In addition to The Fantasticks, Jones & Schmidt musicals also include Broadway classics such as I Do! I Do!, 110 in the Shade and Celebration. Selections from these and 12 other shows are included in Harbinger's deluxe set, which features many previously unreleased "demos" by the songwriters themselves.
Jones & Schmidt worked closely with Producer Bill Rudman for over two years to ensure that this album would best represent their legacy, and both composer and lyricist contributed liner notes for a 64-page booklet that includes dozens of never-before seen photos.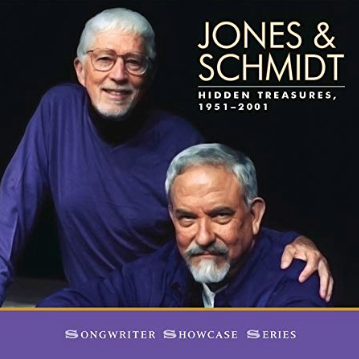 The 2-CD set is available on a number of outlets including Harbinger Records ( HarbingerRecords.com ) and Amazon: