The Heat is On in Saigon! MISS SAIGON SCHOOL EDITION Now Available for Licensing
The Heat is On in Saigon! MISS SAIGON SCHOOL EDITION Now Available for Licensing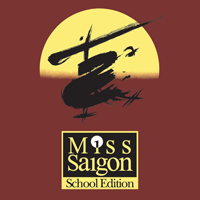 A classic love story is brought up-to-date in one of the most stunning theatrical spectacles of all time. In
MISS SAIGON SCHOOL EDITION
,
Alain Boublil
and
Claude-Michel Schönberg
(the creators of
LES MISÉRABLES
and
MISS SAIGON
), along with
Richard Maltby, Jr.
, bring Puccini's
Madame Butterfly
to the modern world in a moving testament to the human spirit and a scathing indictment of the tragedies of war.
In the turmoil of the Vietnam War, an American soldier and a Vietnamese girl fall in love, only to be separated during the fall of Saigon. Their struggles to find each other over the ensuing years ends in tragedy for her and a fighting chance for the child he never knew he had.
Based on the international sensation
MISS SAIGON SCHOOL EDITION
is an epic, daring pop opera that is universal in its emotional power even as it deals with controversial, contemporary issues. Its sung-through pop-inflected score gives a multi-ethnic cast of strong pop singers an opportunity to shine.
Raw and uncompromising,
MISS SAIGON
SCHOOL EDITION
is an intensely personal story of the losses we suffer and the sacrifices we make in a world gone mad.
This emotionally charged musical has garnered many awards in its history including three Tony Awards, four Drama Desk Awards, and three Outer Critics Circle Awards.
Why MISS SAIGON SCHOOL EDITION?
Because the original MISS SAIGON has some content elements that previously made it a difficult choice for some high school productions, MTI has worked with the MISS SAIGON authors to create an adaptation that maintains the dramatic intention and integrity of the piece, while editing it to make it more appropriate for high school audiences and performers.
School Edition Resources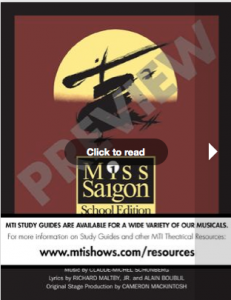 Like most MTI School Edition musicals,
MISS SAIGON SCHOOL EDITION
comes with several resources to supplement the rehearsal period and expand the impact of your production:


Logo Pak


Reference Recording


Stage Manager Script


Transpositions-On-Demand



The theatrical resources provide new ways to delight and instruct all who participate in a MTI musical.
What's Changed?
In addition to the new theatrical resources and show requirements catering to high schools, there are two major differences between the original show and the School Edition:


The language (both dialogue and lyrics) has been cleaned-up throughout.




A few songs have changed keys to accommodate student voices.


The CastMISS SAIGON SCHOOL EDITION
features several male and female star vehicle roles, as well as a large and flexible ensemble with the opportunity for extensive multi-ethnic casting.

Additional Facts
MISS SAIGON
opened on September 20, 1989 at the Theatre Royal, Drury Lane in London. After an exhaustive search for the right Asian lead, Lea Salonga originate the role and catapulted to fame with the show. Also starring was film and TV star Jonathan Pryce as The Engineer, and Simon Bowman as Chris.
The original
MISS SAIGON
was one of the most spectacular and technically complex productions ever staged. 266 people worked on the London production at each performance and of those only 47 appeared in front of the audience. 
MISS SAIGON
bowed in London on October 30, 1999, after a total of 4,263 performances.
MISS SAIGON
opened at the Broadway Theatre on April 11, 1991. It again was lead by Pryce and Salonga, plus Hinton Battle as John (all winning Tony Awards) and Willy Falk as Chris. Upon its Broadway opening, the musical broke several Broadway records, including a record advance-ticket sales at $24 million, highest priced ticket at $100, and repaying investors in fewer than 39 weeks.
MISS SAIGON
closed on January 28, 2001 after 4,092 performances.
MISS SAIGON
has won 30 major theatre awards including three Tony Awards, four Drama Desk Awards and three Outer Critics Circle Awards. 27 companies have opened
MISS SAIGON
in 25 countries and 246 cities and 
MISS SAIGON
has been translated into 12 different languages.