The Stage Manager's Story - Insight from BroadwayBlogspot's Ernie Fimbres
The Stage Manager's Story - Insight from BroadwayBlogspot's Ernie Fimbres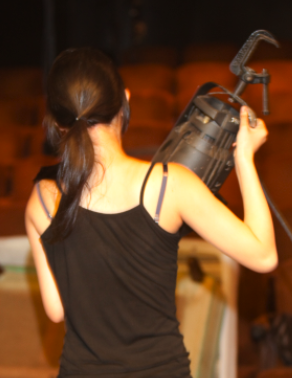 We're happy to bring to you a new blog entry from our friends at
BroadwayBlogspot.com
! For those of you who don't know, BroadwayBlogspot is a theatrical resource website to inspire, educate & create a sense of appreciation for the people who work both onstage and behind-the-scenes on Broadway and beyond. Don't forget to
add BroadwayBlogspot as your friend on MTI ShowSpace.
The new article is written by
Ernie Fimbres
, BroadwayBlogspot's Webmaster & Graphic Designer. In addition to his work at BroadwayBlogspot, Ernie is an active Stage Manager in New York and proud member of Actor's Equity Association. Hailing from Los Angeles, California, Ernie has stage managed plays and musicals in Los Angeles, on National Tours and in New York and surrounding areas. He most recently served as Production Stage Manager for the Off-Broadway production of THE DEEP THROAT SEX SCANDAL. Ernie has been on the BroadwayBlogspot team since the beginning, and enjoys dabbling in web page creation and graphic design.
Stage Management by Ernie Fimbres
It's autonomous, it's definitely behind the scenes, there's no applause, the cast either likes you or they hate you, it's a double edged sword, lots of responsibility and very little recognition from the outside world.  But it has it's moments.  Stage Managing live theatre gives real meaning to "Putting it Together."  Working with a Director, Producer and a design team, gathering the pieces and keeping them part of the machine that will make a show GO is, at the same time, daunting, burdensome and exciting.  No one really has a definition, that I have seen, of what a Stage Manager does.  We are the caretakers of a show, the schedulers, the overseers of all the technical aspects and the cast.  If we are lucky, we work with a crack design team and staff that supports the work that needs to be put into play to make theatrical magic every night, eight shows a week.  No one does anything worthwhile alone, not really.  But keeping track of a myriad of details can be daunting: Set, props, lighting, costumes, blocking, cast, drama, divas, tantrums, unions, breaks, understudies, facility, staff and the list goes on and on.
The satisfaction of a Stage Manager must come internally because applause is for the actors on the stage at the end of the day but, when a show runs well and you call a well tuned show, it is fantastic.  When the elements come together and the cast and crew, and you, pull it off, that applause, though mostly for who is on stage, spills over to the Stage Manager and crew.  We turn off our lights, and equipment and go home, passing the artists as they get mobbed at the stage door, no one really sees us but we know we had a big hand in that live performance that happened at that moment in time.  Often I see people who work in the theatre take it for granted or become jaded because it can be difficult.  It is a people business and people can be taxing.  It is hard work doing a play or musical and a great deal is expected of everyone.  Professionalism is hard to come by and artistic temperament is a very real term.  A Stage Manager has to give notes and, in essence, critique the performances nightly in order to keep the show running as intended by the Director.  Some artists take umbrage to that and don't realize that it is for the good of the show and not a power play.
If an artist goes over the top, changes dialogue, intent, blocking or timing, it is the Stage Manager's job to note that and bring the show back to what it was.  Some artists can be petulant, angry and insecure while others welcome the help and are eager to work together to make it work.  True, it's just a job and has severe ups and downs.  Every show can be different.  A show in trouble is hell on earth but a show working well is heaven.  The heaven is worth it so it's worth each gamble.  For surely as each show opens, it closes and, like dancers and actors, stage managers hit the gypsy road to find the next gig.  There's nothing like the theatre... and all the people in it!
BroadwayBlogspot's Featured Articles...
Click here to read more feature articles on BroadwayBlogspot.com.