Trick or Treat with Stephen Schwartz's CAPTAIN LOUIE and CAPTAIN LOUIE JR.
Trick or Treat with Stephen Schwartz's CAPTAIN LOUIE and CAPTAIN LOUIE JR.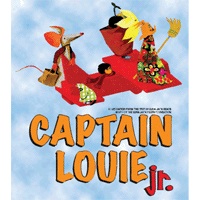 Being the new kid is tough.  You've got a new neighborhood to navigate, a new house filled with other people's memories, and worst of all, a new school where you're supposed to make new friends.  What if they watch different TV shows or play different games?  What if you accidentally sit with the wrong people at lunch?  What if everyone makes fun of you?
It's these fears that keep Louie on the sidelines on Halloween, as he watches his new classmates play.  In
CAPTAIN LOUIE and CAPTAIN LOUIE JR.
, the musical by multiple Tony nominee
Stephen Schwartz (WICKED, GODSPELL)
and
Anthony Stein
, Louie embarks on an imaginary journey to his old neighborhood-where he and his old friends first tease, then welcome Julio, who moved into Louie's old house.  After a magical night of Trick-Or-Treating, Louie returns to his new home with newfound confidence, ready to prove that "new kid" is just another way of saying "new friend."
October is the perfect time to highlight this "treat" of a show, so we hope you'll check out the videos and interactive links below.
Sample Choreography for "Trick or Treat" from the MTI Broadway Junior Collection Choreography DVD:CAPTAIN LOUIE Promotional Video Featuring Commentary by Stephen Schwartz:What's So Special About MTI's Broadway Junior Collection?
The Broadway Junior Collection features 60-minute adaptations of classic and contemporary musicals for middle-school-aged children to perform in classroom and after-school settings. The story of Louie's move to a new neighborhood spoke to middle school-aged students in its original form, and
CAPTAIN LOUIE JR
. gives these same-aged students the chance to perform the show themselves.  The issues in the show, especially the fears of being a new kid, are ones most students can relate to, and the writing captures the voice of that age group without talking down to them.  With
CAPTAIN LOUIE JR.
, your students can depict characters that are just like them - and they'll learn lessons that directly affect their lives.
The MTI Broadway Junior Collection ShowKit:
Each Broadway Junior show is packaged with a comprehensive ShowKit of resources designed to make presenting a show with kids fun and educational.  Each ShowKit includes:
-Director's Guide with Curriculum Connections
-Choreography DVD
-Fully orchestrated Accompaniment and Guide Vocal CD
-Student Books
Licensing:
To license CAPTAIN LOUIE JR and for more information about the show,
click here
.
"Project Louie"on MTI ShowSpace:

Click
here
to follow MTI Customer, Christie Jeter as she shares her thoughts on Jeter Backyard Theater's upcoming performance of CAPTAIN LOUIE JR.