Watch a Live Stream of This Weekend's Junior Theater Festival: Sat, Jan 18 / Sun, Jan 19
Watch a Live Stream of This Weekend's Junior Theater Festival: Sat, Jan 18 / Sun, Jan 19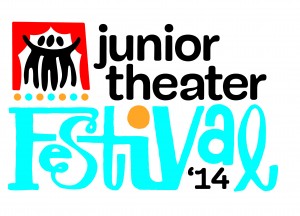 The Junior Theater Festival
is a weekend dedicated to celebrating young people and musical theater. JTF brings students, teachers and Broadway professionals together from around the country to celebrate outstanding student musical theater productions from the
MTI Broadway Junior Collection
.
And for the first time ever, we are thrilled to announce that three exciting segments from the 2014 Festival in Atlanta, GA will be available on a
Live Video Stream on MTIShowSpace
for all to see! All three Live Video Streams are free of charge and can be viewed without logging in to the site.
Simply go to
www.mtishowspace.com/jtf2014
EVENT SCHEDULE:
January 18, 8:00pm EST
DISNEY MUSICALS NEW WORKS SHOWCASE
Exciting performances from participating groups highlight brand new titles in The MTI Broadway Junior Collection:
-Uptown Music Theater (New Orleans, LA) 101 DALMATIANS KIDS
-Harris County Carver (Hamilton, GA) SHREK JR.
-Gwendolyn Brooks Middle (Oak Park, IL) LEGALLY BLONDE JR.
-Roy Waldron Elementary (LaVergne, TN) MAGIC TREE HOUSE: THE KNIGHT AT DAWN KIDS
-Broadway at the Rose (Omaha, NE) MARY POPPINS
January 19, 9:15am EST
PATHWAYS TO SUCCESS
Andy Jones (Rodgers and Hammerstein's Cinderella) and tap dancer Evan Ruggiero (American Idol, The Ellen Show) discuss their journey from students interested in careers in theater to professional performers.
January 19, 2:00pm EST
PASEK AND PAUL PERFORMANCE
The Tony-nominated composing duo, Benj Pasek and Justin Paul (EDGES, A CHRISTMAS STORY, DOGFIGHT, JAMES AND THE GIANT PEACH, Smash) perform songs from their catalogue, and discuss their journey from college roommates to a hit songwriting team.