WOMEN ON THE VERGE of Fast Track nofication
WOMEN ON THE VERGE of Fast Track nofication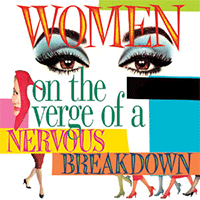 WOMEN ON THE VERGE OF A NERVOUS BREAKDOWN
, one of the most star-studded musicals of the 2010-11 Broadway season is
now available for Fast Track Notification
! Sign up now and you'll be among the first to know as soon as the show is available for licensing.
The hit team behind
DIRTY ROTTEN SCOUNDRELS
,
Jeffrey Lane
(Book) and
David Yazbek
(Music and Lyrics), penned the musical version of
WOMEN ON THE VERGE
, which was produced by Lincoln Center and opened in November of 2010. The musical is based on the iconic Oscar-nominated film of the same name by Spanish director Pedro Almodóvar. The original production featured Tony Award winners Patti LuPone, Brian Stokes Mitchell, Laura Benanti and Danny Burstein and Broadway favorite Sherie Rene Scott; it was directed by Bartlett Sher, also a Tony Award winner.
Synopsis
WOMEN ON THE VERGE
takes place in Madrid in the late 1980s, and is a comedic tangle of romantic stories with a dark side. Pepa has been dumped by her boyfriend and coworker Ivan, and she has to go to work – they are voice over singers for foreign films. As she makes her way through the streets of Madrid, narrated by a helpful and comic taxi driver, the world comes alive. When Pepa learns she's pregnant, she waits outside of Ivan's apartment hoping to spot him, she is being spied on by Ivan's ex-wife Lucia, who doesn't realize Pepa's been dumped. Meanwhile, Pepa's friend Candela is desperate to get in touch with her – she may have accidentally taken home (and taken to bed) a terrorist who is plotting to blow something up!
Candela finally catches up with Pepa back at Pepa's apartment, where she is making gazpacho – which she has conveniently spiked with Valium. Ivan's son, Carlos, and his fiancé, Marisa, mistakenly arrive at Pepa's (Pepa has only just learned in the last 24 hours that Ivan even had a grown son) thinking that her apartment is for sale – Marisa is looking for them to move in together, despite Carlos and Lucia's hesitations. Concurrently, Lucia is suing Ivan because she wants the last 15 years of her life back, and Ivan is secretly running off with her Feminist lawyer, Paulina. Marisa accidentally drinks the gazpacho and passes out. The police show up at Pepa's door, looking for Candela's terrorist boyfriend, and drink the gazpacho as well. Carlos and Candela drink the gazpacho and end up asleep in each other's arms. Lucia shows up and tries to shoot Pepa, then goes to the courthouse in pursuit of Ivan and Paulina. When she gets there, she tries to shoot Ivan, but instead, shoots the terrorist, which means she gets the positive attention she's been looking for. Marisa leaves Pepa's apartment, and Pepa is left alone with her beautiful view and a sense of contentment. For a complete synopsis of this twisted tale, click here!
The Score
The Spanish-influenced, modern, musical theater pop score strives to capture the quirkiness of the original film, while maintaining the underlying sentiment that made it a hit. The groovy opening song "Madrid is My Mama" sets the tone for the show, and allows the Taxi Driver character to establish himself. The hilarious tour-de-force number for Candela, "Model Behavior", captures the tone of the piece and demonstrates what is most effective about
WOMEN ON THE VERGE
. And, the affecting ballad "Invisible" adds dimension to the Lucia's character at an important moment in the show.
The storytelling on the page is enhanced by the many opportunities for an ensemble cast of trained vocalists to show their chops. As evidenced by the performers in the original production, this piece is well suited for talent. The script also lends itself to many exciting design elements that fit in with the colorful world of Madrid in 1987.
Click
here
to sign up for Fast Track Notification for this quirky, often wacky, and always engaging new musical! Or, visit
MTI Showspace
for more information and production resources.