Workin' 9 to 5 All Across America
Workin' 9 to 5 All Across America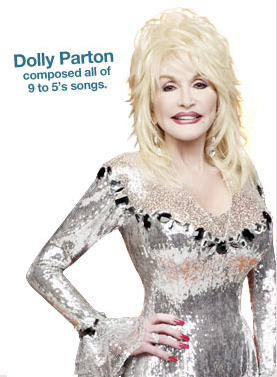 It's back to the "office" for the cast and crew of
9 to 5: THE MUSICAL
, as the Broadway-hit launches its national tour this week from Tennessee.
9 TO 5: THE MUSICAL is a hilarious story of friendship and revenge in the Rolodex era. This new musical comedy, direct from Broadway, is based on the hit movie and features Dolly Parton's original hit title song along with her new Tony® Award and Grammy®-nominated score. The book is by Patricia Resnick (co-writer of the original screenplay).
9 TO 5: THE MUSICAL tells the story of three unlikely friends who conspire to take control of their company and learn there's nothing they can't do -- even in a man's world. Outrageous, thought-provoking and even a little romantic, 9 TO 5: THE MUSICAL is about teaming up and taking care of business... it's about getting credit and getting even... and it's coming to a city near you!
The tour is already garnering lots of press - including a fabulous interview with Dolly Parton about the show on Tennesean.com.
Read the Full Interview with Dolly

Check out Tennesean.com to read
"Parton right at home writing musical, just as '9 to 5' is at home at TPAC"
See the Show
Check out the
official website for 9 to 5 The Musical for tickets and other information
.