World Theater Productions Knows The Way
World Theater Productions Knows The Way
We are continuing our celebration of AAPI History Month by highlighting World Theater Productions' (WTP) production of Moana JR. – a show that amplifies and celebrates the history and cultures of the people of the Pacific Islands. We were fortunate to have executive producer Margie Dancel and costume designer Tamara Burton of WTP talk about their experience bringing this Disney hit to life.
Based in Tamuning, Guam, World Theater Productions is "a platform for professional artists from around the world to share their talents and experiences within their respective fields to enhance the theater production on Guam and hone local talents who are serious in getting into the field of entertainment."
Leading up to opening night in June 2021, it was not smooth sailing. But in the midst of an ongoing pandemic and facing multiple hurdles, the community around WTP came together to make a beautiful production that touched on the many cultures represented by the cast onstage. We are so thankful to hear the story of Moana JR. at WTP.
What drew you to produce Moana JR.? How did your cast react when they found out you chose this show?
Margie Dancel: After the success of our first Disney JR. production (Frozen JR.) in Guam, which takes place in a wintery wonderland where Elsa had to wear a blonde wig, we felt that Moana JR. would be a perfect story to tell on an island like Guam. We applied for the license on the day it was released, which was January 2020. We were in the midst of discussions about auditions when the world went into lockdown in March 2020. 
After a year of having our lives (and most especially the kids') changed, we decided to go ahead and present Moana JR. in the summer of 2021. Because of the uncertainty of Guam's COVID-19 status in the months to come, we decided to [stream] the show and hired local award-winning film directors Brian Muna and James Davis to bring this beloved Disney musical to life.
The kids were really excited that we were doing Moana JR., and many came to audition because they loved the movie and could see themselves in the characters of the story. We had many young girls who auditioned for the first time because they wanted to be "Moana".
What was the rehearsal process like? 
Margie Dancel: The rehearsal process during a pandemic was extremely challenging and consisted of:
We started with Zoom rehearsals, we did all our meetings, script reading, character study online. Music rehearsals were the most challenging due to delays in Zoom, so we asked the cast to memorize their lines and songs on their own using the [Guide Vocal Tracks] provided by MTI
Choreography was recorded and sent to the cast so they could learn the steps on their own
After restrictions were slightly lifted (we were allowed to meet in small groups, not more than 10 total were allowed to be in one room at a time). All cast members over 12 years old had to be vaccinated or have negative COVID-19 test results and wore masks during rehearsals.
Outdoors: We were allowed 25 people (vaccinated and masked) to meet face to face, so we began running the show in May.
How did the cast personally connect with the show and music?
Margie Dancel: Most of the cast members loved the movie as it represented islanders and our stories. [They] also knew and loved the songs from the movie but were excited to learn new songs from the musical. The cultural customs, stories and themes depicted in the movie are familiar to anyone from a tropical island, so they really felt the connection.
How did the language and educational tools provided in the ShowKit enhance your production?
Margie Dancel: The cast members who were able to learn to pronounce the words correctly using the Pronunciation Guide, helped those who had trouble. 
The Social Studies materials such as "The Art of Wayfinding" and "Geography" helped the kids when they were learning the choreography. The cultural choreographer discussed storytelling with the hands – what certain gestures mean, how to perform them, etc. The cast really enjoyed that.
Even though the cast had to learn the choreography by video, they practiced on their own which made it easier to put together when we could finally rehearse face to face.
The set and the costumes of this show help tell the story in such a unique way – How did your choices for costume and set help you tell your story? 
Tamara Burton:  Over 90 percent of our cast are islanders from Guam, Saipan, and Chuuk in Micronesia, and from farther afield including the Philippines, Tonga, Samoa, Okinawa, and Japan. There was a tremendous amount of pride in these young people, to be working together to tell the tale of a brave young Pacific Islander who saves her people.
It is believed that Guam was settled by seafarers from 5000 to 7000 years ago.  Of the many Pacific cultures and island groups, the Chamorros are one of the indigenous peoples that have revived ancient sea-faring traditions. Groups here still carve the ancient style proa (sea-faring craft) and have been involved in travels using ancient methods of navigation by stars, wind, currents, and even bird behavior.
In designing the costumes for Moana  JR., I had three goals: 1) to pull from the beautiful designs of the Disney animated movie, 2) to incorporate specifically Chamorro cultural emblems, and 3) to include appropriate representative costumes from the many different cultures of the Pacific.
As you've seen from the photo of our  Moana, she was dressed very closely to the animated Moana. Several of our leads' costumes were influenced by the movie.  I wanted children attending the musical to immediately connect to the story. Other characters were dressed in costumes that heavily suggest Māori New Zealander, Samoan, and Fijian dress. I worked closely with a cultural consultant, Yeole Hanohano, to choose appropriate costumes, and she loaned us many costume pieces and head dresses she had previous made.  (Margie Dancel also worked with her in designing the show's choreography.)
Maui and Chief Tui wore traditional sinahinecklaces that were worn anciently to signify Chamorro clan leaders.  Sinahi are traditionally carved from petrified giant clams (hima) and shaped like a quarter moon, which in the tropics hangs in the sky like a bowl.  It is called the Fishing Moon—possibly because there is just enough moon light to see, but not enough for the fish to fear shadows from boats above.  Sinahi thus symbolize a good provider and leader.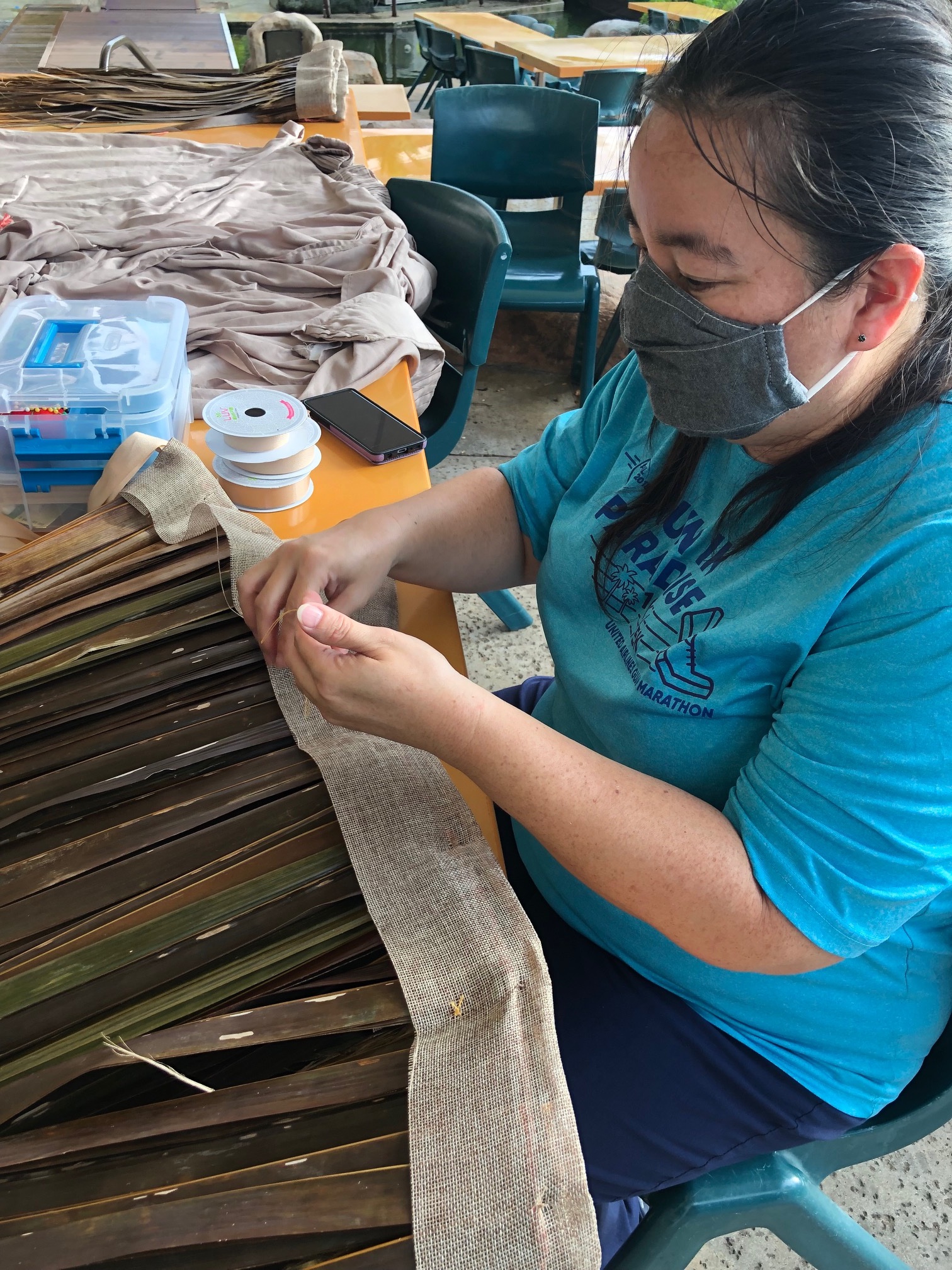 Photo courtesy of World Theater Productions
 Our ensemble members wore the specific style of coconut palm skirts popular with Guam cultural dance groups, and cast members made their own!  
Having a cast of islanders involved in  Moana JR., I wanted to include cultural experiences for our actors. In dressing our ensemble in traditional coconut palm leaf skirts, I wanted the actors to weave their own. This turned out to be much more complicated than anticipated! A mother to one of our cast members, and her sister kindly advised our process and seminars. Their expertise was a wonderful contribution to our show.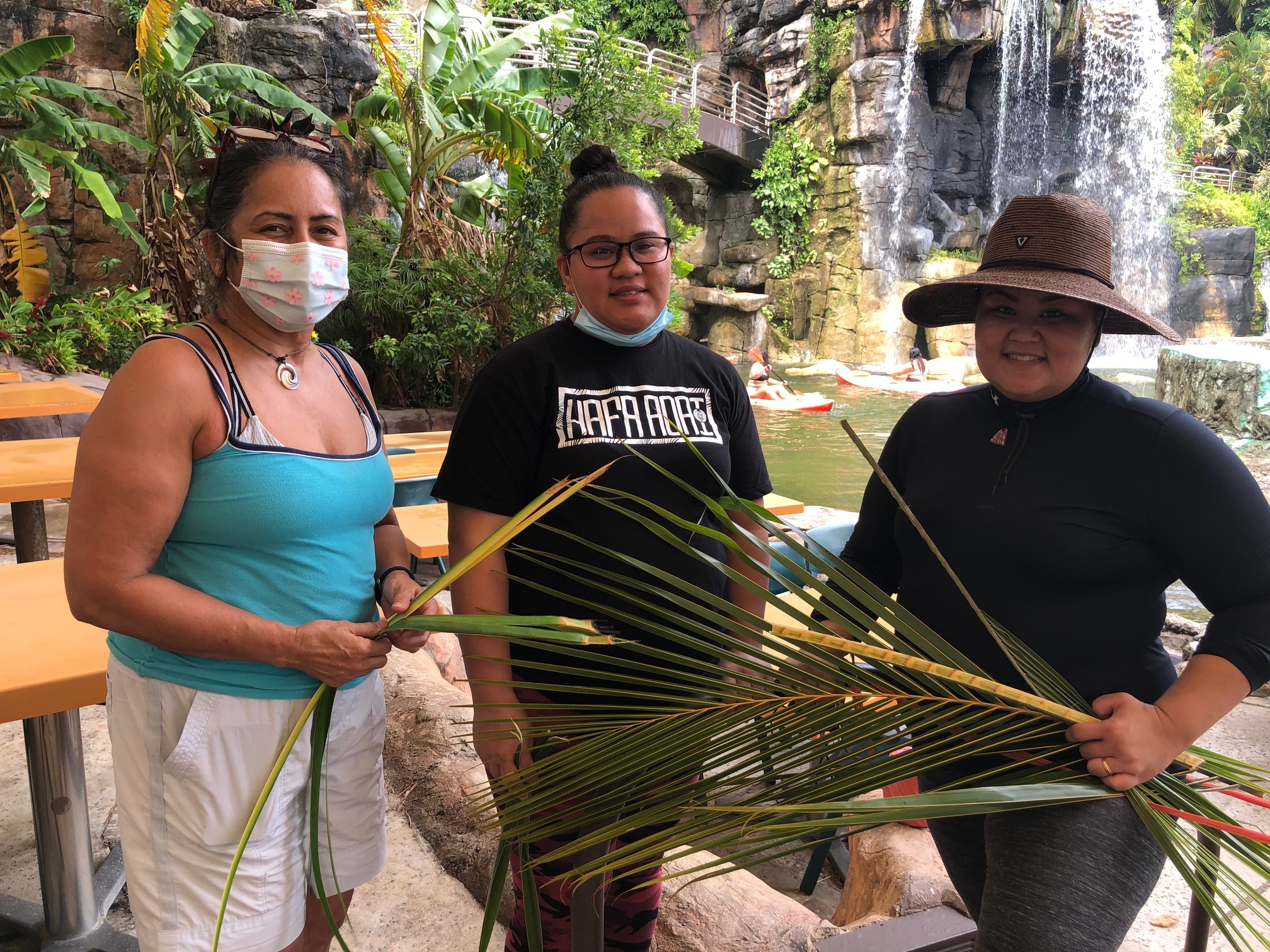 Photo courtesy of World Theater Productions
Margie Dancel: Because our original venue was taken over by vaccination clinics, we had to look for an alternative venue. A local hotel whose stage had been closed for over a year allowed us to use it for our show. This is how we met David Scott and Pearl Hodiwala from the Disney Theatrical Group... MTI originally rejected the change, so I sent them a letter to plead our case! We are so grateful they [changed their minds] because it turned out to be the best present we could have given to the cast and community in the midst of a pandemic! 
What advice would you give to other theatre communities who want to do this show?
Margie Dancel: First, we would like to thank anyone who would endeavor to present Moana JR. Doing so can provide opportunities for many underrepresented and minority sectors of the community. WTP would be honored to provide (free of charge) any theatrical or cultural advice we can provide to anyone who wishes to contact us. We also have costume pieces that maybe loaned out for just the cost of shipping to and from Guam.
Tamara Burton: My advice for other groups is to take the time to research traditional Pacific islander clothing and customs.  It will make a tremendous difference in the quality of your show.  Though far from the Pacific, you may find Pacific dance groups locally who will advise you and perhaps even loan costume items.  But most importantly, take the time to just breath in the magic of  Moana's story and music!
We here at MTI are so grateful to World Theater Productions for speaking to us, and we hope to see more of their incredible productions soon!
Banner Photo: Beau Ledesma Photography
Production credits:
Artistic Director: Jojo Urquico
Assistant Director: Miren Sofia Jordana
Music Director: Dara Davis
Choreography: Margarita Dancel
Cultural Choreography Consultant: Yeole Hanohano
Costume Designers: Tamara Burton
Special Set Designer & Construction: Bennett Spence
Special Tattoo & Character Makeup Artist: Lorzalyn Artistry
Stage Manager: Anna Prelosky
Marketing: Martin Estabillo & Kate Solanzo
Director of Photography: Brian Muna & James Davis
Production Coordinator: Amanda Bateman
Follow the fun @mtishows on Instagram, Facebook, and Twitter.