You're A Big Boy Now: The Benefits of Childhood in BIG: THE MUSICAL
You're A Big Boy Now: The Benefits of Childhood in BIG: THE MUSICAL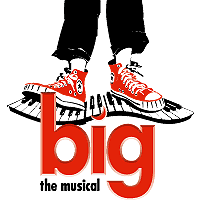 BIG, Richard Maltby Jr, John Weidman, and David Shire's musical adaptation of the film by the same name, is a hilarious, unorthodox look at the perils of taking childhood for granted.  Unlike Jason Robert Brown's 13, in which the main character learns to be content with being in middle school by realizing he's not ready to be an adult, the main character in BIG values being a child by realizing it can be an asset in adulthood.
At 12, Josh is impatient to grow up, frustrated by his fear of girls and lack of independence.  When his wish to be an adult is granted, however, Josh is quickly overwhelmed.  With no job, no place to live, and no money, Josh longs for the security of his home.  Luckily, Josh is soon hired by a toy company, which rewards him for his childlike honesty and ability to identify what makes a toy fun by making him vice president of the company.  Josh's sudden good fortune despite his lack of qualifying education or experience - similar to Finch's rapid climb up the corporate ladder in HOW TO SUCCEED IN BUSINESS WITHOUT REALLY TRYING - confounds his coworkers.  Months of designing and researching what they hope will be the next big Christmas toy has seemingly gotten them nowhere; it takes someone who personally knows what to look for in a toy to know what kids will love.  Josh is successful at his job because he has the playfulness and spirit of a child - something his boss and some of his coworkers wish they still possessed.
Josh's childish characteristics also enable him to succeed romantically.  Susan, one of his coworkers, is quickly drawn to him for that reason, and ultimately falls in love with him in part because he makes her remember her childhood.  Josh, so awkward and desperate to seem grown-up around girls his own age, suddenly has a woman fall in love with him without him even being aware of it.
Of course, Josh can't sustain life as an adult.  His ignorance of office politics and the business side of toymaking would eventually catch up with him; even in the show, he doesn't fully realize that one of his coworkers is determined to bring him down.  And his lack of maturity and romantic experience would make having a relationship with Susan incredibly problematic.  Josh recognizes the impracticality of remaining an adult enough to make another wish that would restore him to his original pre-teen form.  But with luck, Josh will retain the lessons life as an adult has taught him, and retain some of his childishness when he actually does grow up.
To license BIG: THE MUSICAL, visit its
MTI show page
. Discuss this article or BIG in general on its
MTI ShowSpace page
.