Filichia Features: A Love Story That Sings
Filichia Features: A Love Story That Sings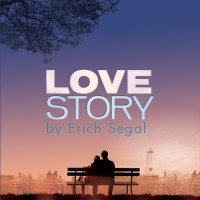 It was one of the quickest journeys from page to screen. Only 305 days after Erich Segal's Love Story was published on Valentine's Day, 1970, its film version debuted on Dec. 16, 1970. In between and beyond, the story of doomed Jennifer Cavilleri and Oliver Barrett IV was a New York Times best-seller for 41 weeks. It stayed at the top position for months, including the time period when the film was nominated for a Best Picture Oscar.

However, more than four decades had to pass before a librettist, bookwriter or lyricist said, "You know, I think there may be a musical here." Finally, composer Howard Goodall, who wrote a marvelous Irish-flavored score for The Hired Man, and bookwriter-lyricist Stephen Clark started work on Love Story Goodall helped with some of the lyrics, too.

Anyone who knows this property has two immediate questions. 1) Have the writers appropriated the famous "Theme from Love Story"  better known as "Where Do I Begin?" 2) Have they musicalized the property's most famous and yet most infamous line: "Love means never having to say you're sorry."

I went to Philadelphia on Sunday to find out. Love Story had only a five-month run in London during the 2010-2011 season, but it's now receiving a new production by the Walnut Street Theatre. MTI has picked up the licensing rights, so if you're interested in doing it yourself, do sign up on the Love Story page. That way you'll be informed when the show becomes available.

Don't be surprised if that happens only after a Broadway run. Love Story had everyone in my row either using a hanky or sniffling without one.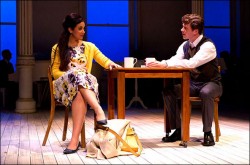 The curtain's up when the audience enters. The set resembles a music rehearsal studio: four doors, four windows, three columns and one radiator. Seven musicians are on stage: two on violins, and one each manning a viola, violoncello, contrabass, guitar and grand piano. They'll never call this show No Strings.

Granted, starting at a young woman's wake may not seem to provide the most musical of moods. But the tasteful melody and lyric – "What Can You Say?" – fit the emotions of those attending, including Oliver (the excellent Will Reynolds) and Jennifer's father Phil (the exemplary Charles Pistone).

We flashback to when Rich Boy Oliver meets Middle-Class Girl Jennifer (a game Alexandra Silber). He's taken with her rapier – nay, machete -- wit and her unwillingness to be impressed by his legacy. His great-grandfather had funded a Harvard University building, which meant, "Right this way, your desk is waiting." She, on the other hand, got into Radcliffe because she's smart, has worked hard and has thus earned the right and privilege to be there.

Opposites do attract, don't they? As time goes on, however, most couples find that the opposite-attraction wears off and that they're left with little to nothing. Not Oliver and Jennifer. Once they each find the courage to admit they're in love, it truly is a till-death-do-they-part relationship.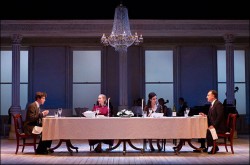 The authors did make a wise decision to keep the show as a period piece – from 1963 to 1967. Thus, when Jennifer says on her first meeting with Oliver, "I like your body," it has more impact. Today, even pre-pubescent girls say such things to middle-school boys, but, back then, virtually all "coeds," as they were called, were a little more demure. Thus, Jennifer's brass-tacks frankness wouldn't seem as audacious today as it certainly was then.

The first roadblock, as is often the case with couples, is the parents. Even before Oliver meets Jennifer, we see that he has issues with his father (a fine Paul L. Nolan) who wants to use his influence to help his son. Oliver wants to earn everything by his own work and abilities, but his father believes that wealth has its privileges and that he may as well use them.

There is no music in this early meeting between father and son, and there shouldn't be, for their relationship is awkward. But there should be a song immediately following, when Jennifer is talking on the phone to her father, for we see that they love each other deeply. Yes, the dialogue conveys the profound feeling between them, but the contrast between each kid's relationship with a father would be ideally shown by having Jennifer and Phil gloriously sing after Oliver fils and pere slog through a few terse sentences. Here's hoping that before the show comes to Broadway that Clark and Goodall give Jennifer and Phil a vibrant song that shows their monumental affection.

By now, we see that Clark and Goodall aren't interested in power-ballads with overly loud singing or extended melismas. Able director Annabel Bolton hasn't hired singers who want to show off how high their voices can go or how they can hold a note for a long time – and won't continue the song until the audience applauds. Love Story has a quiet but elegant score. That's fitting for a young woman who planned to have a classical concert career and a young man who's been raised in an erudite household.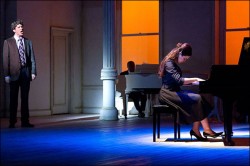 Jennifer attends the Harvard hockey game in which he plays and he in turn comes to one of her concerts. When she begins to play, that's when our first big question is answered: Yes, the famous "Theme from Love Story / Where Do I Begin?" is used.

But Clark and Goodall have more integrity than the writers of many modern musicals. They don't just matter-of-factly plop this chestnut somewhere in the show, but use it in an unexpected way. Francis Lai's music provides the piece that Jennifer plays at the concert, but Carl Sigman's lyric is not heard. Instead, Oliver reveals his accelerating feelings in a nicely wrought countermelody. The familiar theme takes a back seat to the new one.

Once Oliver and Jennifer decide to marry, they find their lives even more difficult. Oliver's father forbids it to the point of disinheritance; Phil is aghast that Jennifer is giving up a scholarship in Paris to put her new husband through law school. Why doesn't Oliver go to Paris and support her and postpone his education? That wasn't the way things were done in the late '60s – although Lord knows they should have been.

Noel Coward wondered what would happen "If Love Were All"; Jennifer and Oliver believe that love is all. We see them have a good time in an opera bouffe-tinged song while they cook Italian food. (Clark and Goodall must have blessed the Italian language for affording them so many easy rhymes.) There's another list song when Jennifer thinks of all the musical artists– "John Coltrane, Ravel; Sinatra and Callas as well" -- to which she would have liked to have introduced the children – children that she now knows she'll never have.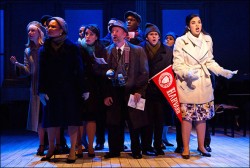 Oliver is there for her every step of the way unlike most members of their generation that too easily said "I can't do this anymore" when things got tough. And while Oliver's loss is very touching, one of the most poignant moments occurs when Phil visits his daughter in the hospital room. "How can I say goodbye again?" he sings, reminding us that he had already lost a wife who was too young to die. While the audience – including seniors who were Jennifer and Oliver's age when they first read the story – came to the Walnut to mourn the loss of a young woman's life, they unexpectedly cried quite a bit when Phil delivered these potent lyrics.

Finally, let's tackle the other question. Remember how The Wiz wisely avoided putting a song in the same spot as "Over the Rainbow"? How the musical of Grand Hotel didn't have Grushinskaya say Greta Garbo's famous line, "I want to be alone."? Similarly, Clark and Goodall were equally as smart to discard that aforementioned oh-so-controversial and much-mocked line. They dazzled us with so many worthy songs and lines that I'll make a bet: few if any attendees were sorry that they dropped "Love means never having to say you're sorry."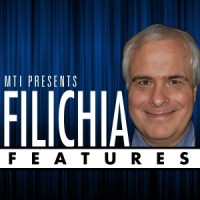 You may e-mail Peter at pfilichia@aol.com. Check out his weekly column each Tuesday at www.masterworksbroadway.com and each Friday at www.kritzerland.com. His newest book, Broadway Musical MVPs, 1960-2010: The Most Valuable Players of the Past 50 Seasons, is now available through Applause Books and at www.amazon.com.