Filichia Features: Company: The Return of "Tick-Tock"
Filichia Features: Company: The Return of "Tick-Tock"
Where's the pay phone?!?!
I don't expect to find one now, when ubiquitous cell phones have made the coin-fueled devices redundant. No, I'm remembering March 23, 1970 around 10:30 p.m. when the final curtain came down on the first-ever performance of Company's Boston tryout. That's when I asked "Where's the pay phone?!?!" because I wanted to immediately call my three closest musical-obsessed friends to say how thrilling Stephen Sondheim's score, George Furth's book and Harold Prince's direction were in this destined-to-be-a-classic musical.
Why didn't I wait until I arrived home? Because I lived a good half-hour drive from the Shubert, and was too excited by what I'd seen. I had to spread the word right now.
One of the many assets I raved about was "Tick-Tock," the glorious dance enacted by the then-relatively unknown Donna McKechnie. The Michael Bennett-designed tour de force was their precursor to A Chorus Line's "The Music and the Mirror" which would be instrumental in their both winning Tonys five years later.
In Company, McKechnie played Kathy, a girlfriend of Bobby, who's been driving this person – as well as other girlfriends April and Marta – crazy for not committing to any one of them. By the time "Tick-Tock" arrived in Act Two, Kathy had long left New York for the quieter pleasures of Vermont. Was her feverish dance explosion – occurring while Bobby was bedding April -- her way of missing Bobby and their great times in bed? Whatever the case, the dance fully expressed sex, sex and more sex.
Even the staid Boston Brahmin audience that resisted so much of Company (because it seemed anti-marriage to them) applauded "Tick-Tock" for a couple of dozen seconds. So who would have thought then and there that in many subsequent Company productions that the "Tick-Tock" music and dance would be dropped?
The reason is probably that Donna McKechnies are hard to find. If you don't have one for your upcoming production of Company, you may have already decided to eliminate the dance and skip ahead to let your audience see how Bobby and April are doing. (Not so well, in fact.)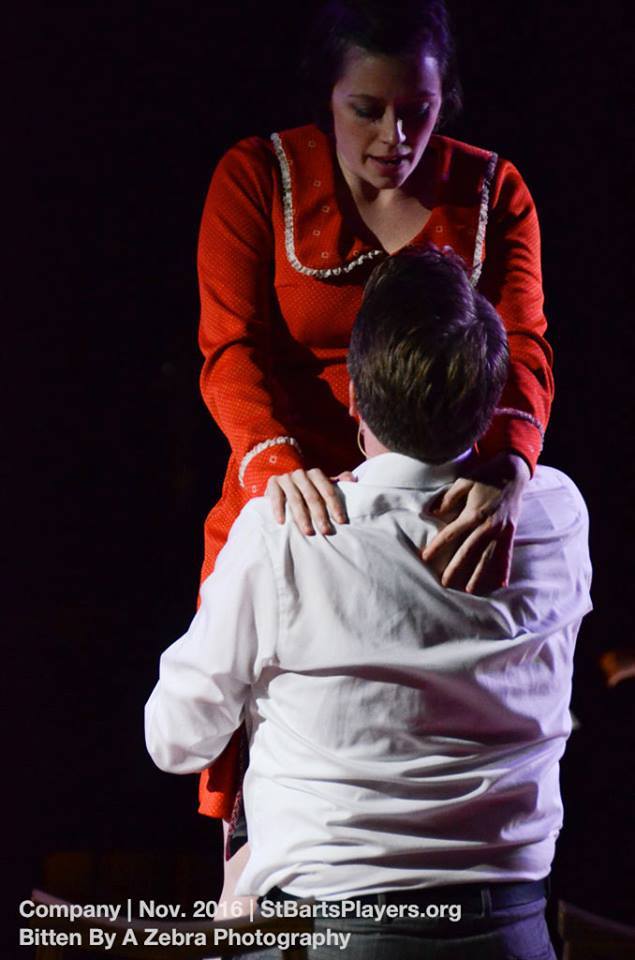 Ah, but in Phillip Fazio's recent production for the St. Bart's Players on Park Avenue -- fewer than 200 steps from The Seagram Building, which the show mentions – this gifted director showed that he had a most workable idea that would retain "Tick-Tock" even without a dancer of McKechnie's caliber.
And how did Fazio do that? By totally -- and brilliantly – reconceiving the sequence. He kept every note that Sondheim, Wally Harper and David Shire had put into the dance. But instead of having a female dance solo, Fazio instead created a scene in which not a word was spoken, one that played much like a silent movie. Nevertheless, quite a bit happened while the band played on.
Fazio first had Bobby happen to run into Kathy on a busy New York street. We got the impression that she was visiting from Vermont, and from the delighted expressions on the faces of Jeff Leatherwood's Bobby and Eileen Hanley's Kathy, we knew that the two were happy to see each other again.
So they decided to have dinner together. By the way that the pair animatedly chatted (albeit silently), we could glean that Bobby and Kathy were indeed getting along superbly and that any bygones were indeed going, going, gone.
No wonder that the two didn't want the night to end. So Fazio then sent them to a movie. Considering their smiles and laughter, we knew they'd picked a good one. (Given that Company takes place in 1970, I'd like to think that they were seeing Angela Lansbury in Harold Prince's Something for Everyone. If it's escaped your attention, be apprised that it debuted last week on both DVD and Blu-Ray.)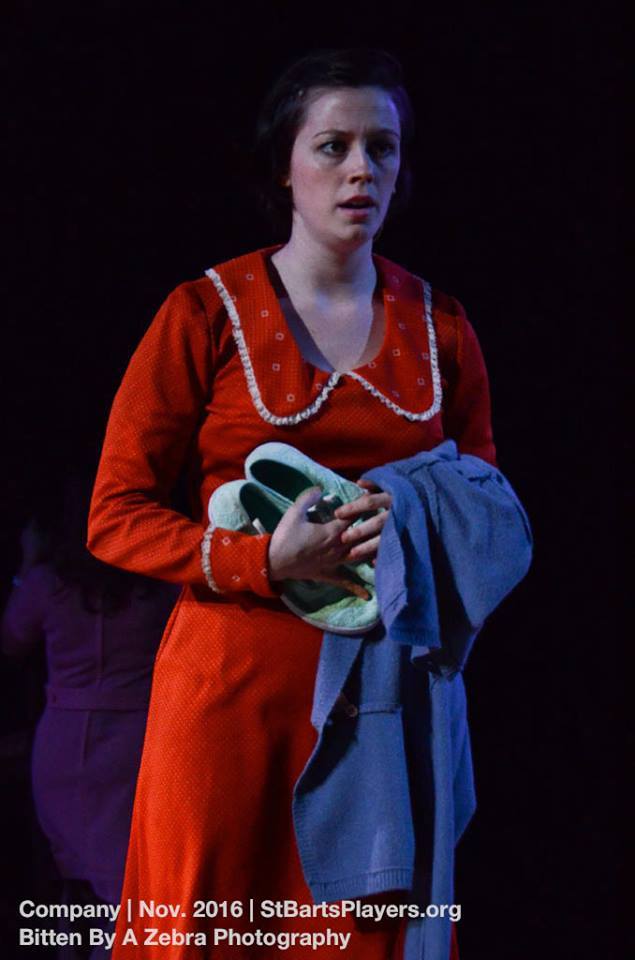 New Yorkers are famous for saying "You know, I've lived here all my life, but I've never been to the top of the Empire State Building." Whether or not Bobby and Kathy had never or ever been, Fazio put them up there and had them mime that they were looking through those stationary binocular-viewers that afford wondrous views of the city. As the musical Tuscaloosa's Calling Me … but I'm Not Going says, "Show me New York from the air, and I'm a kid again." That's what Leatherwood and Hanley expressed.
Next Bobby took Kathy dancing. Although discotheques were then very much on the scene, Fazio and choreographer Misha Shields obviously had a more romantic spot in mind, for they had Bobby and Kathy out together dancing cheek-to-cheek.
Don't think that while all this was happened, the rest of Company's company was resting. Fazio had them playing New Yorkers and tourists, making for some fine stage pictures. It was a splendid renaissance for "Tick-Tock." To quote a song title from another early '70s musical – the far less famous Prettybelle – "You Never Looked Better in Your Life."
You may e-mail Peter at pfilichia@aol.com. Check out his weekly column each Monday at www.broadwayselect.com and Tuesday at www.masterworksbroadway.com. His book, The Great Parade: Broadway's Astonishing, Never-To-Be Forgotten 1963-1964 Season is now available at www.amazon.com.