Filichia Features: Learn about Lou Volpe, a Great Drama Teacher
Filichia Features: Learn about Lou Volpe, a Great Drama Teacher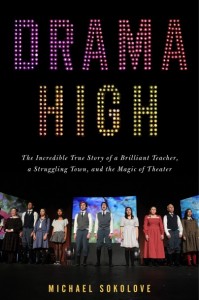 Whenever someone has asked me the question, "If you could have as a dinner companion anyone who's ever lived, who would it be?" my answer has always been "Thornton Wilder. I'd love to chat with the man who pointed out how precious life is in Our Town, The Skin of Our Teeth and The Matchmaker."

Since reading Michael Sokolove's Drama High, I've changed my mind. Now I want to meet Lou Volpe.

Who?

You don't know his name, but if you read the book, you might never forget him. For four decades until he retired in 2013, Volpe ran the drama program at Harry S Truman High School in Levittown, Pennsylvania. Sokolove was once one of his students, so he was well-equipped to pay tribute to the man in a book that he subtitled "The Incredible True Story of a Brilliant Teacher, a Struggling Town, and the Magic of Theater."

And to think that Volpe didn't know The Man Who Came to Dinner from The Girl Who Came to Supper when the school drama program was suddenly looking for someone, anyone, to take over. As another teacher in a nearby neighborhood said, "There aren't a lot of high school directors who last more than five years or so" partly because "the stipend breaks down to about $2 an hour."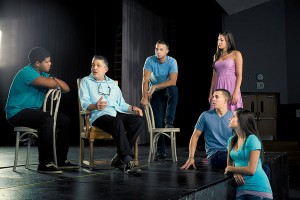 Volpe didn't care. Talk about "What I Did for Love." He knew he was in a depressed town (even now, the average family income is roughly $52,000) and that theater could make matters less depressed. The result? Sokolove remembers when he was in one of Volpe's theater classes and that "when the bell rang, it was always a surprise and an intrusion."

Read about Marilla Castillo, a student who'd never achieved very much found her niche thanks to Volpe. Theatre, she said, "makes me able to look at myself and say 'Here's something I do well.' I never felt that way before." Volpe also gave some importance to kids who weren't onstage. Said techie Tyler Kelch, "Wearing a microphone and being under the lights is the coolest thing ever."

Some of Volpe's success stems from his being a collaborator and not a despot. How many teachers would say to their students "I want to thank you for making me a better teacher"? Sokolove insists that "I never saw Volpe reprimand a student or express irritation when questioned about his directorial decisions. He treats kids as his artistic partners." Stronger still: "Their 64-year-old teacher is more compelling to them than their friends are."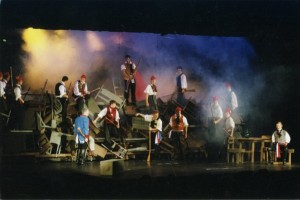 When Music Theatre International's brass was looking to see if Les Miserables could work in a school edition, Volpe was the director they chose. He came through, as even Sir Cameron Mackintosh will attest. Yes! Even this knight of the empire – Broadway even more than England – schlepped himself to Levittown and wound up convinced that kids everywhere could swing the show.

Among the wonders that Mackintosh and everyone else witnessed was that Volpe got members of the school's football, soccer and wrestling teams to man the barricade. These lads represented a full quarter of the cast. But this was nothing new at Truman. Volpe has always prided himself on his ability to "make an athlete into an actor." As Sokolove elegantly states, "Volpe has issued them passports into the rest of their souls."

We occasionally read about principals who won't allow certain shows to be performed in their schools. Sokolove reveals a real howler when he tells of an administrator at a school in Texas who wouldn't allow a production of (are you ready for this?) Annie because (are you ready for this?) Daddy Warbucks was said to have come from Hell's Kitchen. At Truman, however, Jim Moore, the most appreciative principal, had long ago seen all the good that had come from the theater program. "He's Lou Volpe," Moore said. "He can do what he wants."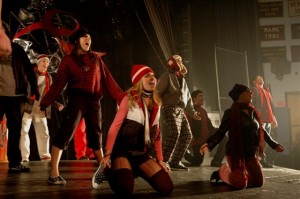 So Volpe chose Rent – and 300 kids turned out for auditions. That represented one in every five Truman students. Tickets for the five performances in the 864-seat theater sold out a month in advance. Such a response wasn't all that surprising. As Sokolove reported, "People who no longer have children at the school – or never did – call at the beginning of the year to find out what plays Volpe is staging."

But there's a same-sex kiss in Rent. How could Volpe get boys to do it? Simple (well, simple for a genius like Volpe): he likened it to the way that butch football players pat each other's gluteus maximus after a successful (you should pardon the expression) play.

Volpe didn't get off scot-free. A reporter from the Bucks County Times questioned in print the decision to do Rent. And Volpe may have been given a backhanded compliment when a so-called local "gentleman's club" wanted to advertise in his program. (No thanks, he said.)

And if Rent weren't enough, when Volpe was offered Spring Awakening by MTI to see if it too could work in school editions, he immediately said yes. When one about-to-graduate senior heard that this would be Truman's musical the following year, he joked that he'd "screw up a couple of classes to repeat twelfth grade." Meanwhile, the girls were intent on playing Wendla -- "the role that Lea Michele played." As for Volpe, his main concern was that he stage an innovative show. "When the New York people come," he said dryly, "I don't want them to think that I just copied them."

So he set a staging challenge for himself – and his kids. "Discomfort is part of being an actor," Volpe told them. He had to consider replacing a lad who wasn't working out, despite the fact that the kid had already put in 150 hours of rehearsals. Then one lead encountered trouble with school authorities and Volpe had to bail him out. "I did this for the show, not you," he tersely told the offender. Another lad who went all out to provide slides had to hear Volpe tell him that 60% of what he'd worked so hard to get simply wouldn't be useful – or used. One girl got sick mid-performance and vomited, but she didn't miss her next entrance.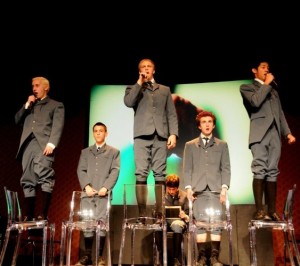 And yet, Spring Awakening's valuable lessons shone through. As one actor noted on one character's suicide, "Look at what happens afterward. All the sadness. The people who miss him. If somebody was thinking about doing that, he would see the devastation it causes." Who knows how many kids associated with the production or kids who saw the show – even adults who saw the show -- decided to change their previous plans and go on living?

Frankly, Spring Awakening turned out to be a good fit for Levittown and its children. Volpe suspected as much: "Their own lives in so many cases aren't ordered and pretty." As one girl in the cast noted, the more affluent schools would be afraid of it. "We have something inside us for this kind of theater."

Christy Altomare, who had played Wendla on tour, agreed when she saw the production. She was so moved that she couldn't wait for the final curtain to tell the kids how magnificent they were; she had to rush backstage during intermission to say "You guys are amazing!"

It turned out to be a good deal for a $10 ticket – which used to be $15, then $12, but Volpe saw that his financially strapped neighbors just couldn't afford that much. He didn't want them missing anything, so he lowered his prices.

He didn't want the kids missing anything, either. So he distinctly pointed out to them that after doing this hard-hitting musical about teen anxiety, problems and sexuality, "You are not the same person you were when you began." When kids encounter good art, they rarely are.

The title Drama High of course refers to a school that virtually defines itself by its theater program. But it also means that kids at Truman get a high from performing dramas, comedies and musicals. That wouldn't have happened without Volpe. When he retired last year, the name of school's theater was changed to Lou Volpe Auditorium. While they're at it, Levittown should change its name to Volpe, too.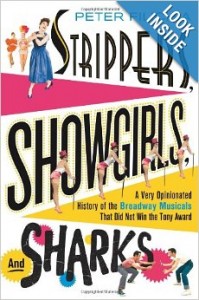 You may e-mail Peter at pfilichia@aol.com. Check out his weekly column each Tuesday at www.masterworksbroadway.com and each Friday at www.kritzerland.com. His new book, Strippers, Showgirls, and Sharks – a Very Opinionated History of the Broadway Musicals That Did Not Win the Tony Award is now available at www.amazon.com.