Filichia Features: Remembering Richard Adler
Filichia Features: Remembering Richard Adler
I was sorry to learn that Richard Adler died on June 21. Ninety is a ripe old age, of course, but seeing another stalwart of The Golden Age of Musical Theatre leave us is never easy.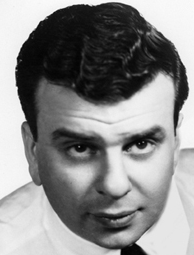 Richard Adler, photo courtesy of Playbill.com

What Adler accomplished in the '50s will never be accomplished again by any composer-lyricist. In the span of less than a year -- 357 days, to be exact -- he had two musicals open that would win consecutive Best Musical Tonys.

First, with Jerry Ross, he co-wrote the music and lyrics to The Pajama Game, which opened on May 13, 1954. By the time that it won the Best Musical Tony on March 27, 1955, the entire country knew three of its songs "Hey There," "Hernando's Hideaway," and "Steam Heat."

And while Adler and Ross must have taken time to enjoy success, at that moment in time they were in rehearsals for their next show, Damn Yankees, which would open in New Haven five days later. Just 33 days after that it would conquer Broadway as easily as the Yankees were conquering the American League en route to their sixth pennant in seven years.

In a few months' time, the nation knew Damn Yankees' three hits "Whatever Lola Wants," "Two Lost Souls" and "You Gotta Have Heart," which much later served as the title of Adler's autobiography.

It was an apt title for Adler to choose, for he had to have heart to go on after his beloved partner died of a bronchial disease only six months after Damn Yankees opened. Ross was all of 29.

I still remember when I was 16 and read about Ross' premature death in Stanley Green's The World of Musical Comedy, and then turned the page to see a picture of Adler and Ross. It represented the first time in my life that I ever said, "Oh, he was so young!" about anyone who'd died, because the picture showed a young man who looked more like a kid, what with his brush cut, open-necked shirt and sleeveless sweater.

After that, Adler pretty much worked by himself. A TV version of Little Women was broadcast in 1958, and then he was back on Broadway in 1961 with Kwamina, which lasted a month. The show, which he wrote for his wife Sally Ann Howes, produced no hits and closed in a month. Adler also had to endure the further pain of his wife's taking up with her leading man during the Toronto tryout. (Talk about trouble out of town.)

One could easily infer from Kwamina's short run that Adler was totally lost without his partner. Lovers are fond of saying, "We finish each other's sentences," but Adler and Ross literally did. Notice that the credits on both hits don't say, "Music by Richard Adler and Lyrics by Jerry Ross," or vice versa. It's "Music and Lyrics by Richard Adler and Jerry Ross." They sat in a room together and fed each other lines and snatches of melodies. And oh, how fine they all were!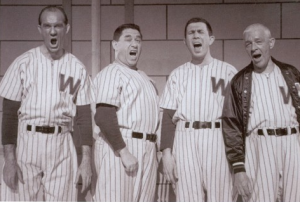 Original Broadway cast of Damn Yankees, "You Gotta Have Heart"

Despite its 32-performance run, Adker's work on Kwamina was extraordinary. The 1961-1962 Tony nominators agreed, for they gave him a nod for Best Score. They could have cited composers and/or lyricists for longer-running shows -- The Happiest Girl in the World, Carnival, Donnybrook, Sail Away, Let it Ride!, Kean, The Gay Life, Subways Are for Sleeping, A Family Affair, The Gay Life, All-American and I Can Get It for You Wholesale – but Kwamina was the one they chose. You can't even say, "Well, it had just opened," for it had been closed for four months before the deliberations; indeed the last six-named shows opened after it.

The musical told of Kwamina, a native of West Africa who is able to get to England and become a doctor. When he returns, he's suddenly Peter and veddy British. That doesn't sit well with Eve, a British doctor who doesn't like his new sense of self-importance.

Howes' songs were conventional Broadway show tunes (in the best sense), but the songs for the Africans were the real surprise. One wouldn't  think that they could have possibly have originated with the man who'd written those razz-ma-tazz, Tin-Pan-Alley-meets-Broadway show tunes for The Pajama Game and Damn Yankees.

Long before Ladysmith Black Mambazo, here was that sound, as Adler managed to have black to meet The Great White Way. His tribal songs for Kwamina may be the greatest stretch from any Broadway composer, and that includes the two worthy Gallic-infused scores that Jerry Herman first provided for Dear World (after Hello, Dolly! and Mame) and that Stephen Schwartz later bestowed on The Baker's Wife (which followed Godspell, Pippin and The Magic Show).

After Kwamina, Adler went to Washington to arrange the entertainment for the Kennedy administration. He's the one who said to Marilyn Monroe, "How about singing 'Happy Birthday' to the president?" In 1967, he wrote the score for the TV musical Olympus 7-0000, which contains one of his best songs, "Better Things to Do." It can only be heard on an LP, but it's worth the price of a turntable.

A year later, Adler wrote A Mother's Kisses, which closed in Baltimore. Music Is, his 1976 adaptation of Twelfth Night, made it into town but only played a couple of weeks. Yet everyone I know who caught that one loved his score.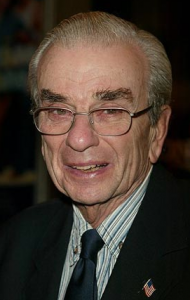 Richard Adler, photo courtesy of Broadwayworld.com

I met him in 1994, when his musical Off-Key, with a book by Bill C. (Mass Appeal) Davis, was produced at the George Street Playhouse in New Brunswick, New Jersey. The show was wonderfully quirky yet tender. It dealt with two developmentally disabled adults who reside in a half-way house, and want to get married -- and the two teachers who go to bat for them. Adler's score was terrific, but, alas, he and Davis didn't see eye-to-eye on what needed to be done, and they eventually abandoned it.

But Adler and I kept in touch. He loved telling me about that 1955 phone call where a high-pitched voice on the other identified himself as Cole Porter. "And I'm Irving Berlin," said Adler, assuming a pal -- probably his dearest friend Bob Merrill -- was playing a trick on him. But the voice kept insisting he was really Cole Porter, and invited Adler to dinner at Michael's Pub that night -- "after I see Damn Yankees for the fifth time," said the caller.

So Adler went to Michael's Pub at 11:30, assuming he'd find no one there or maybe Merrill -- "But there he was," Adler said, his voice still tinged with astonishment.

That part of this story appeared in You Gotta Have Heart -- but not the rest. As Adler told me, "He was most fascinated by 'Whatever Lola Wants,' and wanted to hear everything that went into making that song." (Frankly, I understand why; I can see where it's a second-cousin to Porter's "My Heart Belongs to Daddy.")

Until this decade, he always looked good: tanned, well-rested, a still-healthy head of hair and a spring in his step. All this was more impressive when one considered his 1980's battle with cancer, which he won.

He'd occasionally have me to lunch at his East 80's townhouse. How well I remember the day I took off my heavy winter coat in his entrance hall and almost knocked over one of the ceramics he had displayed there. He didn't flinch – which really says something, for a few years later when I went to the Picasso Museum in Barcelona, I recognized the ceramics there as the brothers of the ones in Adler's place.

"Yeah," he said when I asked him about it, "I bought them for about $60-$100 each when I was in Majorca in 1958." He was quite the art collector. When the Metropolitan Museum of Art was doing a Gauguin exhibit, he loaned them a fan that the master had painted.

In his office was a Zero Mostel self-portrait, but what there wasn't, however, was any hint whatsoever of his two classic Broadway titles. There were framed window cards, sheet music or CD covers. And forget about scripts and demos for When in Rome, his musical version of Roman Holiday, or the musical version of Of Human Bondage that he and Merrill wrote so that Howes could play Mildred.

"I'm not good about holding on to the past," Adler told me on more than one occasion.

We'll be happy to do it for him.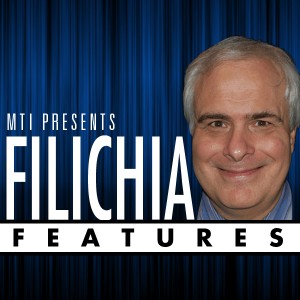 You may e-mail Peter at pfilichia@aol.com. Check out his weekly column each Tuesday at www.masterworksbroadway.com and each Friday at www.kritzerland.com. His newest book, Broadway Musical MVPs, 1960-2010: The Most Valuable Players of the Past 50 Seasons, is now available through Applause Books and at www.amazon.com.