Filichia Features: The 2012 Jimmy Awards
Filichia Features: The 2012 Jimmy Awards
Elizabeth Romero and Joshua Grosso.
No one keeps track of the record number of decibels that the walls of the Minskoff Theatre have endured – especially since The Lion King roared into the place six years ago. But the record may have been shattered along with a lot of eardrums on Monday night, when "The Jimmys" were bestowed.

Actually, the official name of the prizes is The National High School Musical Theater Awards. However, James M. Nederlander, the Chairman of the Nederlander Organization, became a big supporter even before the awards modestly started at the Skirball Center four years ago. Naming them after him seemed especially apt this year, for he just celebrated his 90th birthday and his company is marking its centenary. How nice it was to hear teens screaming in thanks and approval when he stood to take a bow. Not many nonagenarians get that kind of respect from kids.

Of course, you're going to get a lot of yelling and screaming whenever herds of teenagers as far away as San Jose and as nearby as Flushing come to cheer their own. Yet even by the time that 60 finalists – 30 young men, 30 young women – had finished with their opening medley, the adults in the audience shed their years to cheer in appropriately adolescent fashion.

The opening was a montage than spanned everything from "King of New York" to "Broadway Baby." And how fitting that "Can You Feel the Love Tonight?" was part of it, for indeed everyone could – especially those terrific kids on stage.
Maroulis and Cox

Constantine Maroulis and Deborah Cox – who'll soon be on the road in a revival of Jekyll & Hyde -- were the co-hosts. After Cox established her own high school theatrical roots (The Pajama Game, The Wizard of Oz and Mama, I Want to Sing), she announced the seven judges. The kids may have been more impressed with having Memphis star Montego (Memphis) Glover and five-time Tony-nominated director Scott Ellis on hand, but they all seemed savvy enough to know that they'd really be best off impressing Bernie Telsey and Rachel Hoffman – he the head of Bernard Telsey Casting, Inc., and she, one of his ace casting directors.

"The students' performances will be scored," said Cox, and oh, did the kids score. Some were seniors, of course, but there were plenty of juniors and sophomores on hand. Their "What I Did on My Summer Vacation" compositions should mightily impress their new high school English teachers in September.

The kids were divided into six groups of 10, with a gaggle of boys followed by a bevy of girls and repeated until all 60 had performed. Each kid would replicate a few bars of a song (in costume) from the show in which he'd starred in high school.
The Opening Number

One could still fear that the impact of these medleys could be anything from perfunctory to boring. Hardly. As Leslie Odom, Jr. – Sam on Smash – had told us earlier, director Van Kaplan, choreographer Kiesha Lalama and musical director Michael Moricz had been working with the teens for five days and rehearsing each of these six sequences.

As Tommy French said in Smile – a movie and a musical about a less lofty competition – "They learn fast." The powers-that-be had to include a snippet from each musical that a kid had done in school and weave them with nine other excerpts in order to make a unified whole. More amazing still: Moricz had to make the time to orchestrate them for the assembled musicians.

So, after both Joshua N. Carey (of Wheatland Chili High in Scottsville, NY) and Myles Phillips (of Mansfield High in Texas) replicated their Hortons from Seussical, Elan J. Kramer, who'd played The Baker in Into The Woods at Laguna Beach High, came out to comment on the pair of Hortons by singing "It Takes Two."

Similarly, after Brooke Meyers (of Lee's Summit High in Missouri) had Adelaide's lament about Nathan Detroit, Nicolette Burton (of Canyon Crest Academy, San Diego) became Lilli in Kiss Me, Kate and commiserated with "I Hate Men." Later, after Ryan Vander Wagen (of Hopewell Area High in Aliquippa, PA) said he was "Singin' in the Rain,"  Michigander Zachary Koslow, the Albert Peterson of Wylie E. Groves High's Bye Bye Birdie, encouraged, "Gray skies are gonna clear up." Indeed, I've seen cabaret artists link two songs together to less effect than what I saw here when more than a half-dozen songs had to be spliced.
The ladies of The Jimmy's

Some casting was atypical. Evyn Mirasol was a female Jesus in Godspell (from University High in L.A.). One doesn't usually see female Sharks and Jets, but nine girls backed up the Maria of Sheridan Hearn of Madison Edgewood (WI) High, making the famous "Quintet" a dectet. Samantha Schneider-Behen (of Blake High in Tampa) belied her tender years when portraying an austere Lucille Frank in Parade.

Frankly, so many of these kids were so accomplished that one would have an easier time believing that they'd stayed back four or five times. If a busload of tourists had sauntered into the Minskoff, many attendees would have assumed that they were seeing a genuine Broadway revue. Yes, some kids slavishly replicated the performances they knew from cast albums and videos, but many played with the melodies and made the songs their own – especially Shavance Stephens (of Regional Center for the Arts in Trumbull, CT) when he sang "Wheels of a Dream" from Ragtime.

And what voices! There were more sopranos than one used to find on HBO. An occasional kid hit a wild wrong note, but they came off better than some other aspects of the evening. At one point, Maroulis came to the podium, looked at his script, and said flat out that Cox hadn't turned the page so that he'd be ready to narrate. "Should be a good tour," he muttered.

The time came to pare down the six boys and six girls. What relief there was on the faces of Joshua Grosso (Raoul, The Phantom of the Opera; American Heritage School, Plantation, FL); Evan Greenberg (Barfee, 25th Annual Putnam County Spelling Bee; Riverwood International Charter School, Sandy Springs, GA) and Drew Shafranek (Harold Hill, The Music Man; Lovejoy High, Lucas, TX). What joy was expressed by the aforementioned Nicolette Burton, Erica Durham (Aida; Central Valley High, Monaca, PA) and Elizabeth Romero (Lola, Damn Yankees; Huntington Beach High in CA).

How smart of Grosso, though, to do "Il Mondo Era Vuoto" from The Light in the Piazza – for the other two lads were "only" singing in English. More impressive still was Romero's rendition of "Disneyland" from Smile. Now this is a tricky song, because the character of Doria is sophisticated, but has this weak spot for The Magic Kingdom. Few kids in the audience probably knew the song – Smile never put a cast album on sale – so many misinterpreted the earnest lyric as a goof. And Romero, who'd been sincere to this point, switched gears effortlessly and gave the audience what it wanted.

Earlier, Nathan Pool, the Sweeney Todd from Avonworth High in Pittsburgh,  sang in "Epiphany" that "They all deserve to die." Gee, Nathan, we knew you wanted to win, but … no, actually, as the winners were announced, the joy in those standing behind was terrific. To be sure, they're performers and learned at an early age how to make believe. But after five days of being together, I believe that they just couldn't help admiring the people who were just so good.
So Grosso and Romero got the pre-announced $10,000 checks, while the four runners-up got surprise $2,500 checks. But afterward, at the party at John's Pizzeria up the street, you wouldn't have been able to tell which of the 60 had "won." What teenager is a loser if he or she has already appeared on Broadway?
The winners.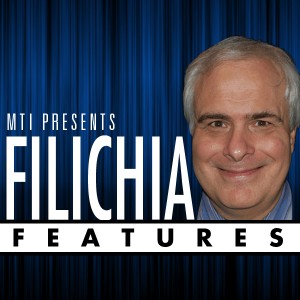 You may e-mail Peter at pfilichia@aol.com. Check out his weekly column each Tuesday at www.masterworksbroadway.com and each Friday at www.kritzerland.com. His newest book, Broadway Musical MVPs, 1960-2010: The Most Valuable Players of the Past 50 Seasons, is now available through Applause Books and at www.amazon.com.