MTI Launches Social Media Marketing Kits
MTI Launches Social Media Marketing Kits
MTI announces the launch of their newest theatrical resource, Social Media Marketing Kits, from renowned design firm Subplot Studio.
The easy-to-use Social Media Marketing Kit includes over 30 professionally designed graphics, original show-specific content, a social media strategy guide, a promotion calendar and more. Whether users are new to social media or seasoned professionals, the Social Media Marketing Kit will make promoting shows online a snap. All artwork complies with MTI's billing guidelines, and the Kits are available to download instantly once the official show logo has been purchased.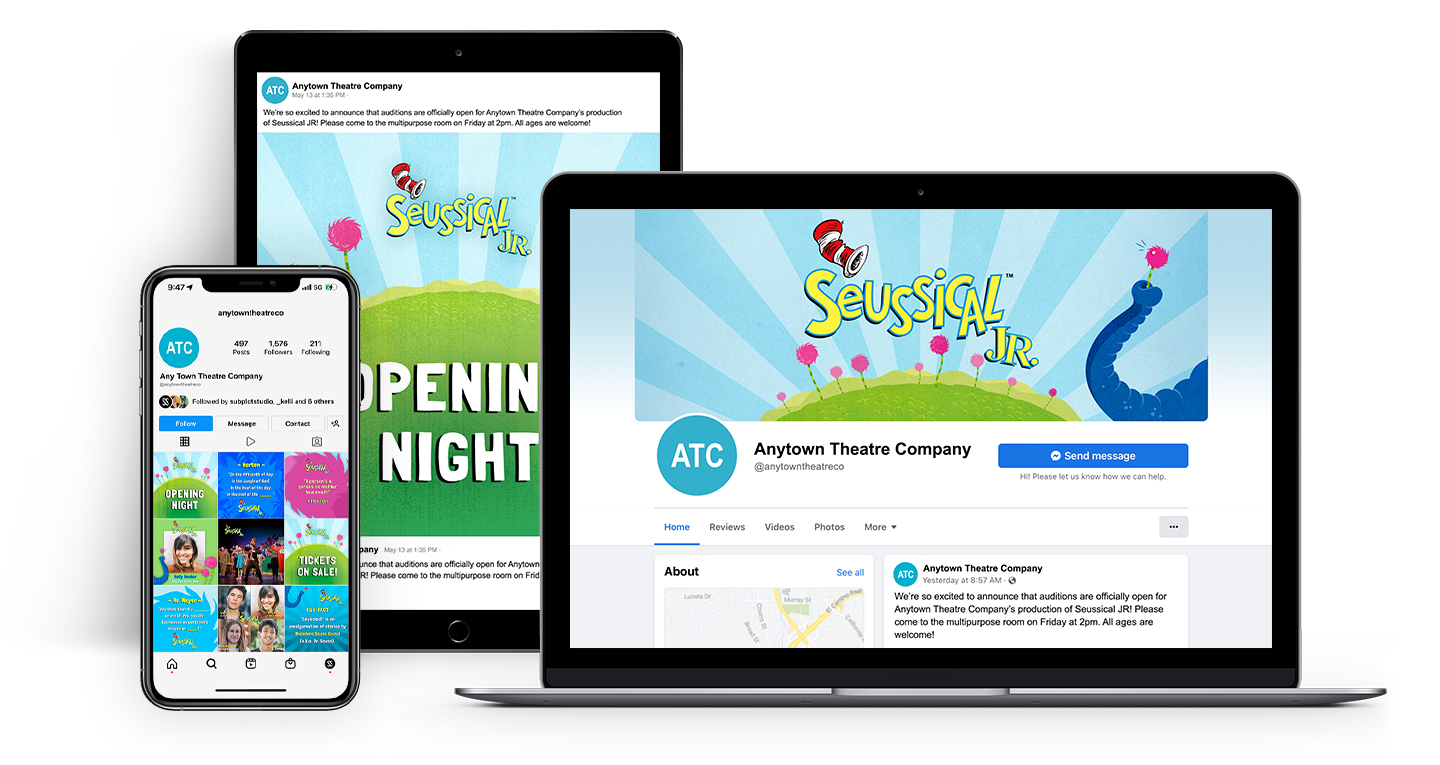 Jason Cocovinis, MTI's Director of Marketing stated, "MTI offered Subplot's Social Media Marketing Kits for the All Together Now! event which took place in November 2021. The event featured over 2,500 organizations performing a free revue of MTI songs, and the response from groups who used the Kits to promote their show was extremely positive. We knew this was a great resource to start offering for our licensable musicals."
Features:
Social Media Strategy Guide: Helpful tips for social media do's, don'ts, and posting strategies to create an effective social media campaign.
Ready-to-Post Images: Use 30+ ready-to-post images that have been professionally designed and formatted for all social media platforms.
Customizable Images: Customize the graphics with provided Adobe Photoshop files.
Posting Schedule : Take the guesswork out of social media by following the provided posting schedule.
Social Media Marketing Kits are currently available for the following MTI titles, with more on the way:
Annie JR.
Annie KIDS
Annie
Into the Woods
Seussical JR.
Shrek The Musical JR.
Shrek The Musical
Sister Act JR.
Sister Act
Something Rotten!
Roald Dahl's Willy Wonka JR.
"We are delighted to work with our friends at Subplot Studio to launch these Social Media Marketing Kits. Our customers are already enthusiastically using Subplot's Customizable Show Posters and Artwork resource offered through MTI, and the Subplot team has brought their same creativity and expertise to this Social Media Marketing product," said John Prignano, Music Theatre International's Chief Operating Officer and Director of Education & Development. "Our customers have been asking for MTI to help them take their social media marketing to the next level, and these Kits will certainly make an impact."
"It's very exciting to be offering Social Media Marketing Kits for several of MTI's most popular shows. The response from customers who used these kits to promote All Together Now! reinforced our belief that they are a valuable resource for anyone who is promoting a show online, and specifically through social media. We can't wait to see all of the creative ways MTI customers use Social Media Marketing Kits," shared James apRoberts, Founder & CEO of Subplot Studio.
Information about the Social Media Marketing Kits can be found here.