MTI Salutes Heroes On and Off-Stage with the MTI COURAGE IN THEATRE AWARD
MTI Salutes Heroes On and Off-Stage with the MTI COURAGE IN THEATRE AWARD
Green Valley High School in Henderson, Nevada Honored for Pursuing Artistic Vision Despite Challenges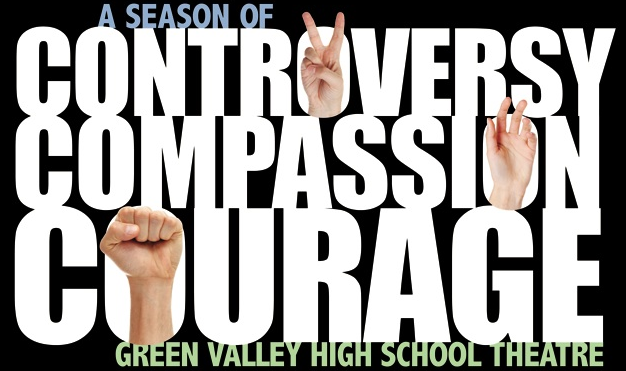 When Green Valley High School decided to stage a production of the Jonathan Larson Tony and Pulitzer Award winning musical RENT, the community had mixed reactions. Objecting to homosexuality in both RENT and THE LARAMIE PROJECT, which the students also planned to perform, and the presence of drugs in RENT, four parents took the school to court to halt production. The shows, however,
were allowed to continue
, due to the strength and determination of the students, their director Jennifer Hemme, and their principal Jeff Horn, refusing to back down - even in the face of a lawsuit.  Hemme and Horn's belief in the power of theatre and their faith in their students was unflagging, enabling them to persevere against overwhelming obstacles.
Audiences and critics alike found the performances deeply moving, according to
The Las Vegas Review-Journal
.   In fact,
this Las Vegas Weekly article
points out that "topics that people like to pretend the students are sheltered from...helped fill the seats of Green Valley's modest theatre." One classmate called the actors "really brave" for depicting such controversial characters. 16-year-old Armando Ronconi's portrayal of gay, cross-dressing Angel had a huge impact on audiences. "People walk up to me and say 'You've changed my life,'" he admits.  His performance, according to Las Vegas Weekly, "garnered the loudest applause of the night with both his costumes and flamboyant dance moves."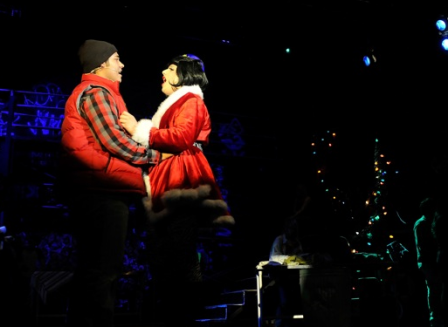 Coree Davis and Armando Ronconi are lovers Tom Collins and Angel Schunard
This past weekend,  Music Theatre International (MTI) presented director and drama teacher Jennifer Hemme and Green Valley High School principal Jeff Horn, with the MTI Courage in Theatre Award.  Founded in 2007, the Award is not given annually; instead, it is presented when an arts organization has "confronted challenges that threaten their ability to explore or express their artistic vision in positive ways, even if it means taking an unpopular stance."  Other high schools in the area were present to witness the ceremony, allowing all to share in a moment of unity and support.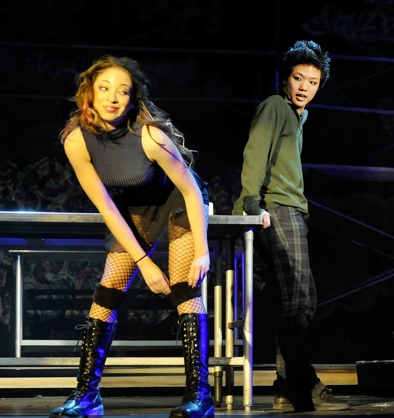 Meagan Smith's Mimi and Sam La's Roger flirt during "Light My Candle"
MTI's Senior Operations Officer, John Prignano was fortunate enough to watch Green Valley High's performance of RENT, and to present the MTI Courage in Theatre Award.  During his heartfelt remarks, Prignano praised the school's boldness:

"This is the first time,  that we are aware of,  that a school has tackled not one, but two edgy works in a season.  This is also the first time that we are aware of,  that opposition to such an artistic exploration at the secondary school level has resulted in an actual legal hearing. Because Jennifer Hemme knows that the artistic exploration of ideas and thoughts, though clearly out of the 'comfort zone' for some, is essential to the basic idea of education, she chose to confront the naysayers, and stand her ground.  Thankfully she was supported in this effort by Principal Horn and the administration of Green Valley High.  For these reasons, MTI is proud to present Ms. Hemme and Principal Horn with this award...[T]hey know that theatre is not just about singing and dancing, or saying lines...[I]t exposes us to other worlds and other lives, so that we can learn from those characters that are so different from us, yet sharing our world."

It is people like Jennifer Hemme, Jeff Horn, and the students of Green Valley High School who keep theatre relevant and alive - and we thank them for their courage.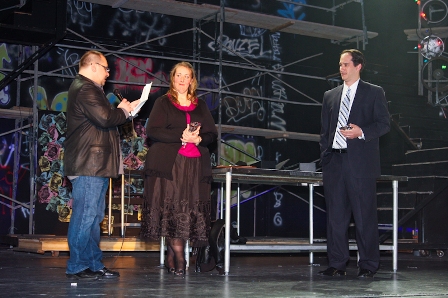 John Prignano presents Jennifer Hemme and Jeff Horn with MTI's Courage In Theatre Award--photo by Jeff Speer
To license RENT, visit its
MTI show page
. To discuss RENT and view production photos, check out its
MTI ShowSpace page
.