The Marquee Q & A Series: Whitney Bashor
The Marquee Q & A Series: Whitney Bashor
In the second installment of our Marquee Q & A Series, actress Whitney Bashor catches up with MTI's Tyler Paul to  discuss THE FANTASTICKS, EDGES, and more...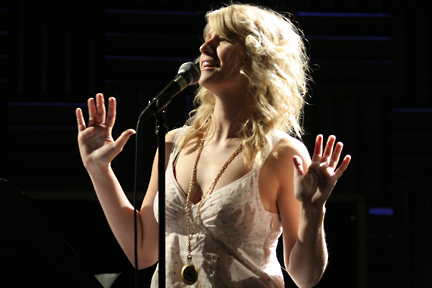 Whitney Bashor, a young actress who has enjoyed a slew of reputable regional productions
(LIGHT IN THE PIAZZA
,
EDGES
) and New York workshop productions (
WHITE NOISE
,
DISNEY'S HIGH SCHOOL MUSICAL 2
), recently starred in the National Tour of Andrew Lloyd Webber's
WHISTLE DOWN THE WIND
portraying the lead character of Swallow, and has been featured on the television show "All My Children." Whitney also appeared in the feature film, "Off The Black", starring Nick Nolte.
Whitney's biggest thrill, however, may have been when she was offered the chance to take on the role of Luisa in the Off-Broadway Revival of
THE FANTASTICKS
. Music Theatre International recently sat down with the talented actress to discuss THE FANTASTICKS, EDGES, and the industry.
MTI: Artists and actors, in particular, typically talk about that life-changing revelation where they discover, "this is what I need to do." Whitney, did you ever have that epiphany?WB:
Well I always loved singing and performing but I don't think the lightning bolt, so to speak, struck me until high school. I remember there were two other girls, ahead of me in school, that were going off [to college] to major in Musical Theatre. I remember saying to them, "Wait a minute, you can major in this?" and that was it! That was my sophomore year [of high school] and after that I started looking into programs and eventually ended up at University of Michigan.
MTI: What is it about the theatre, and performing, that you love most?WB:
I love not only the privilege of letting people be entertained but when you're involved in really good work, you see the audience become more enlightened about themselves and a different group of people or an issue they didn't know much about before. It's amazing to witness the change from before the show to after.
MTI: You have appeared in a number of different roles and productions since breaking into the industry. Currently, what has been your most cherished character and/or production to be a part of?WB:
I would have to give it up to Joe Calarco and the production of
LIGHT IN THE PIAZZA
we did at the Philadelphia Theatre Company. We were in a beautiful new space, Joe assembled the most amazing group of people, and that score is the most glorious thing I've ever gotten to sing.
MTI: EDGES, a song cycle by Pasek & Paul which is licensed by MTI, began as a series of concerts at the University of Michigan; you were one of the first performers to be involved with the initial creation of EDGES. What was it like to be a part of something completely new and fresh? What advice can you offer to those organizations and schools that may choose to produce this piece?WB:
EDGES
holds such a special place in my heart. Being involved with the project from the very beginning and watching it literally spread all over the world has been such an amazing thing. There is nothing more fulfilling, in my opinion, than getting to work on new shows; you get to be a part of a true collaboration of artists and you get to create something from the ground up. I remember being in Benj Pasek's apartment, in college, and Justin [Paul] playing through the songs on this little keyboard saying "What key is good?" and "Maybe you can make up a little trick there." Some of that 'fooling around' actually became a part of the version that's being licensed and produced all over today. My advice to anyone wanting to do the show is...do it! It's amazing contemporary musical theatre, it's a small cast, and it can be as simple or as spectacular as you like. It has such a good foundation that you can really express your own ideas in countless ways.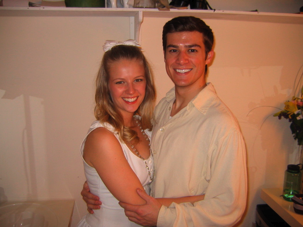 Whitney Bashor and Nick Spangler in THE FANTASTICKS
MTI: Your big break came in the 2006 season, when you starred as Luisa in the Off-Broadway revival of THE FANTASTICKS. Could you tell us what makes this musical so special? Why do you think it has had over 50 years of success?WB:
I think
THE FANTASTICKS
is
so
successful because the story is timeless. We all experience love and loss and finding out that what we really needed was in our 'own backyard all along', in our own unique way. I think the show is so special because it's just so beautifully written. The score is magical and the lyrics and book are so smart. The language was created with such love and care and I think people respond to that sophisticated way of storytelling.
MTI: The score to THE FANTASTICKS, woven together beautifully by the incomparable team of Tom Jones and Harvey Schmidt, could be considered vocally challenging for some high school groups and younger actors. What advice can you give to those that may have concerns about the demanding material?WB:
Well, it's true that it's tough. I will say that I never had to sleep
more
and go out
less
than when I was playing Luisa. It's such a demanding role to sing but my voice was never in better shape; I could sing anything with ease when I was singing that show eight times a week!  I think the score only builds discipline and technique for the singers and that, in the long run, is so valuable.
MTI: Luisa is a complex character; she's vulnerable and curious but also cautious and guarded. How did you prepare for the role?WB:
I was really lucky...Tom Jones was in the show and directing it [during] the time I was in it, so we worked together a lot. He would let you do your thing, and then let you know what was missing or what needed to be refined. He's seen many women play the part over the last 50 years, so he knew what he was doing. I also just let myself get a little silly. There is this unbridled energy about Luisa - a girl just busting at the seams to experience life and I totally know what that feels like!
MTI:
You played the role of Sharpay in a reading of
DISNEY'S HIGH SCHOOL MUSICAL 2
, which is also licensed by MTI, while it was still being developed. What was it like to be Sharpay?
WB:
I had so much fun doing this reading and I had those songs stuck in my head for weeks after we finished! Sharpay is just amazing because she ultimately has a great heart but, along the way, is also determined to get what she wants. I personally think it's a great show for kids to do. There isn't any other material closer to
their
experience and the contemporary sound of high school. It's just a lot of fun!
MTI: You have explored many different mediums while finding success in musical theatre, television, and even film. Can you pass along any tips or tricks for those actors who might have the same desire of achieving artistic versatility?WB:
I think the biggest thing is to have an agent that
supports
you and opens doors for you to go in and get the gig; also being willing to just throw yourself into anything that's asked of you in the audition. They always want to see someone who has thought about it and made a choice. I would suggest taking a TV and Film class in college, if it's offered, or take one in [New York] City. It really is a whole other world and a whole different set of skills.
MTI: One final question, Whitney. Recently a lot has been said about the current state of Broadway and musical theatre: the popularity of The Tony Awards telecast, the struggling economy and ticket prices, the increased Hollywood presence, and more. What are your thoughts on the current state of Broadway?WB:
In my opinion, it seems like the really interesting and exciting new work is being done in smaller theatres...both Off-Broadway and regionally. Artists have more freedom to explore, mess up, and create when there is less stress from all parties involved. I have real hope for Broadway that it will swing back to a place where it welcomes new writers and composers, giving them an easier time to get their work out there. I would love to see more of a balance between the commercial theatre and the riskier new stuff! I think we should give New Yorkers more credit and present them with a variety of theatre options.
Whitney on the Web:
Whitney Bashor at BroadwayWorld, here.
Licensing:
To find out more about the MTI titles and how you can license an MTI show, click here.