10 MTI Shows Perfect for Halloween!
10 MTI Shows Perfect for Halloween!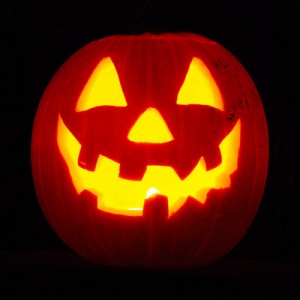 If your theatre is looking for a show that showcases the thrills and chills of the Halloween season, look no further than these 10 MTI titles.  Whether you're following the exploits of a blood-sucking vampire (or plant), losing your direction in a madcap fairy tale, or haunting a country rodeo, each of these shows is bound to add a trick and a treat to your Halloween festivities.
JEKYLL & HYDE:
This timeless tale of duality is a perfect metaphor for Halloween – a night when the mischievous imp in all of us holds sway.  In Frank Wildhorn and Leslie Bricusse's Tony nominated Broadway musical, mild-mannered Dr. Henry Jekyll's alter ego, Edward Hyde, doesn't just emerge once a year.  Wildhorn's rock-pop score is appropriately gritty and soaring, capturing Jekyll's desperation to rid himself of the monstrous Hyde and the life he hopes to regain.  Ballads like "This Is The Moment" and "A New Life" cut through generations of legend surrounding the characters, lending them a compelling humanity that has gripped audiences for over a decade.  Click
here
to visit JEKYLL & HYDE on MTI ShowSpace.
DRACULA: Before Bill Compton and Edward Cullen seduced the nation, one vampire reigned supreme: Dracula.  The Transylvanian count has survived over a century of movie adaptations, parodies, and novels, and the 21st century finds him deadlier than ever in Frank Wildhorn, Don Black, and Christopher Hampton's Broadway musical.  As usual, Wildhorn's guitar-laden rock-pop score infuses this classic work of literature with a gothic yearning, making Dracula less an agent of pure evil and more a tragic, romantic figure.  This Halloween, join Jonathan and Mina Harker, Van Helsing, and their stalwart band as they hunt down the insidious Dracula, and experience this enduring thriller for yourself.  Click here to visit DRACULA on MTI ShowSpace.
CAPTAIN LOUIE: With Stephen Schwartz's success writing for witches in WICKED, it's no surprise that he'd be responsible for what must be the epitome of Halloween shows.  Interestingly enough, CAPTAIN LOUIE, with a book by Anthony Stein, doesn't have a single witch, Munchkin, or talking animal.  What it does have is a lonely little boy named Louie, who is spending his first Halloween in a new neighborhood-without his friends.  Nervous about Trick-Or-Treating with classmates who could at best ignore him and at worse make fun of him, Louie uses the power of imagination to escape back to his old neighborhood.  After a memorable night of Trick-Or-Treating, Louie realizes that maybe making new friends isn't as scary as it seems.  Click here to visit CAPTAIN LOUIE on MTI ShowSpace.
ANNABELLE BROOM, THE UNHAPPY WITCH: Witches are ugly, mean-hearted creatures-right?  Not according to Annabelle Broom.  More interested in being fashionable than frightening, Annabelle bemoans her outdated black witch's clothes and her failing grades in her witch classes.  Can't she just wear pink and figure out how to keep her skin healthy instead of learning how to be cruel to people?  The head of the witches' union thinks otherwise.  She orders Annabelle to scare two lost children.  But despite Annabelle's efforts to be mean, she agrees to help the children find their way home.  When the witches' union hears of this, they rush to destroy Annabelle before her good deeds take away their powers.  Antics ensue as Annabelle, the witches' union, and the lost children discover the truth about witches-and the consequences of good deeds.  Click here to visit ANNABELLE BROOM, THE UNHAPPY WITCH on MTI ShowSpace.
SWEENEY TODD – THE DEMON BARBER OF FLEET STREET: What's Halloween without judicial corruption, revenge killings, and delicious baked goods?  Celebrate this creepiest of  seasons with composer/lyricist Stephen Sondheim and bookwriter Hugh Wheeler (A LITTLE NIGHT MUSIC) as they tell the tale of a barber unable to contain his rage in Victorian England.  It's been more than a decade since Sweeney Todd had been unjustly sent to Botany Bay, and he can't wait to see the wife and baby girl he left behind.  When he discovers the judge who imprisoned him had also driven his wife to commit suicide and took his daughter to raise as his own, Sweeney swears revenge.  He sets up shop as a barber again, and with the help of the lovesick and deranged Mrs. Lovett, Sweeney begins to find vengeance in the baking of piping hot meat pies…complete with a special ingredient.   Wheeler's suspense-filled book and Sondheim's complex and epic score are guaranteed to chill even the most jaded horror fans.  Click here to visit SWEENEY TODD on MTI ShowSpace.
PHANTOM OF THE COUNTRY OPERA: The plot may sound oddly familiar: operatic sensation Christina Joseph leaves a promising career at La Scala and returns to her roots in Nashville, Tennessee, singing backup at the Country Palace. There she finds an enemy in an aging Country-Western diva and a mentor in a mysterious janitor determined to make her Country Music's newest star.  It's a splashy, hilarious Country-Western send-up of the classic tale of horror, "The Phantom Of The Opera!" Filled with irreverent wit, painful punning, sly contemporary references and more than a touch of the absurd, this shameless romp is a bit like a loopy version of The Nashville Network. And with an unforgettable score that runs the gamut from Grand Opera to Country to Broadway-including a little ditty called "Hog Butcher's Daughter"-"Phantom Of The Country Opera" has audiences tapping their toes and rolling in the aisles.  Click here to visit PHANTOM OF THE COUNTRY OPERA on MTI ShowSpace.
LITTLE SHOP OF HORRORS: A down-and out skid row floral assistant becomes an overnight sensation when he discovers an exotic plant with a mysterious craving for fresh blood. Soon "Audrey II" grows into an ill-tempered, foul-mouthed, R&B-singing carnivore who offers him fame and fortune in exchange for feeding its growing appetite, finally revealing itself to be an alien creature poised for global domination!  One of the longest-running Off-Broadway shows of all time, this affectionate spoof of 1950s sci-fi movies has become a house-hold name, thanks to a highly successful film version and a score by the songwriting team of Howard Ashman and Alan Menken, who redefined the animated musical film with Disney's "The Little Mermaid", "Beauty And The Beast" and "Aladdin." Charming, tuneful and hilarious, with tongue firmly planted in cheek, "Little Shop Of Horrors" never fails to entertain. A small cast, band and unit set make the other aspects of production a snap.  Click here to visit LITTLE SHOP OF HORRORS on MTI ShowSpace.
DISCO INFERNO: The story of Faust is brought to life in an explosion of hit songs, high energy dance routines and glitter-ball spinning action.  DISCO INFERNO is a spellbinding story that captivates audiences, making them laugh and cry. It's packed with over 30 classic seventies floor fillers and is a musical celebration of the perpetual spirit of the decade that brought us flared trousers, platform shoes and more glitter than can be found in Liberace's wardrobe. A hilarious script, fantastic characters and an electrifying score, combine to create a high energy musical guaranteed to warm hearts, get feet tapping and audiences leaving the auditorium with a daft grin of pleasure and the fondest memories of a sensational era. A show for all the family and whether it's your first experience of the life and music of the 1970′s or whether you were there when it all began, this musical is a guaranteed hit…a night to remember and one not to be missed.  Click here to visit DISCO INFERNO on MTI ShowSpace.
DAMN YANKEES: Faust meets professional baseball in this Broadway classic from the creators of "The Pajama Game."  Middle-aged baseball fanatic Joe Boyd trades his soul to the Devil (the charming but devious Mr. Applegate) for a chance to lead his favorite team to victory in the pennant race against the New York Yankees. As young baseball sensation Joe Hardy, he transforms the hapless Washington Senators into a winning team, only to realize the true worth of the life (and wife) he's left behind. With the help of a handy escape clause and a guilt-ridden temptress named Lola, Joe outsmarts Applegate, returns to his former self and shepherds the Senators to the World Series.  Click here to visit DAMN YANKEES on MTI ShowSpace.
INTO THE WOODS: An ambivalent Cinderella? A blood-thirsty Little Red Ridinghood? A Prince Charming with a roving eye? A Witch…who raps? They're all among the cockeyed characters in James Lapine and Stephen Sondheim's fractured fairy tale. When a Baker and his Wife learn they've been cursed with childlessness by the Witch next door, they embark on a quest for the special objects required to break the spell, swindling, lying to and stealing from Cinderella, Little Red, Rapunzel and Jack (the one who climbed the beanstalk). Everyone's wish is granted at the end of Act One, but the consequences of their actions return to haunt them later, with disastrous results. What begins a lively irreverent fantasy in the style of "The Princess Bride" becomes a moving lesson about community responsibility and the stories we tell our children.  Click here to visit INTO THE WOODS on MTI ShowSpace.